Warhammer 40,000 enthusiasts now have an advanced tool at their disposal with the introduction of Battle Forge, a user-friendly army planner app designed to complement the latest edition of the iconic tabletop game. Offering up-to-date datasheets and a convenient rules reference section, Battle Forge aims to streamline the army-building process and enhance gameplay experiences for fans.
The Battle Forge app facilitates the creation of armies across three different game sizes: Incursion, Strike Force, and Onslaught, corresponding to 1,000, 2,000, and 3,000 points, respectively. Its intuitive interface not only simplifies the army composition process but also automatically detects and highlights any errors, such as incorrect loadouts or choices, ensuring players can fine-tune their strategies with ease. Furthermore, the app enables users to export their army lists, fostering collaboration and enabling submission for events or sharing with fellow hobbyists.
In addition to serving as an invaluable army planning tool, the Battle Forge app also functions as a comprehensive reference guide, allowing players to access their datasheets during gameplay. Initially, the app will feature all Index datasheets and Combat Patrol datasheets. Additionally, the developers have announced that Imperial Armour units will be added shortly, ensuring players can easily distinguish and incorporate these units into their armies. When a Codex is released, users will be able to unlock its content within the app by inputting a unique code found in the corresponding book, granting instant access to new detachment rules with just a touch.
Boasting access to the Core Rules and a quick rule reference section covering essential terms, army rules, Enhancements, and Stratagems, the Battle Forge app becomes a comprehensive companion for Warhammer 40,000 players, providing the majority of resources needed for engaging gameplay right at their fingertips. The only additional requirement would be the mission, which can be found within the Core Rules, the Crusade rules, or the Chapter Approved Leviathan Deck.
The Battle Forge app is available for download on both iOS and Android platforms, offering cross-platform accessibility to gamers. As an added benefit, the app is currently available for free during an initial trial period, allowing users to test its functionality while planning their army lists and experiencing the new edition of the game firsthand. While certain features will eventually transition to paid content, the Core Rules element and Combat Patrol datasheets will remain free to access, ensuring continued support and utility for all users.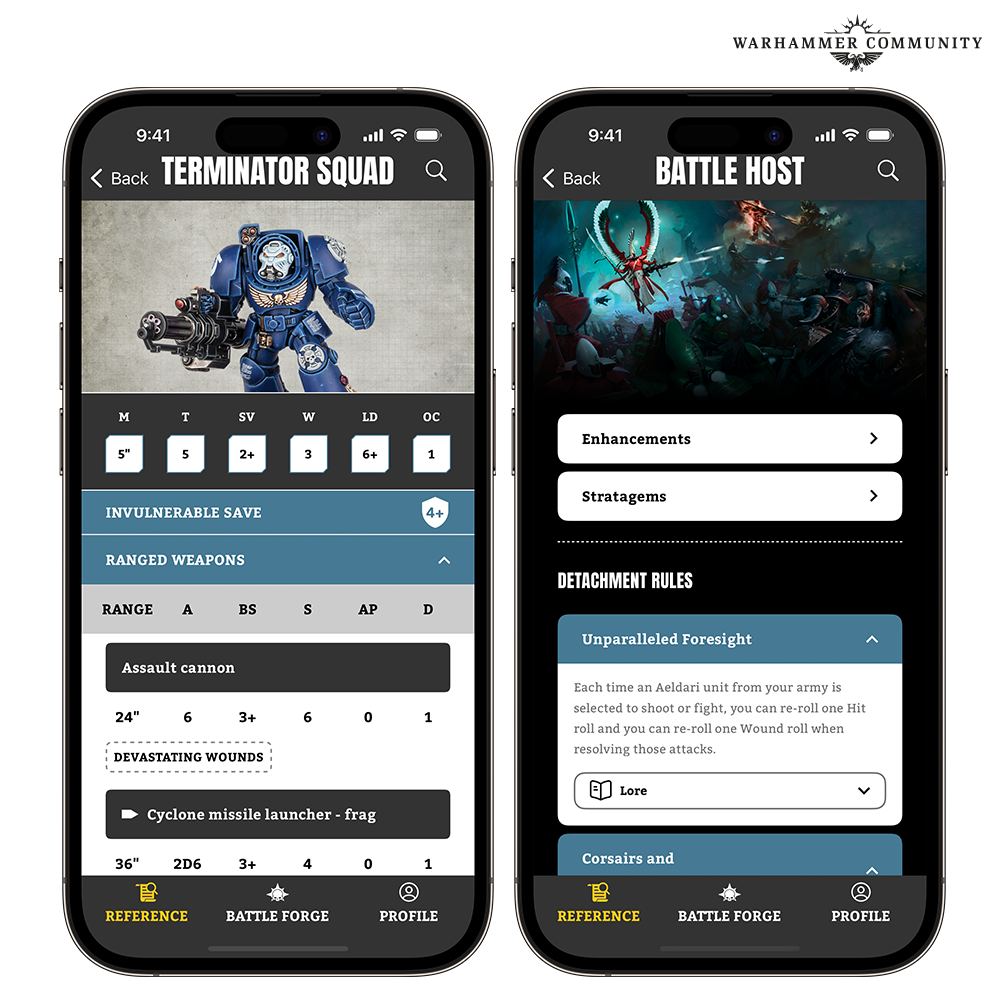 As for the existing Warhammer 40,000 app, it will remain active for the time being. However, it has been marked as "old" on both the App Store and Google Play to prevent confusion among users. Players who wish to retain access to the content they have unlocked or those who wish to enjoy a few final games using the previous edition can continue using the "old" app.
Warhammer 40,000 enthusiasts are encouraged to take advantage of the Battle Forge app's free trial period and begin assembling their army lists with greater convenience and precision. Download the app today and embark on epic battles in the grim darkness of the 41st millennium!