This multipart plastic kit offers you the opportunity to construct your very own Brutalis Dreadnought, an imposing Space Marines war machine specializing in melee combat. Choose between formidable armoured fists, complete with integrated bolt rifles, or opt for the devastating pair of sharpened talons, perfect for obliterating both enemy armor and infantry. Additionally, the Dreadnought is equipped with twinned Icarus ironhail heavy stubbers atop its hull, and it features chassis-mounted weapons, allowing you to select from heavy bolters or tank-busting multi-meltas.
The customization options are boundless. You have the freedom to craft your Dreadnought in an intimidating pose by manipulating joints in its legs, arms, waist, and even its mechanical toes and fingers. Glueless assembly allows for easy adjustments to the frontal armor, revealing the inner sarcophagus, as well as fine-tuning the positioning of secondary weapons. To further personalize your creation, explore a selection of unique armor decorations. Prepare to unleash this awe-inspiring war machine upon the battlefield, where it will undoubtedly leave a path of destruction in its wake.
Also available in this discontinued box set:
perhaphs you can find one on ebay or amazon? 😉
Brutalis Dreadnought Datasheets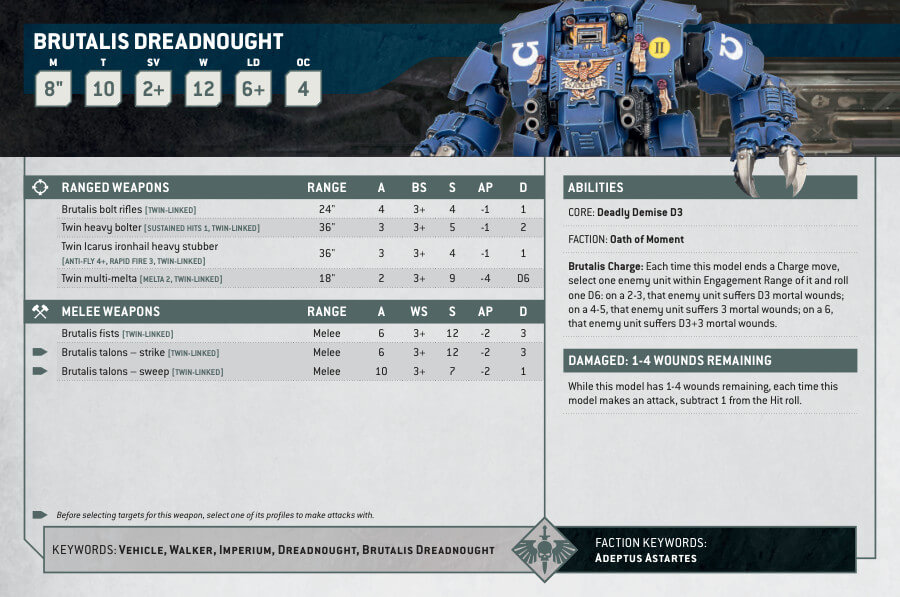 What's in the Brutalis Dreadnought box
x131 plastic components that make 1 Brutalis Dreadnought model.
x1 Citadel 90mm Round Base.
x1 Space Marines Vehicles Transfer Sheet.