Presented by the passionate Ultramarines fan and actor Rahul Kohli, known for his role as the voice of the main character in Warhammer 40,000: Boltgun, Malum Caedo, this year's live show is set to be a thrilling event.
Warhammer Skulls 2023 is packed with exciting reveals, updates, and special offers for your favorite Warhammer games. This extravaganza, now in its seventh year, stands as the pinnacle celebration of Warhammer video games, and fans can immerse themselves in a myriad of festivities through the provided links.
If you missed the live show, fret not! You can relive the excitement right here and catch up on all the highlights of the event.
Let's dive into the thrilling announcements, starting with a highly anticipated new release.
Introducing Warhammer Age of Sigmar: Realms of Ruin
Prepare to unfurl your banners and march into the Mortal Realms with Warhammer Age of Sigmar: Realms of Ruin, the first-ever AAA real-time strategy game set in the world of Warhammer Age of Sigmar.
Developed by the strategy game experts Frontier Developments, this epic adventure will be available on PlayStation® 5, Xbox Series X|S, as well as PC through Steam and the Epic Games Store. Realms of Ruin allows you to take command of four factions and engage in expansive open warfare, featuring beloved units from the Warhammer miniatures game.
Enhance your units with comprehensive tech trees and deploy them in gripping battles that offer a unique experience every time you play. Engage in a multi-front war, capturing arcane conduits and gathering resources, as you strive to claim the realm of Ghur for your chosen faction.
With an extensive single-player campaign, co-written by the renowned Black Library author Gav Thorpe, you will lead the immortal heroes of the Stormcast Eternals on a crucial mission to defend the fortress of Harkanibus against the cunning Kruleboyz. Realms of Ruin also offers thrilling cross-platform multiplayer battles, allowing players to clash in 1v1 and 2v2 matches, both in casual games and competitive ranked leaderboards.
To ensure accessibility for both console and PC players, Realms of Ruin has been meticulously designed, with the innovative DirectStep™ system granting gamepad users unprecedented control over their forces without compromising speed.
Excitingly, an Open Beta program will be available for players to experience the game firsthand. Stay tuned for more details, add Realms of Ruin to your wishlist, and register your interest for the Open Beta.
Gear up for Warhammer 40,000: Speed Freeks
Rev up your engines, Ork enthusiasts! Speed Freeks, the ultimate vehicle combat game filled with green-skinned mayhem, is soon making its way to PC. Crafted by the racing combat experts at Caged Element, this game promises anarchic 16-player matches brimming with explosive action. And here's the best part – you can get a taste of the chaos right away through the public alpha playtest, available on Steam starting today.
Select one of the seven unique vehicles, each with its own distinct abilities, allowing you to define your playstyle. The alpha playtest, running from May 25th to June 8th, thrusts you into a new game mode focused on vehicular combat. Your objective? Capture key points, wreak havoc to build your score, and then race madly towards the finish line.
Speed Freeks, rendered with stunning visuals powered by Unreal Engine 5, delivers the high-octane Orky bedlam that fans have been eagerly awaiting. Immerse yourself in the heart-pounding action as you engage in frenzied battles, showcasing the signature dakka-filled mayhem of the Orks. Head over to the Steam page now to join in on the adrenaline-fueled fun and let out your loudest WAAAGH!
Prepare for Warhammer 40,000: Space Marine 2
Get ready to dive into the relentless and gore-soaked action of Warhammer 40,000: Space Marine 2. In a new gameplay trailer presented by Focus Interactive, players catch a glimpse of the relentless Tyranid horde that they will face as Lieutenant Titus. Pre-orders for the Collector's Edition are now available, and fans can stay up to date with the latest news by adding the game to their Steam wishlist.
But that's not all—Lieutenant Titus is not limited to the digital realm alone. For the first time ever, he will be immortalized in a tabletop miniature and board game. Dive into the immersive world of Warhammer 40,000 with this exciting addition to the franchise.
Check the Space Marine 2 Steam page!
Total War: Warhammer III Presents Harald Hammerstorm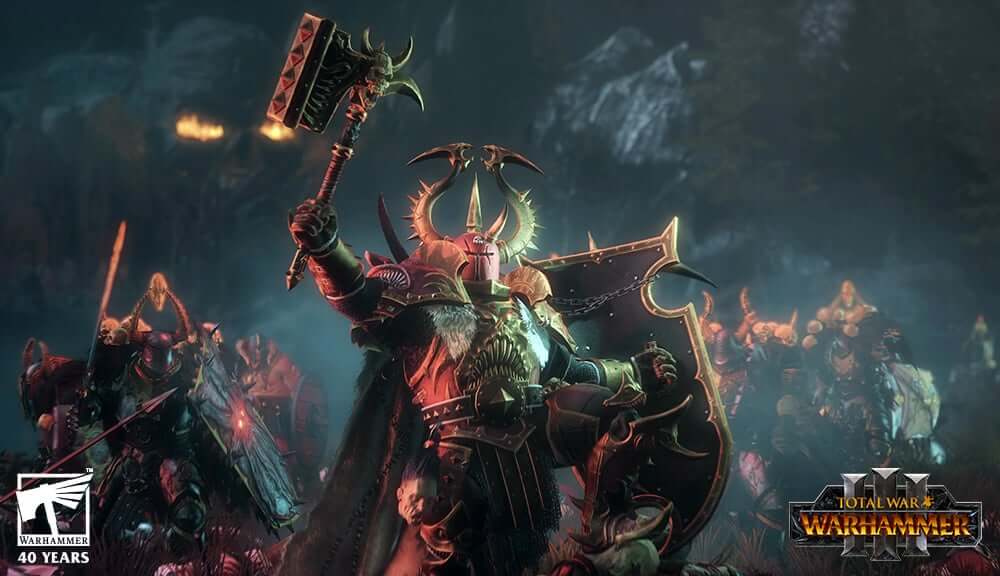 As Warhammer celebrates its 40th anniversary, Total War: Warhammer III introduces a legendary hero to the fray. Meet Chaos Warrior Harald Hammerstorm, affectionately known as Harry the Hammer. This iconic figure, featured on the cover of the very first Warhammer box set, returns to the Old World with his hammer arm in perfect condition.
The latest patch for Total War: Warhammer III includes a plethora of updates, such as new content for Bretonnia, Regiments of Renown, and exciting end-game features for the beloved Chaos Dwarfs in Immortal Empires campaigns. Prepare yourself for an immersive and thrilling experience as you ignite the forges and engage in epic battles.
Check the new trailer below:

PowerWash Simulator x Warhammer 40,000 Collaboration
Warfare in the 41st Millennium can be a messy affair, and the custodians responsible for cleaning up after the chaos certainly have their work cut out for them. In a surprising collaboration, PowerWash Simulator, the popular clean-'em-up game developed by FuturLab, ventures into the grim darkness of the far future. Stay tuned for more news on this unique and exciting partnership.
Warhammer 40,000: Darktide Introduces Rejects Unite
Warhammer 40,000: Darktide, the fast-paced and atmospheric co-op shooter, is preparing to unleash its biggest content update yet—Rejects Unite. This update brings two new missions, earnable cosmetics, and UI improvements to enhance your gaming experience.
Brace yourself for the fearsome Chaos Spawn, freshly emerged from the Warp, as they descend upon the underhives of Tercium to challenge even the most skilled players. Keep an eye on the game's Steam page for further information on this highly anticipated content update.
Warhammer 40,000: Rogue Trader Reveals New Trailer
Owlcat Games presents the latest trailer for Warhammer 40,000: Rogue Trader, a captivating CRPG adventure. This thrilling video showcases the newest party member, the indomitable Space Wolf Ulfar. Explore enemy territories and embark on epic battles in various locations across the game world, from the dark depths of Commoragh, infested by Drukhari, to the sinister tomb worlds of the Necrons.
Prepare yourself for the exciting ship-to-ship battles that await in the vast darkness between the stars, and gain a glimpse into the nefarious machinations of Chaos.
Warhammer 40,000: Rogue Trader is set to go live on June 1st, allowing eager fans to immerse themselves in the captivating world of Rogue Trader. Don't miss your chance to be among the first to experience this highly anticipated game.
Wishlist the game on Steam and don't forget you can win a free copy of the game when you subscribe to Warhammer+!
Engage in Card Combat with Warhammer 40,000: Warpforge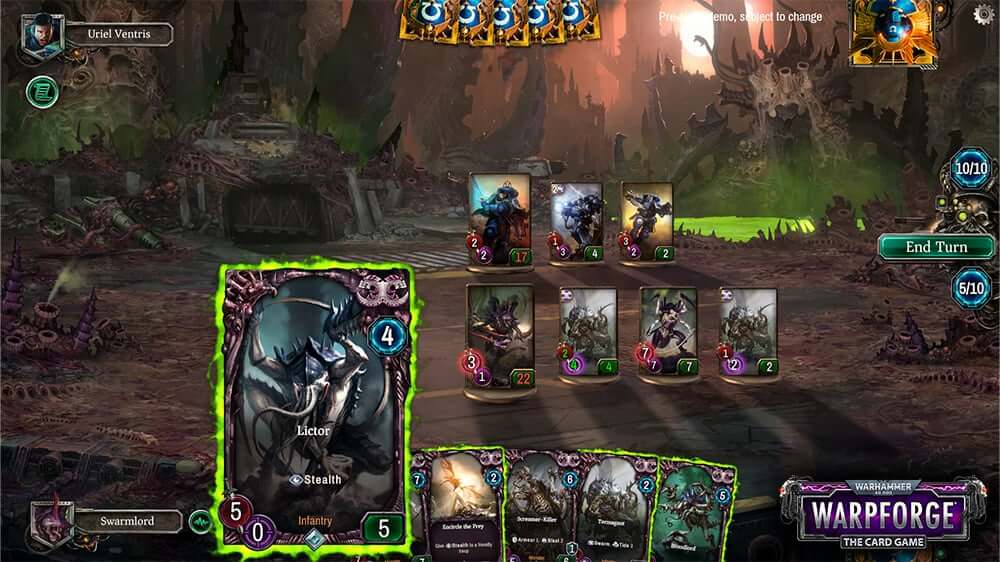 Warhammer 40,000: Warpforge takes the battles for the fate of the 41st Millennium into the intense arena of card combat. Today, a brand new demo of the game is released, offering players a taste of the strategic and head-to-head gameplay. The updated preview includes the addition of Hive Fleet Leviathan, adding to the roster of playable factions. Furthermore, participating in the demo on Steam will grant players priority access to a closed alpha playtest period starting on June 8th. Sharpen your tactics and join the battle in this thrilling card-based warfare.
Check it out on Steam!
Boltgun: A Pulse-Pounding Space Marine Experience
For fans of classic boomer shooters and Space Marines, Warhammer 40,000: Boltgun is a must-play game. Presented by actor Rahul Kohli, who also voices the main character in the game, Boltgun offers pulse-pounding action and hyperviolence as players face off against the forces of Chaos. This exhilarating game is now available on Steam and consoles, allowing players to unleash their inner hero and purge the heretics.
The game just went live and its currently 10% off!
Celebrate Warhammer with More Updates and New Content
In addition to the major announcements, numerous other Warhammer video games are receiving updates and introducing new content.
Warhammer 40,000: Battlesector launches its Orks DLC, introducing the raucous greenskins to the critically acclaimed turn-based strategy title.
Meanwhile, Warhammer: Vermintide 2 tantalizes players with new Karak Azgaraz levels and hints at a new career for Bright Wizard Sienna.
Fans of Blood Bowl 3 can look forward to the arrival of the new Lizardmen team in the upcoming Season 1 update, scheduled for June.
The hauntingly beautiful soundtrack of Warhammer 40,000: Mechanicus, composed by Guillaume David, will be available on vinyl for the first time. Prepare to be transported to the enigmatic world of the Adeptus Mechanicus through this mesmerizing musical experience.
World of Tanks: Modern Armour continues its celebration of Warhammer 40,000 with the release of the Leman Russ tank and the inclusion of a new Space Marine commander. Witness the clash between the weapons of the 41st Millennium and the best that modern-day technology has to offer.
Warhammer 40,000: Chaos Gate – Daemonhunters expands its Nurgle infestation with new Bloom Assault missions. Players must guide their Grey Knights through this perilous journey while remaining vigilant for the menacing War Dog Stalker and its Space Marine-crushing claws.
Shootas, Blood & Teeth adds a touch of style with a new update that includes dapper hat options and introduces leaderboards, where players can prove their dominance and determine who truly reigns as the meanest and greenest.
The Warhammer Skulls festival brings an array of thrilling announcements and updates, ensuring that Warhammer and video game enthusiasts will have plenty to look forward to in the coming months. With new games, exciting content drops, and immersive experiences, the world of Warhammer video games continues to captivate fans and expand its ever-growing universe.