Lieutenant Titus makes a remarkable transition from the digital realm to the physical world as an exquisitely crafted miniature. This highly detailed figurine captures Titus in a dynamic pose, wielding his bolter and chainsword with great intensity.

You can see him in action in this official Warhammer 40k cinematic.
Space Marine: The Board Game is the initial destination where enthusiasts can acquire this courageous veteran of the Adeptus Astartes. Within this immersive gaming experience, players will witness the heroic Ultramarine engaging in a relentless battle against an overwhelming horde of voracious Termagants and Ripper Swarms.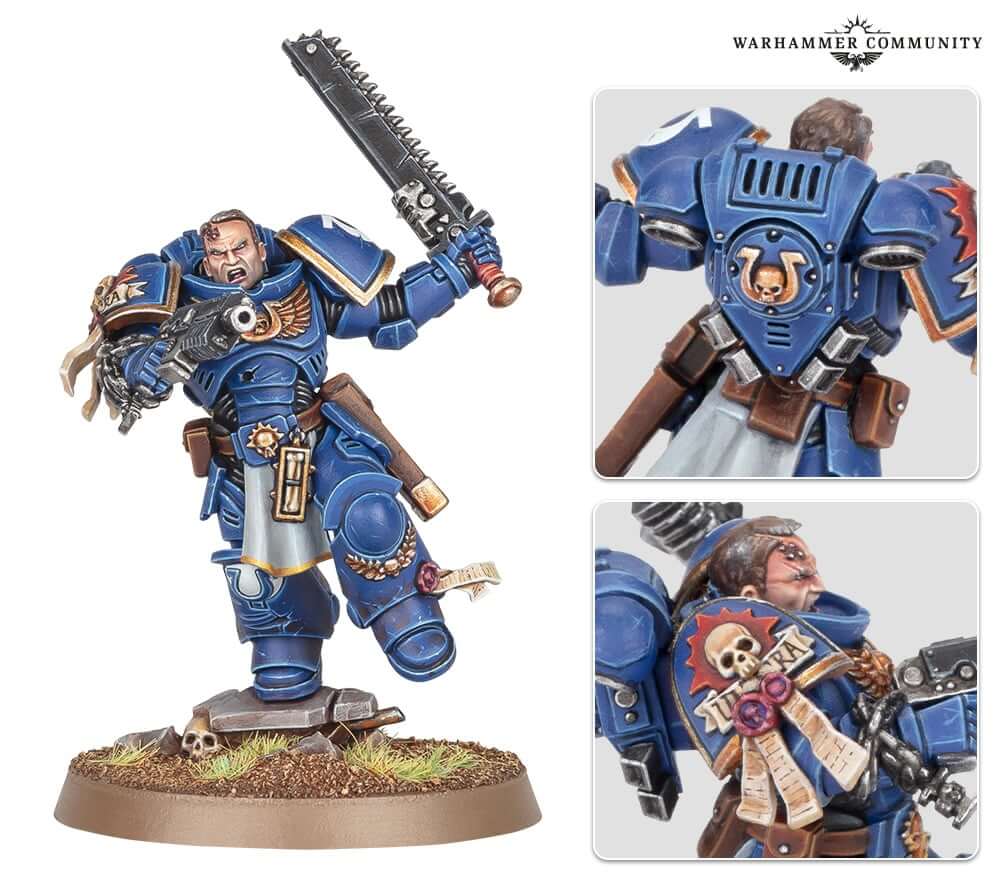 Initially, Space Marine: The Board Game will be exclusively available at Target stores across the United States. However, plans are underway to introduce a similar set in other regions at a later date.
Lieutenant Titus will be released separately in the future, so every Space Marine fan can add this iconic hero to their collection.
Lieutenant Titus Datasheets
For games of Warhammer 40k.
For the Space Marine: The Board Game.

What's in the Space Marine: The Board Game box
x23 miniatures that come in multiple plastic parts:

x1 Lieteunant Titus (also comes with a helmet option) supplied with 40mm Round Base.
x20 Termagants and 2 Ripper Swarms (supplied with x20 28.5 mm Round Bases and x2 40 mm Round Bases).

x1 double-sided game board (22″ x 30″).
x6 dices.
x1 ruler.
x1 40-page rulebook including backstory, two training missions, and two unique missions – plus all the accessories you need to play the game.

How to paint Lieutenant Titus
How to paint the Termagants set
Adeptus Ars Review
Discover a fantastic deal! You can grab this exclusive box set, featuring none other than Lieutenant Titus, for just $40 – and that's if you're in the USA! You'll find it waiting for you at your local Target store.
Incredible value, especially when you consider the treasure trove of goodies packed inside. When you think about it, the typical price for a single Primaris Lieutenant hovers around $35 or more. It's a steal, right?
Now, if you're not in the USA, fret not! We've got you covered. Check out our extensive list of shops that may have this box set. You can also find it on eBay, albeit at a somewhat higher price tag. But here's the kicker – it's available for enthusiasts worldwide! So, wherever you are, you can still snag this collector's item.
However, if you've got your heart set solely on Titus himself, here's a little tip: Keep an eye out for the upcoming release of this miniature as a stand-alone product , available worldwide (we expect it to launch in the spring of 2024, we hope we are wrong however and it launches sooner).