Discover the power of the Desolation Marines with this comprehensive multipart box set, designed to let you build an imposing squad of five heavy weapon specialists.
Each Desolation Marine unit is armed with a versatile rocket launcher, capable of firing superfrag rockets to decimate infantry units or superkrak rockets for annihilating tanks. The addition of an underslung castellan launcher amplifies their destructive capabilities.
Enhance your tactical edge by appointing one model as the Sergeant, equipped with advanced targeting optics and the choice to upgrade to a vengor launcher—a precision-guided heavy missile for pinpoint strikes.
The opportunities for customization extend beyond weaponry. Personalize your Desolation Squad W40k models with an array of aesthetic options: purity seals, holstered pistols, diverse targeting optics, and interchangeable flaps for warhead types.
The Sergeant can be further distinguished with alternate heads and arms. This kit empowers you to not only wield immense firepower but also to tailor the appearance of your Space Marines Desolation Squad miniatures, making them a standout force on any battlefield.
Gear up to unleash unparalleled destruction and dominate your enemies!
Desolation Squad Datasheets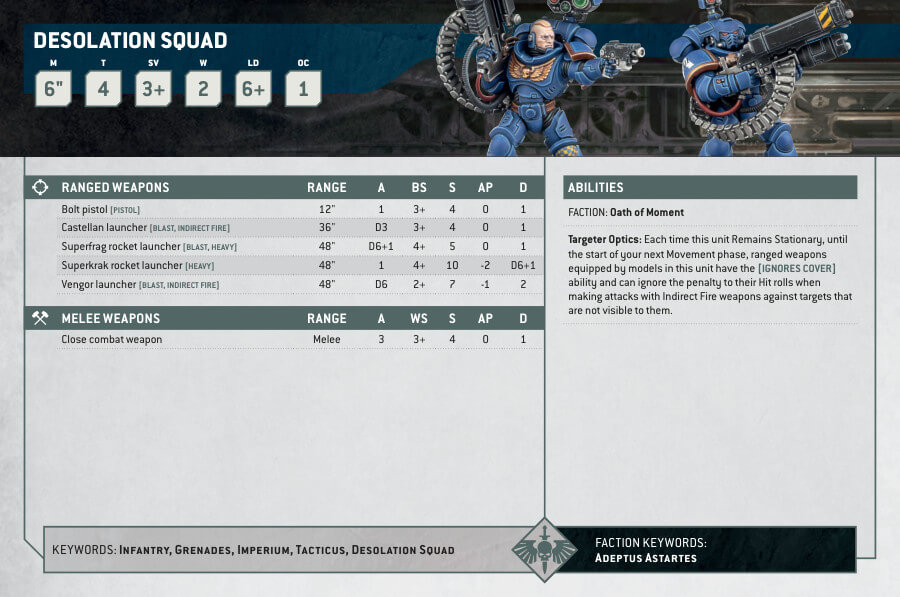 What's in the Desolation Squad box
Inside this multipart kit you'll find x120 plastic components, giving you everything you need to bring your squad of Warhammer 40k Desolation Marines to life:
x5 Desolation Marines miniatures.
x5 Citadel 32mm Round Bases.
x1 Space Marines Infantry Transfer Sheet.