Noble Knight Games Shop Review – 2023 Update
Noble Knight Games Shop is an online and retailer that caters to enthusiasts of tabletop miniatures, war games, RPGs, and board games.
It has gained a strong reputation for its diverse and captivating selection, making it a popular choice for both experienced collectors and newcomers to the world of tabletop gaming. It's brick-and-mortar shop in Wisconsin, USA is one of the most popular miniature shops in the Midwest.
Noble Knight Games Reputation
The online store has built a good reputation in the tabletop gaming community since it was started in 1997. It has earned a loyal following due to its unwavering dedication to providing quality products and exceptional customer service.
The online shop has become a trusted source for tabletop enthusiasts in the US, known for its authenticity and accuracy. On its Facebook Page, the Noble Knight boasts a 4.5 Rating out of over 650 customer reviews.
People who visited the brick and mortar store or the online store praised the huge selection of products and the low prices.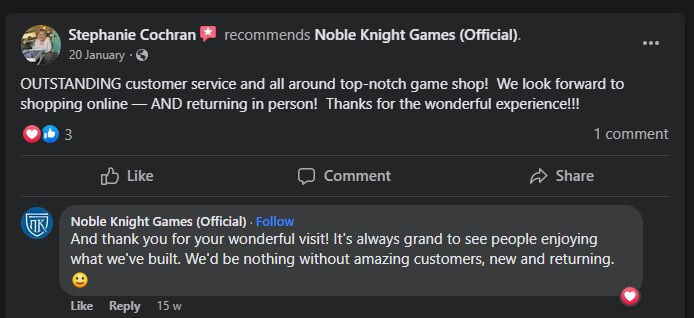 While people who purchased things online praised the smooth process and delivery!
Noble Knight Games Paints and Miniatures Selection
Noble Knight Games has a great selection of paints and miniatures for hundreds of titles. They offer an extensive array of options to satisfy the desires of every collector.
For W40K enthusiasts, they have an impressive assortment of Warhammer 40K miniatures and models, from older releases up to the most recent games and batle-boxes.
At the time of the review the online shop featured over 20,000 Warhammer 40000 related products, books, terrains from all editions with over 5400 of them being in stock.
True, not all of them were available for purchase, but thanks to the shops' buy-back program, chances are the model you're looking for will pop up at one point.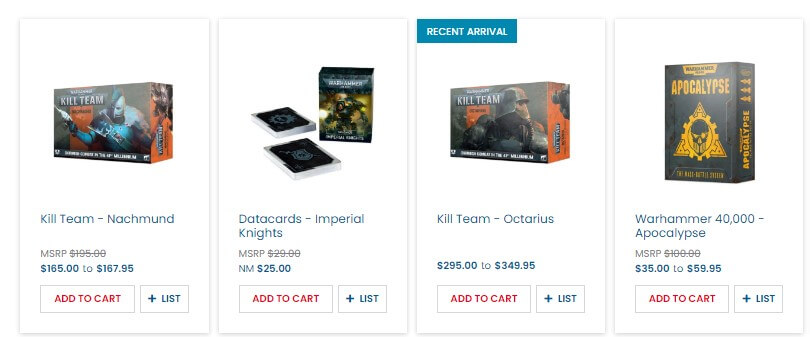 Warhammer 40K Miniatures and Models at Noble Knight Games
The collection of Warhammer 40K miniatures and models at Noble Knight Games is truly remarkable. They offer an unparalleled selection for both devoted fans and newcomers to the franchise.
Are you looking for a 2005 Wraithlord? Keep an eye on this page! 🙂
With a diverse range of factions, characters, and unit types, players can build and customize their armies to their heart's content.
If you're lucky (or tenacious) you might even stumble upon rare boxed sets such as the Know no Fear Starter Set from 2017.

Whether you're looking for new releases or classic models, Noble Knight Games ensures that collectors can find what they're looking for.
Buy W40K Paints and Accessories from Noble Knight Games
In addition to their miniature selection, Noble Knight Games also provides a comprehensive range of paints and accessories for Warhammer 40K enthusiasts. They offer a vast selection, including basic colors, specialty paints, and weathering effects, to bring miniatures to life.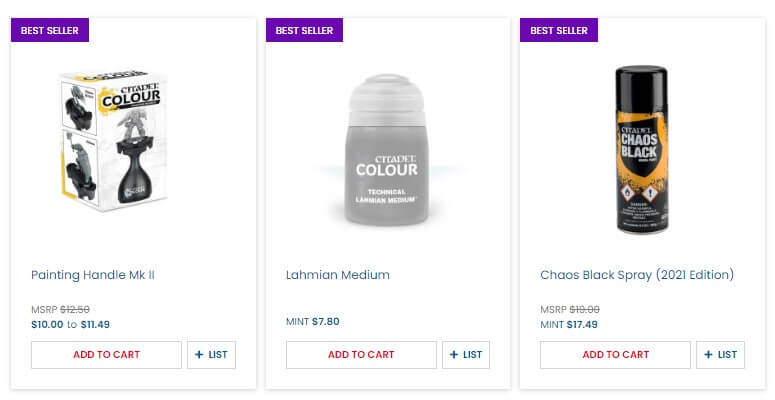 Some Paints and Accessories brands listed on Noble Knight store
Games Workshop
Vallejo
Ultra Pro
Army Painter
AK Interactive
Chessex
Ultimate Guard
Litko Aerosystems
Scale 75
They also stock various tools and brushes to assist hobbyists in achieving the finest level of detail in their painting endeavors. You can find prodcuts from Artis Opus, Chronicle Cards or Reaper Miniatures.
Wargames and Game Boxes Available at Noble Knight Games
Their inventory includes an extensive assortment of wargames and game boxes from renowned publishers. Whether you're into fantasy, sci-fi, historical, or strategic games, you'll find an impressive range of options to indulge your gaming passion.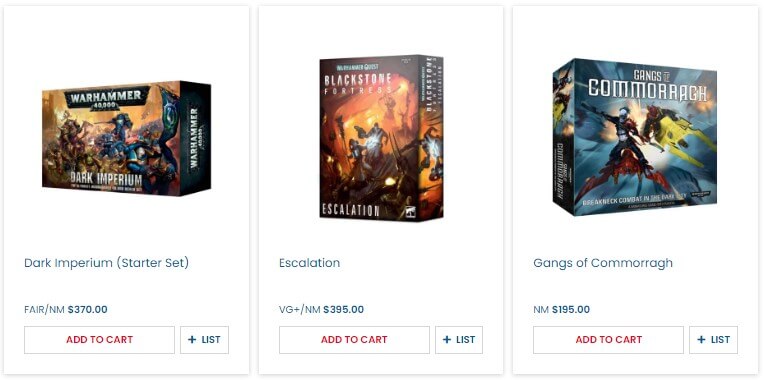 While they cater to various tabletop gaming interests beyond Warhammer 40K, they recognize the popularity and appeal of this iconic science fiction universe created by Games Workshop.
Here are some concrete examples of Warhammer 40K wargames and game boxes that you might find in their inventory:
Warhammer 40,000: Indomitus Box Set: This box set serves as a great entry point for new players looking to dive into the Warhammer 40K universe. It typically includes a selection of Space Marines and Necron miniatures, along with rulebooks, dice, and other essential components.
Warhammer 40,000: Dark Imperium Box Set: Another comprehensive box set designed for beginners, Dark Imperium includes a range of Space Marines and Death Guard miniatures. It provides players with all the necessary materials to start playing, including rulebooks, dice, and terrain pieces.
Warhammer 40,000: Kill Team Starter Set: Kill Team is a skirmish-level variant of Warhammer 40K that focuses on small-scale battles. The starter set usually includes a selection of faction-specific miniatures, terrain pieces, rulebooks, and other accessories needed to play this fast-paced and tactical game.
Warhammer 40,000: Expansion Sets: In addition to the core game and starter sets, Warhammer 40K offers various expansion sets that introduce new units, rules, and narrative campaigns. Examples of expansion sets include Psychic Awakening, Crusade, and Chapter Approved. These expansions add depth and variety to the game, allowing players to further customize and enhance their gaming experience.
Promotions and Discounts
The shop regularly offers promotions and discounts on Warhammer 40000 minis to provide value to its customers. They have seasonal sales, bundle offers, and exclusive discounts on select items, allowing gamers to expand their collections without breaking the bank.
Additionally, the shop organizes recurring giveaways, giving its customers a chance to win store credit. Make sure to subscribe to their newsletter to get notified in time.
At the time of the review there were dozen of discounted W40K minis, both old and new.
How are Noble Knight Games Prices in Comparison to Other Online Shops?
Noble Knight Games strives to offer competitive pricing without compromising on exceptional service. While prices may vary depending on the specific item, the shop generally provides a competitive edge compared to other online retailers.
To give you a better sense of what to expect if you decide to pay them a visit or shop online, here's a side-by-side comparison of Noble Knight prices against some other popular Games Workshop retailers in the US:
Prices shown correspond to June 2023
As it can be observed, Noble Knight Games does offer better prices on the majority of W40K products compared to other retailers, even though not everything is cheaper.
Noble Knight Games Shipping & Returns
Noble Knight Games ensures a seamless and hassle-free shopping experience by providing reliable delivery options and a customer-friendly returns policy. Let's delve into the details:
Shipping to US
For customers located in the United States, Noble Knight Games offers efficient shipping services. They collaborate with reputable shipping carriers such as FedEx and the USPS to ensure prompt and secure delivery of your orders.
Customers can take advantage of free shipping on orders over $149.00, delivered within 2-7 days. For orders below this threshold, a maximum shipping fee of $9.95 applies.
Expedited options include USPS Priority Mail, delivering in 2-3 business days, and USPS Express Mail, offering overnight service nationwide.
USPS First Class Mail Small Package provides affordable shipping for lightweight items. USPS Media Mail caters to books and printed materials, with delivery in 7-21 business days.
FedEx Ground ensures reliable delivery within 2-5 business days but does not serve P.O. boxes.
Rest of the World Shipping
No matter where you are in the world, Noble Knight Games is dedicated to serving customers globally. They offer international shipping services to numerous countries, allowing enthusiasts from all corners of the globe.
Here's a summary of the available choices:
FedEx Express International Economy: Delivery in 4-7 business days worldwide (after customs clearance)
DHL Express International: Airmail delivery in 2-5 business days
USPS Express Mail International (EMS): Fastest USPS option with airmail delivery in 3-7 business days. Includes free insurance and tracking
USPS Priority Mail International: Airmail delivery in 6-10 business days
USPS First-Class Mail International: Airmail delivery in 6-14 business days. Cost-effective for packages under 4 pounds
USPS First-Class Mail International Small Package: Delivery in 7-14 business days for a flat rate of $15.95. Suitable for lightweight items (under 12 ounces with packaging).
Additionally, if you want to skip shipping you can always pay them a visit and pick your order thanks to their "In Store Pickup" option!
Returns Policy
Noble Knight Games takes customer satisfaction seriously and maintains a fair and transparent returns policy. If, for any reason, you are not fully satisfied with your purchase, the shop provides a reasonable window of time for returns and exchanges.
Prior to returning any products, please contact contact@nobleknight.com via email.
Payment Methods Available
Noble Knight Games offers a variety of payment methods to accommodate different customer preferences. Accepted options include Visa, MasterCard, Discover, American Express, debit cards, PayPal, personal check, cashier's check, or money order.
Credit card transactions are securely encrypted, and customers have the choice to call or fax their credit card information.
PayPal payments can be made through a separate redirection process.
For check or money order payments, orders are held for a specific period, and international customers are advised to use international money orders drawn on a U.S. bank.
Noble Knight Games Customer Service
The dedication to exceptional customer service sets Noble Knight Games apart from the competition. Their knowledgeable and friendly team is readily available to assist with any inquiries, provide recommendations, or address any concerns you may have. Whether you reach out via email or utilize their responsive customer support system, you can expect timely and helpful assistance.
Our Take on Noble Knight Games
Their outstanding reputation, extensive selection of miniatures, paints, and games, competitive pricing, and commitment to customer satisfaction have made them a leader in the industry.
Whether you're a seasoned collector or a beginner embarking on your tabletop gaming journey, Noble Knight Games offers an unparalleled shopping experience that will meet and exceed your expectations.
What sets Noble Knight Games apart is their dedication to authenticity, diverse product range, and commitment to customer happiness.
They understand the needs and desires of tabletop gamers and go above and beyond to cater to them.