Ars Manufactorea Online Shop Review
Nestled in the heart of Italy, Ars Manufactorea is your friendly neighborhood online shop with global ambitions, brimming with all things Warhammer 40K. It's a treasure trove where miniatures, games, and accessories, all essential elements of the Warhammer 40K universe, come alive.
The site boasts a user-friendly interface that makes browsing and shopping easy even for beginners. Each category is clearly labeled, and the search function works efficiently, helping you find exactly what you're looking for in no time.
The vibrant visuals of the products, along with detailed descriptions and specifications, make the overall shopping experience quite enjoyable.
We particularly enjoyed seeing a dedicated offers section where players can find the latest promotions and the support for English language, for those of you visiting the site from outside Italy.
Ars Manufactorea Reputation and Customer Feedback
With a customer-centric focus, Ars Manufactorea has built a solid reputation among Warhammer 40K enthusiasts reflected in its social media reviews. They are known for their prompt delivery, excellent customer service, and an extensive range of products.
They're particularly praised for their dedication to keeping up with the latest releases, which can be quite a feat in the fast-paced world of Warhammer.
On the release of the new Leviathan box, we had the opportunity to put that to the test and can confirm that the delivery was done incredibly fast and without any issues. An even more impressive feat considering we're talking about an international DHL delivery!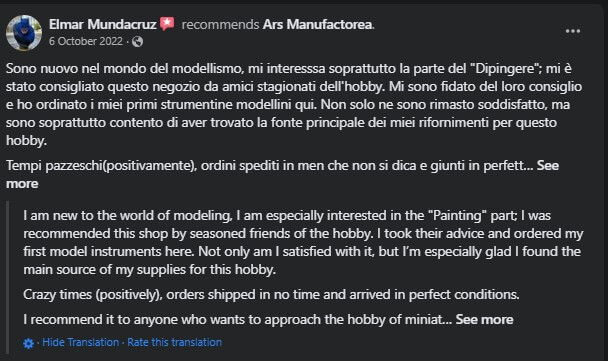 Ars Manufactorea Paints and Miniatures
Ars Manufactorea is more than just an online shop, it's a complete Warhammer 40K resource, providing not just the physical products, but the guidance and support you need to create your perfect army.
Warhammer 40K miniatures and models at Ars Manufactorea
At Ars Manufactorea, the range of Warhammer 40K miniatures and models is impressive and designed to cater to every taste and faction allegiance within the game's universe.
Their inventory is vast, covering all established armies and factions in the Warhammer 40K canon. It doesn't matter if you're just starting out with your first Space Marine squad or if you're looking to expand your mighty Ork Waaagh!, there's something to satisfy your specific needs.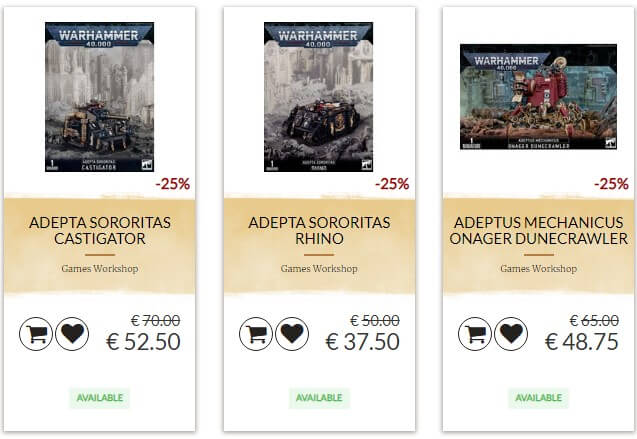 For the Space Marine loyalists, Ars Manufactorea boasts everything from the basic Tactical Squads to the iconic Terminators, and even the awe-inspiring Primaris range. In their catalogue, you'll find the fearsome Predator Tanks and Stormhawk Interceptors to bring devastating firepower to your battles.
If you're a fan of the chaotic and rowdy Orks, you won't be disappointed either. From the smaller, yet deadly Boyz and Gretchins to the mighty Warbosses and Stompas, the variety is just as rich.
Their offering of Ork vehicles like the Battlewagon or Deff Dreads complements the foot soldiers, adding strategic depth to your game.
Not to mention, there's an abundance of options for those who pledge their loyalty to the other various factions, from the noble Eldar to the terrifying Necrons, and even the enigmatic Tyranids.
Buying W40K paints and accessories from Ars Manufactorea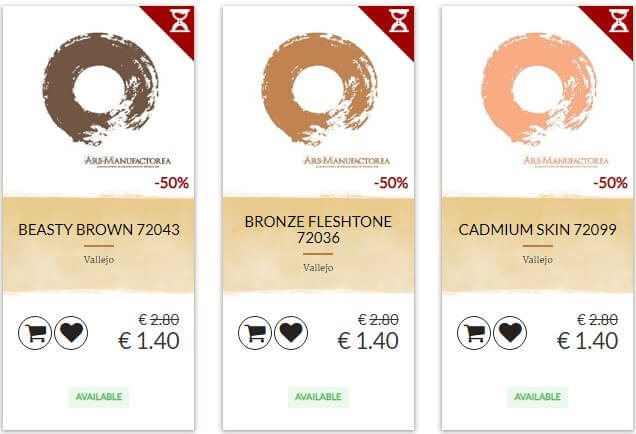 The miniature paint selection at Ars Manufactorea is truly impressive. It offers a rainbow of possibilities for your Warhammer 40K projects, with a color for every chapter, clan, and regiment in the game universe.
This means you can precisely replicate the color schemes seen in the official artwork and guides, or let your creativity loose and come up with your own unique designs.
Further, they offer a vast selection of modeling tools and hobby supplies. From sprue cutters and modeling knives for assembling your models, to glue for securing them and flock and grass for crafting your bases, it's clear that Ars Manufactorea aims to be a comprehensive supplier for all aspects of the hobby.
It's also worth mentioning the hobby kits available, bundling together essential tools and paints for beginners, which make starting out in the hobby even easier.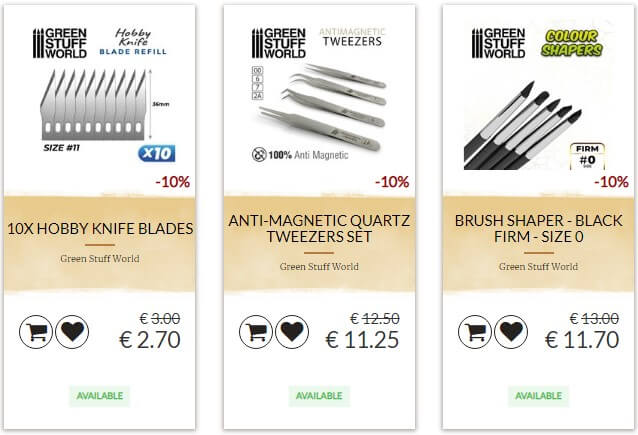 The entire list of paints and tools brands available at Ars Manufactorea includes:
Army Painter
Vallejo
Green Stuff World
Scale75
Secret Weapon
Tamiya
Kimera
Duncan Rhodes Painting Academy
Wargames and game boxes available at Ars Manufactorea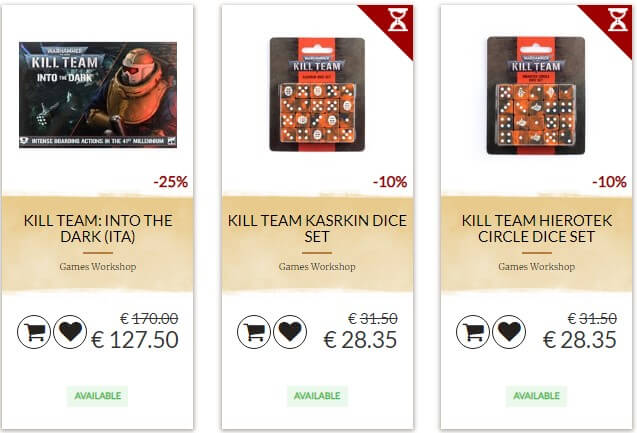 The heart of Warhammer 40K, beyond the intricate painting and modeling, is the game itself. And this is where Ars Manufactorea truly excels. They offer an extensive range of Warhammer 40K game boxes and sets that cater to every level of play, from newcomers to seasoned veterans.
If you're new to the hobby, starter sets such as the Warhammer 40K Command Edition are perfect. These sets come with two small armies, usually Space Marines versus another faction, and include everything you need to start playing games.
They also come with a beginner's guide to the rules, dice, rulers, and a compact battlefield with terrain pieces. These sets offer a cost-effective way to dive into the hobby, and the models included often form the core of many armies.
Promotions and Discounts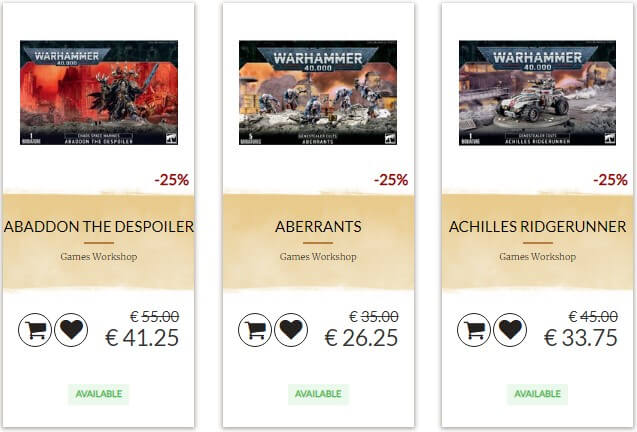 One of the significant highlights of shopping at Ars Manufactorea is their frequent promotions and discounts.
Often, these exciting offers provide an excellent opportunity to stock up on essentials, add to your miniature collection, or perhaps even dive into a new faction without straining your wallet.
These deals could range from percentage discounts on specific categories, to buy-one-get-one deals, or even special seasonal sales. For example, you might find a discount on all Tyranids products for a limited time, or a lower price on a bundle of paints and brushes.
These offers can change frequently, adding a sense of anticipation and discovery each time you visit the online store.
At the time of review almost all Games Workshop miniatures and warpaints paints were being part of a promotion with discounts reaching as high as 50% for certain paints and 25% for miniatures!
Here's what Alessandro, the store representative, answered when asked about what Ars Manufactorea offers W40K players:
We offer fixed discounts all year round of 25% on Games Workshop's Miniatures and Codexes… We ship free above 350€ (halved over 250€) with UPS or DHL, we always use reliable couriers and our orders are always tracked. We restock Games Workshop each week and have a really high in stock quantity of products.

Alessandro Faglia, Ars Manufactorea
Ars Manufactorea Loyalty Program
At the time of review the, shop does not offer a loyalty program! Do you think they should? Email them at info@ars-manufactorea.com!
How does Ars Manufactorea prices compare to other online shops in Europe?
One of the most attractive aspects of Ars Manufactorea is its competitive pricing strategy. While the world of Warhammer 40K is by no means a cheap hobby, Ars Manufactorea's price points for their extensive range of products often hit the sweet spot, striking a balance between affordability and quality.
Here's a side-by-side comparison of some of the most popular W40K products at the time of review.
Prices as of 29th June 2023
Ars Manufactorea Delivery & Returns
They ensure deliveries across all European territories, including Italy, through renowned couriers such as UPS Express, DHL Express, and FedEx Express, all of which provide tracked shipping.
For domestic Italian customers, the standard shipping rate is set at €12.00, while customers elsewhere in Europe can expect to pay €19.00. For those residing in Malta and Cyprus, a slightly higher fee of €25.00 applies due to the location.
It's important to note that Italian customers residing on minor islands may experience a higher shipping rate of €20.00 due to the challenges presented by peripheral delivery locations.
Italian customers can enjoy a reduced shipping rate of €6.00 on orders totaling over €150.00, and even free shipping on orders exceeding €250.00. European customers can also benefit from these incentives, with a discounted rate of €9.50 on orders above €200.00 and free shipping for orders over €350.00. These discounts, however, do not apply to orders shipped to Italian minor islands, Cyprus, and Malta.
Delivery to EU Countries
Ars Manufactorea is proud to offer shipping throughout Italy, even extending its services to islands, and broadly across Europe. Presently, they are capable of dispatching their products to an extensive list of European countries.
These include Austria, Belgium, Bulgaria, Cyprus, Croatia, the Czech Republic, Denmark, Estonia, Finland, France, Germany, Greece, Holland, Hungary, Ireland, Italy, Latvia, Lithuania, Luxembourg, Malta, Poland, Portugal, Romania, Slovakia, Slovenia, Spain, and finally, Sweden.
Please be aware of a crucial point: Ars Manufactorea's shipping services are limited to Italy and Europe. Regrettably, they do not extend to locations like the United States, South America, territories in Asia, Africa, Australia, the United Kingdom, or any other regions beyond Europe that were not mentioned above.
Returns Policy
Ars Manufactorea takes customer satisfaction seriously and acknowledges that sometimes, a change of heart or an issue with the order might occur.
Consequently, they offer a 14-day return policy from the day of product receipt, provided that the returned items are intact, in their original packaging, and returned in the exact condition they were delivered. Please note that the buyer is responsible for the return shipping costs in these circumstances.
This return policy extends to situations where the product received isn't the one ordered, is damaged, or is missing some parts. In these cases, the goods must also be returned intact and in original packaging. However, Ars Manufactorea covers the return shipping costs for such non-compliant products.
Returned items must always be authorized and properly packaged as unauthorized returns or items shipped in makeshift packaging will not be accepted.
In response to a successful return, Ars Manufactorea provides two solutions:
Refund: This involves the return of the entire amount spent by the buyer on the product(s) in question.
Product Exchange: This involves replacing the original product(s) with another of the same value. Alternatively, the buyer may opt for a gift card of equal value to be used in the online shop.
Payment Methods Available
Ars Manufactorea caters to its customers with an array of payment options. If you're based in Italy, you can choose from PayPal, Bank Transfer, Postagiro (a special type of bank transfer for BancoPosta depositors), Postepay recharge, credit card payments (secured via PayPal servers), and cash on delivery.
For international customers, they accept PayPal, Credit Cards, and Bank Transfers.
In all cases, customers can rest easy knowing there are no hidden charges or extra fees associated with any payment method – Ars Manufactorea generously covers these for you.
Keep an eye out as they will soon introduce a new payment option, PayPal Pay-in-3, offering even more flexibility.
Ars Manufactorea Customer Service
At Ars Manufactorea, customer service isn't merely an afterthought—it's a core part of their business ethos. Their team of dedicated customer service representatives embodies a high standard of professionalism that sets them apart.
Right from the first interaction, you'll notice their quick response time. Whether you're inquiring about a product, facing difficulties with an order, or need help with the checkout process, their team is swift to respond. They understand that your time is valuable, so they work diligently to provide answers and resolve issues promptly.
We are mainly hobbyists more than players, we have a deep knowledge of the hobby but especially of the background of Warhammer 40k, which makes us a point of reference for the whole community of our country. We have a support program for Game Club and are a Tournament Organizer.

Alessandro Faglia, Ars Manufactorea
Our take on Ars Manufactorea
All in all, Ars Manufactorea presents a compelling online destination for Warhammer 40K enthusiasts in Italy and Europe, from beginners to veterans.
With its broad product range, competitive pricing, excellent customer service, and an easy-to-navigate website, it's a worthy consideration for anyone looking to dive into the world of Warhammer 40K.
We wholeheartedly encourage you to give Ars Manufactorea a go and discover their selection of Warhammer 40K products for yourself!