Wayland Games Online Shop Review
They offer a wide range of products from various manufacturers, including Games Workshop, Privateer Press, and Fantasy Flight Games. They also offer a variety of hobby supplies such as paints, brushes, and terrain.
Wayland Games was established in 2007 and is based in the UK, they ship worldwide. They also have a store located in Hockley, Essex, UK. Wayland Games is known for its wide range of products and good prices, they also have a blog and a YouTube channel where they post tutorials, reviews and other hobby-related content.
Wayland Games Reputation
A company's reputation is built on the experiences and perceptions of its customers. It can be influenced by factors such as the quality of products and services, the responsiveness of customer service, and the overall satisfaction of customers.
With over 30,000 reviews on Trust Pilot, Wayland Games boasts an Excellent score, and a multitude of 5 star reviews, from customers around the world. Users praised the overall service, the selection of paints and speedy delivery!
On the negative side, customers complained about the poor communication and lack of feedback around certain issues. Nevertheless, Wayland Games representative seem to be quick to reply to any issues as most of the concerns raised on Trust Pilot platform were being addresed by a company representative.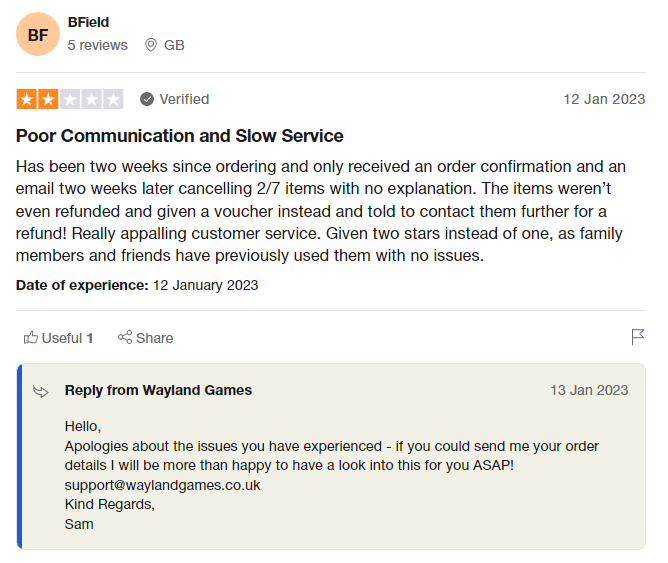 Wayland Games Paints and Miniatures Selection
The online shop offer a wide selection of games, miniatures, and paints from various manufacturers.
In terms of games, they carry popular titles such as Warhammer 40,000, Age of Sigmar, Warcry, and Kill Team. They also carry other miniature games like X-Wing, Infinity, and Star Wars Legion.
In terms of miniatures, they have a wide variety of options from different manufacturers like Games Workshop, Priv ateer Press, and Raging Heroes. They carry miniatures for popular games like Warhammer 40,000, Age of Sigmar, and Warcry, as well as historical miniatures and fantasy miniatures.
In terms of paints, they carry a wide range of paint brands such as Games Workshop, Vallejo, and Army Painter. They also carry brush, airbrushes and other tools for painting miniatures.
It is important to note that the selection may change over time and vary depending on the region, it's recommended to check the website directly for the most updated information.
Warhammer 40K miniatures and models at Wayland Games
Wayland Games is a well-known retailer of miniature games and hobby supplies, including a wide variety of Warhammer 40,000 miniatures. The options include miniatures for various factions such as Space Marines, Adeptus Mechanicus, Necrons, Chaos Space Marines, Orks, Eldar, and more. They also offer a wide range of vehicles, terrain pieces, and other accessories to enhance your gaming experience.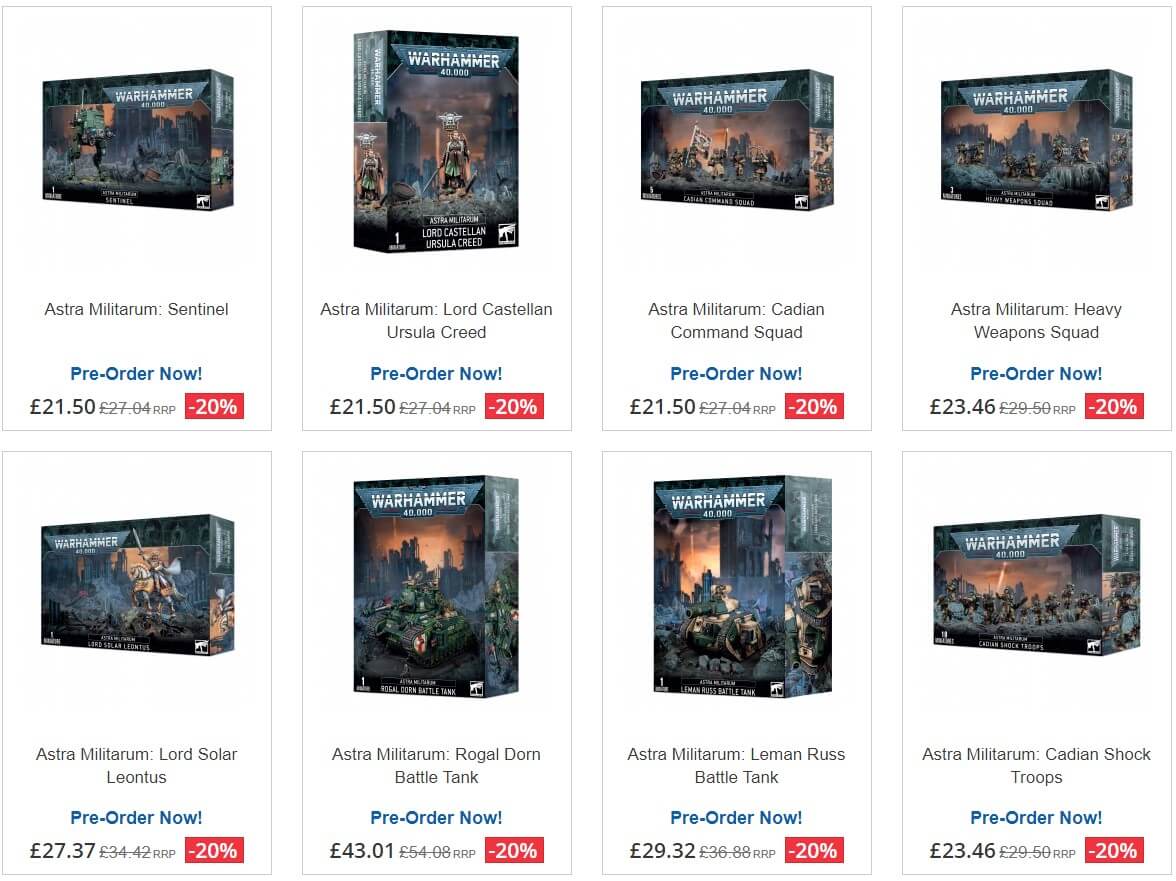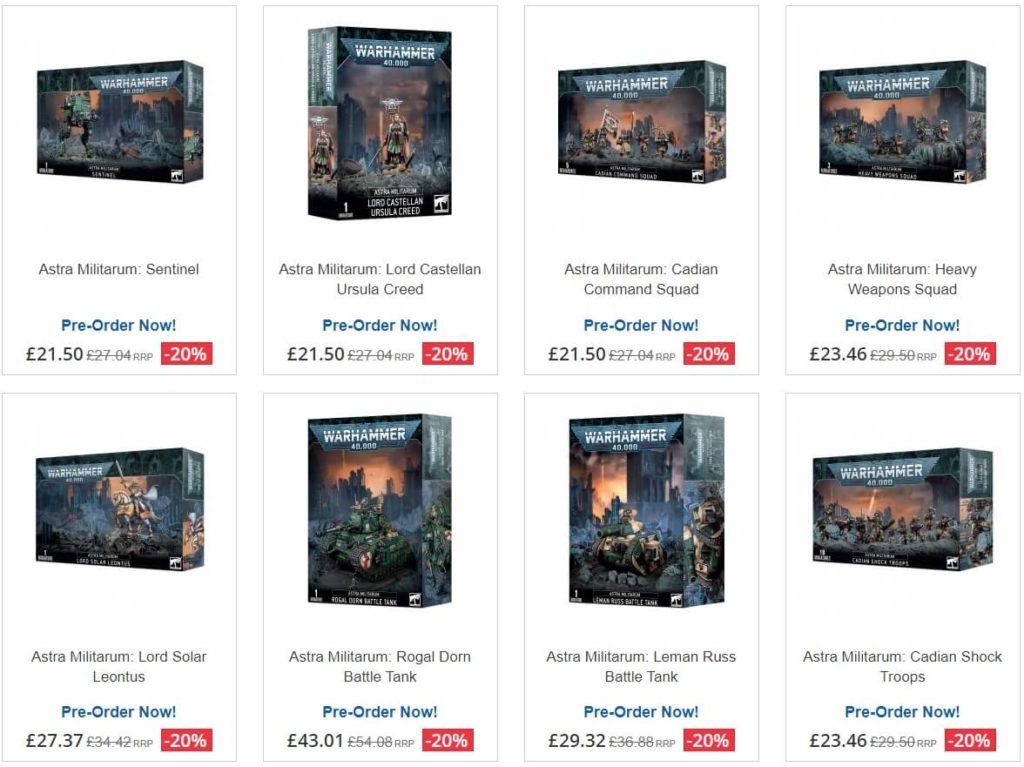 Buy W40K paints and accessories from Wayland
Wayland Games offers a wide variety of paints and accessories for miniature painting. Here is a list of some of the items that are available, at the time of the review:
Paints: Wayland Games offers a wide range of paints from different manufacturers such as Games Workshop, Vallejo, Army Painter, and more. They have a variety of paint types including acrylic, enamel, and lacquer.
Brush: They offer a wide range of brushes for miniature painting, including sable, synthetic, and bristle brushes in different sizes and shapes.
Tools: Wayland Games offers a variety of tools for miniature painting, including files, tweezers, and other accessories for assembling and converting miniatures.
Glues: They offer a variety of glues for attaching miniatures together, including superglue and plastic glue.
Primers: They offer a variety of primers for preparing miniatures for painting, including sprays, brushes, and rollers.
Airbrushing: They sell airbrush equipment, compressors, and airbrush paints.
Books and Magazines: They offer a variety of books and magazines on miniature painting and hobby techniques.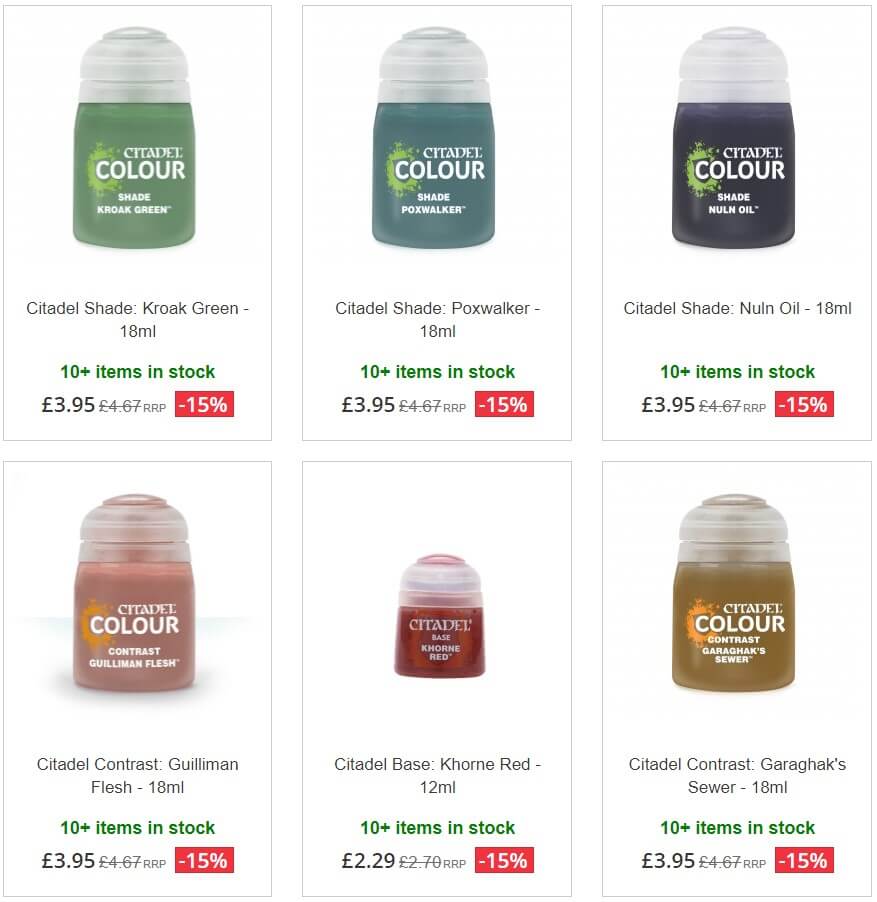 It's important to note that available product stock might vary, so it's worth checking the available selection yourself!
Wargames and game boxes available at Wayland Games
Wayland Games offers a variety of game boxes for the Warhammer 40,000 miniature wargame. Each box offers a different set of miniatures, rules, and accessories, and gives players a variety of options for building and expanding their armies and playing the game.
Here is a list of some of the options that are available:
Starter Sets: These sets are designed to introduce new players to the game, and typically include a small selection of miniatures, a rulebook, and other necessary components to play the game.
Army Boxes: These sets include numerous miniatures for a specific faction or army, and are often a good value for players looking to expand their collection.
Battleforce Boxes: These sets include a mix of miniatures from various factions, and are typically designed to be a good starting point for players looking to build a balanced army.
Boxed Games: These sets include everything needed to play the game, including miniatures, rulebooks, dice, terrain, and other accessories.
Expansion Boxes: These sets include additional miniatures, rules, and other components to expand upon existing armies or to add new factions to the game.
Specialist Games Boxes: These sets include miniatures, rules, and other components for the specialist games of the Warhammer 40,000 universe like Kill Team, Necromunda, and Adeptus Titanicus.
Promotions and Discounts


Wayland Games offers various discounts and promotions throughout the year. These can range from seasonal sales, clearance events, to loyalty programs and special offers on pre-orders.
It's one of the Warhammer 40K online shops that offers almost a constant discount on items.
At the time of the review the following discounts were available on Games Workshop products:
15% to 20% on Core Books and Rulebooks
20% on Starter Sets
20% on Faction and Combat Patrol Boxes
up 20% on Miniatures and Models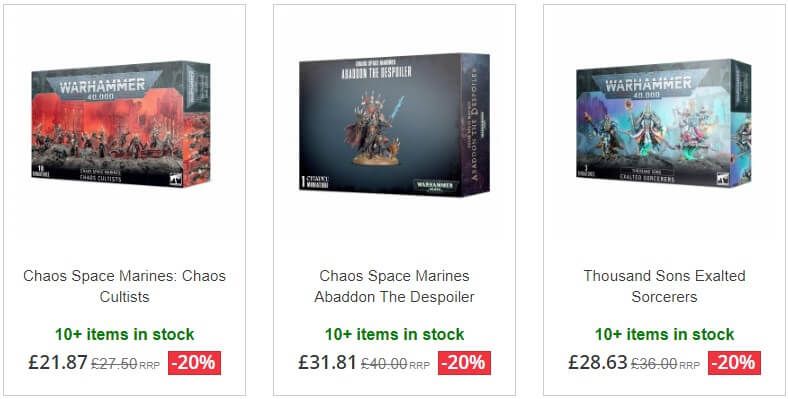 Wayland Games Loyalty Program
At Wayland Games, you earn points for every purchase you make, which is their way of thanking you for choosing them. You can start earning Loyalty Points by creating a Wayland Games Account and logging in when you place your order.
The best part is, for every £1 you spend, you earn 1 Loyalty Point, which is worth £0.01. The points you earn are displayed on each product page and added up in your shopping cart summary. For instance, if you bought a product worth £55, you would earn 55 Loyalty Points, equivalent to £0.55.
You can accumulate these points and redeem them on your next purchase. So, if you spend a considerable amount on wargames throughout the year, you could earn a substantial amount of points and use them for your next order.
It's a great way to save money and get the most out of your purchases.
How are Wayland Games prices in comparison to other online shops?
Thanks to its constant stream of discounts, the W40K paints, figurines, and accessories sold on Wayland Games are some cheapest ones you can find online. Here's a comparison between Wayland Games and other similar online shops in the UK.
For ease of comparing, all prices are displayed in their original currency.
| Product | Wayland Games | Firestorm Games | Element Games |
| --- | --- | --- | --- |
| The Horus Heresy: Sky-hunter Squadron | £29.82 | £33.00 | n/a |
| Astra Militarum: Cadian Command Squad | £21.87 | £24.20 | £23.37 |
| Army Painter Base Primer – Matt Black | £9.22 | n/a | £9.45 |
| Kill Team: Starter Set | £51.69 | £57.20 | £55.25 |
The prices on the website include all value added taxes (where applicable).
Wayland Games Delivery & Returns
Wayland Games offers shipping services in the United Kingdom, the EEA, and Rest of World.
Shipping to UK
First, there's Standard Shipping, which is usually carried by Royal Mail Tracked 48 but may also use other carriers to reach areas that are further out. It's free for orders over £20 that don't include Hazardous or Bulky goods.
Second, there's Enhanced Shipping, which is for Bulky and Hazardous items.
Finally, there's Premium Shipping, which is typically handled by DPD Next Day for a quick and efficient service that accommodates all types of goods.
Shipping to the EEA (European Economic Area)
When it comes to the EEA, all of the services are DDP (Delivered Duties Paid), which means that the company takes care of the import taxes and duties. However, the shipping options are a bit different from those available in the UK.
The Standard Shipping service varies depending on the destination country due to the UK's departure from the EU. This service cannot carry Bulky or Hazardous items, and currently, the only countries they can deliver to using this service are Austria, Belgium, Denmark, Finland, France, Germany, Ireland, Italy, Luxembourg, Netherlands, Portugal, Spain, and Sweden.
The Premium Shipping Road option covers most areas in the EEA and can take Bulky items. As for Premium Shipping Air, it's not currently active, but it's an option for areas that cannot be reached by road, and the company plans to expand it to more locations in the future. This service is expensive for Bulky items, especially large light items like foam, and it cannot deliver spray paints.
The Dangerous Goods Shipping EEA is another option for Hazardous goods, but it's not currently active. If you have a Hazardous item in your cart, this will be your only shipping option. It's slightly more expensive due to the additional packaging and paperwork that needs to be completed to send the parcel.
Rest of the World Shipping
Finally, when it comes to shipping to the Rest of the World, all the services are DDU (Delivered Duties Unpaid), which means that the customer is responsible for any import taxes and duties upon arrival.
There are two shipping options:
Premium Shipping RoW, which is an air courier service that cannot take Hazardous items, and
Dangerous Goods Shipping RoW, which is not currently active but is an air service dedicated to taking Hazardous items.
The latter option is more expensive due to the additional paperwork required to send these items on a plane.
Returns Policy
Wayland Games have an awesome returns policy.
If you need to return something, just make sure it's unopened, in the same condition you received it, and in its original packaging.
One thing to keep in mind is that you'll be responsible for the return shipping costs, and you need a Return Material Authorisation (RMA) before sending it back. But if it's their error or if the product is defective, they'll cover the shipping cost up to a maximum of £8.50.
To start the process, you'll need to reach out to their customer service team, and they'll give you instructions on how to proceed. Once you send it back, it could take 4-5 business days to arrive at Wayland Games, or even longer if you're shipping from overseas. But they usually inspect and process the return within 72 hours of receiving it.
After the inspection, they'll issue your refund, which will automatically be applied to your credit card or original method of payment within 7 days. Depending on your credit card company, it might take another 2-10 business days for the credit to show up in your account.
Payment Methods Available
You can pay with Visa, Mastercard, and Maestro cards and also PayPal. Currencies accepted are Australian Dollars, British Pounds, Euros, USD and New Zealand Dollars.
Wayland Games Customer Service
The online shop boasts an excellent rating on Trustpilot with 90% of reviews being a 5-star. We didn't run into any issues (so far) but if you would like to reach out to them, you can do it using the following methods:
| Contact | Details |
| --- | --- |
| Phone | +44 01702 668750 |
| Live Chat | Yes, on site. |
| Twitter | https://twitter.com/WaylandGames |
| Facebook | https://www.facebook.com/WaylandGamesLtd |
| Skype | Wayland Games Support / live:.cid.f8675a3d1379d334 |
Our take on Wayland Games
Wayland Games is a top-tier online shop with a great selection of games, miniatures, and accessories for gamers and hobbyists. Their extensive product range is complemented by frequent sales and discounts, which make it easy for customers to find great deals on quality items.
Additionally, their shipping options are fast and affordable, with free standard shipping on orders over £20 and several premium shipping options available for expedited delivery. Overall, Wayland Games provides a fantastic online shopping experience for anyone looking for Warhammer 40K products at competitive prices.