The Outpost Online Shop Review
If you're an avid tabletop gaming enthusiast or a hobbyist looking for a vast selection of miniatures and games, look no further than The Outpost. As an online shop specializing in table-top miniatures and games, The Outpost has established itself as a reputable destination for gamers of all kinds.
In this comprehensive review, we'll delve into various aspects of The Outpost's offerings, reputation, selection, promotions, loyalty program, pricing, delivery, returns, payment methods, and customer service.
The Outpost Reputation
The Outpost has earned a well-deserved reputation as a trusted source for table-top gaming products. With years of experience and a dedicated customer base, they have become synonymous with quality, reliability, and excellent service. The online store is known for their commitment to customer satisfaction, prompt shipping, and professional packaging that ensures your purchases arrive in pristine condition.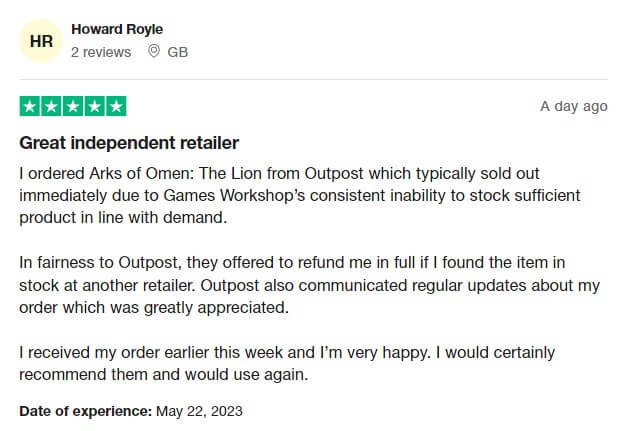 The Outpost Paints and Miniatures Selection
One of the standout features of The Outpost is their extensive selection of paints and miniatures. They cater to a wide range of gaming systems, but it's their selection of Warhammer 40,000 (W40K) miniatures and models that truly shines.
Warhammer 40K miniatures and models at The Outpost
The Outpost's collection of Warhammer 40K miniatures and models is truly impressive. Whether you're a fan of the Imperium, Chaos, Xenos, or any other faction, you'll find an extensive array of options to choose from. From troops and vehicles to heroes and monstrous creatures, The Outpost has you covered. The miniatures are sourced directly from reputable manufacturers, ensuring authenticity and high quality.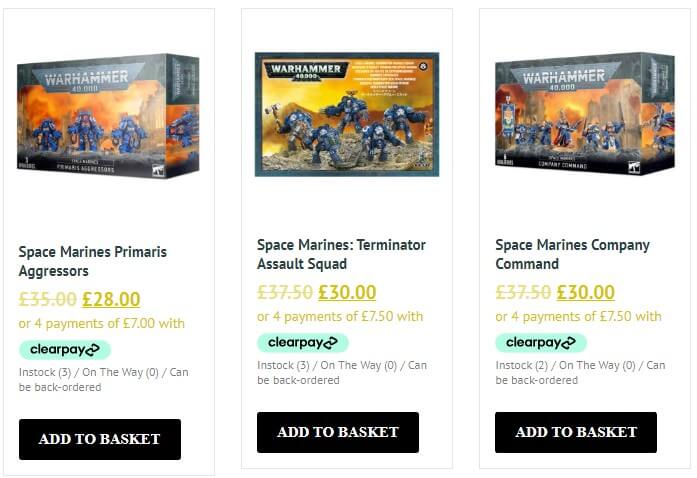 Buy W40K paints and accessories from The Outpost
In addition to the miniatures, The Outpost also offers a wide range of paints and accessories, including those specifically designed for Warhammer 40K. They partner with reputable suppliers like Wayland to provide customers with an extensive selection of paints, brushes, tools, and terrain pieces. This comprehensive range of painting supplies ensures that hobbyists can find everything they need to bring their miniatures to life.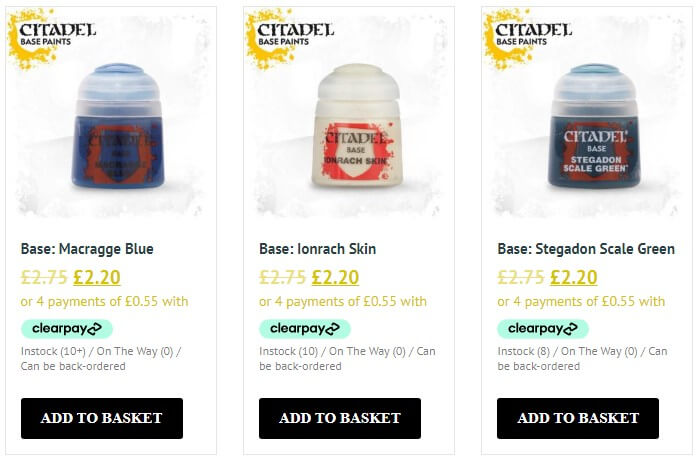 Wargames and game boxes available at The Outpost
Beyond miniatures, The Outpost boasts an impressive collection of wargames and game boxes. Whether you're into classic war games or exploring the latest board game sensations, you'll find a variety of options to suit your tastes. From strategy-driven games to cooperative adventures, The Outpost's selection caters to both seasoned gamers and newcomers to the hobby.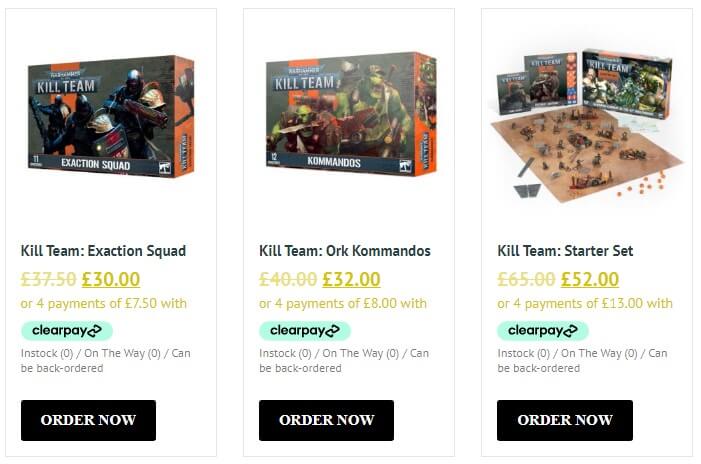 Promotions and Discounts
The shop frequently offers promotions and discounts, making it even more enticing for gamers to shop with them. They run regular sales, bundle deals, and special offers on select products. Keeping an eye on their website and subscribing to their newsletter will ensure you stay updated on the latest promotions, allowing you to make the most of your gaming budget.
At the time of the review the shop offered an almost site-wide discount of almost 20% on most products.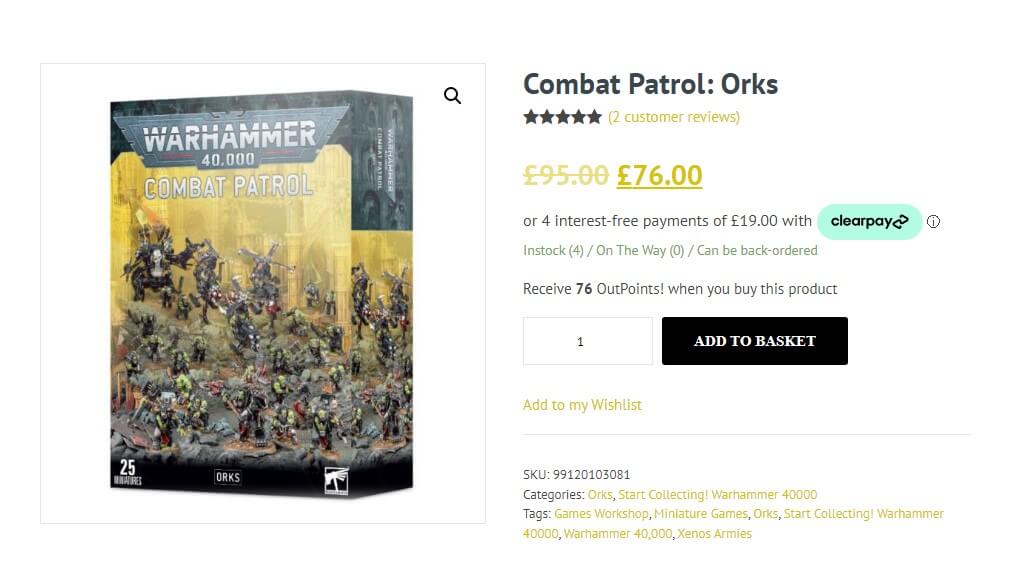 The Outpost Loyalty Program
As a gesture of appreciation to their loyal customers, The Outpost has implemented a loyalty program. By signing up for an account, customers can earn OutPoints with each purchase. These points can be redeemed for discounts on future orders, providing an added incentive to continue shopping at The Outpost.
How to earn OutPoints:
100 OutPoints are awarded upon new account creation.
25 OutPoints are awared for leaving a product review!
1 OutPoint per £1 spent!
How are The Outpost prices in comparison to other online shops?
While pricing can vary across different retailers, the store generally offers competitive prices for their products. They strive to provide value for money while maintaining the quality and authenticity of their offerings. It's worth noting that their promotions and loyalty program can further enhance the overall value and affordability of shopping with them.
The Outpost Delivery & Returns
The Outpost is committed to ensuring a smooth and hassle-free shopping experience when it comes to delivery and returns.
Shipping to UK
For customers in the United Kingdom, The Outpost offers reliable and efficient shipping services. They work with trusted courier partners to ensure that your orders are delivered promptly and securely. The shipping options available may vary based on the size and weight of your package. The Outpost provides clear information regarding shipping costs and estimated delivery times during the checkout process, allowing you to make informed decisions.
Shipping to the EEA (European Economic Area)
Customers in the European Economic Area (EEA) can also take advantage of The Outpost's shipping services. The store is committed to providing a seamless shopping experience for their European customers. They offer competitive shipping rates and strive to ensure that orders are delivered efficiently and without unnecessary delays.
Here's a complete list of shipping rates (in British pounds) if you're ordering from Europe or UK:
Zone Name
Service name
Total Charge
Free Threshold
Maximum
Order
Minimum Order
(UK)
Standard (2-3 days)
£3.99
£100.00
£300.00
–
Express (1-2 days)
£4.99
£180.00
£300.00
–
DPD Next Day
£5.99
£200.00
–
–
DPD Saturday
£10.00
£200.00
–
–
Click and Collect
£0.00
–
–
–
UK – Isle of Man
Standard (2-3 days)
£3.99
£100.00
£200.00
–
Express (1-2 days)
£4.99
£180.00
£200.00
–
DPD (2 day)
£16.80
–
–
–
UK – Northern Ireland
Standard (2-3 days)
£3.99
£100.00
£200.00
–
Express (1-2 days)
£4.99
£180.00
£200.00
–
DPD (2 day)
£13.00
–
–
–
Scottish Islands & Highlands
Standard (2-3 days)
£3.99
£100.00
£200.00
–
Express (1-2 days)
£4.99
£200.00
£200.00
–
DPD (2 day)
£13.00
–
–
–
Austria
DPD (3 day)
£30.00
£300.00
–
–
Belgium
DPD (3 day)
£24.20
£250.00
–
£130.00
Denmark
DPD (4 day)
£31.25
£300.00
–
£130.00
Finland
DPD (2 day)
£37.20
£350.00
–
£130.00
France
DPD (3 day)
£24.00
£250.00
–
–
Germany
DPD (3 day)
£29.75
£300.00
–
–
Ireland
DPD (2 day)
£17.22
£175.00
–
–
Italy
DPD (2 day)
£26.84
£275.00
–
–
Lithuania
DPD (2 day)
£24.20
£250.00
–
£130.00
Luxembourg
DPD (2 day)
£29.25
£300.00
–
£130.00
Netherlands
DPD (3 day)
£24.20
£250.00
–
–
Norway
DPD (2 day)
£62.50
–
–
£130.00
Poland
DPD (2 day)
£24.60
£250.00
–
£130.00
Spain
DPD (4 day)
£26.62
£275.00
–
–
Sweden
DPD (2 day)
£27.50
£275.00
–
£130.00
Switzerland
DPD (3 day)
£47.39
–
–
£130.00
Rest of the World Shipping
Unfortunately, if you reside outside the UK or the EEA, The Outpost is not able to deliver Games Workshop products to you! Other ranges can be shipped worldwide. Please reach out to one of their representatives before placing your order if you are unsure.
Returns Policy
In the event that you need to return a product, The Outpost has a customer-friendly returns policy. They understand that sometimes, items may need to be exchanged or refunded. The Outpost allows returns within a specified timeframe, provided the items are in their original condition and packaging. It's important to review their returns policy on their website for specific details and instructions on initiating a return.
The online shop will accept returns within 16 days of dispatch under the following conditions:
Items must be in their original packaging and unopened.
Items returned are at the buyers expense.
We reserve the right to refund your order with any associated Postage and Packaging charges deducted from the refund total.
Payment Methods Available
The Outpost offers a range of convenient and secure payment methods to accommodate their customers. These methods typically include major credit cards, such as Visa and Maestro, as well as alternative payment options like PayPal. The variety of payment methods available ensures that customers can choose the option that best suits their preferences and needs.
For UK residents over the age of 18, the store also offer Clearpay – a lending service that allows customers to pay over 4 installments, due every 2 weeks.
The Outpost Customer Service
The Outpost takes pride in providing excellent customer service. Their knowledgeable and friendly team is readily available to assist customers with any inquiries or concerns they may have. Whether you need assistance with product selection, have questions about an order, or require technical support, The Outpost's customer service team is dedicated to ensuring your satisfaction.
You can reach out to them at custserv@the-outpost.co.uk or on their Facebook or Twitter channels!
Our take on The Outpost
Overall, The Outpost stands out as a top-notch online shop for table-top miniatures and games. They have an exceptional reputation, extensive selection of miniatures and paints, promotions and discounts, loyalty program, competitive pricing, reliable UK and EU shipping options, convenient payment methods, and dedicated customer service.
Nevertheless, the fact that they only accept British Pounds and don't offer US, Canada or Australia delivery brings the overall shop rating down.

But, if you're a seasoned hobbyist or just starting your tabletop gaming journey, The Outpost is definitely a shop to visit to meet your gaming needs.