Introducing Astorath the Grim, the legendary High Chaplain and Redeemer of the Lost for the Blood Angels! With his reputation as a true Angel of Death, he inspires fear and awe in equal measure. Astorath is a force to be reckoned with on the battlefield, unleashing destruction upon his foes with a relentless fury that seems almost supernatural.
The kit for Astorath the Grim is nothing short of exquisite, with five finely detailed resin components that come together to create a stunning miniature. Assembling the model is a fun and rewarding task, but we recommend using Citadel Super Glue for a secure and long-lasting bond. Once assembled, it's time to bring this miniature to life with a bit of paint. We suggest using Citadel Paints to add depth and character to your Astorath the Grim model.
In battle, Astorath leads the fearsome Death Company army, which follows him into the fray with an unbreakable loyalty. This miniature is the perfect addition to your collection if you're a fan of the Blood Angels, or if you simply love to collect finely crafted miniatures that are full of character and detail. Don't miss out on the opportunity to add Astorath the Grim to your collection today!
Astorath the Grim Datasheets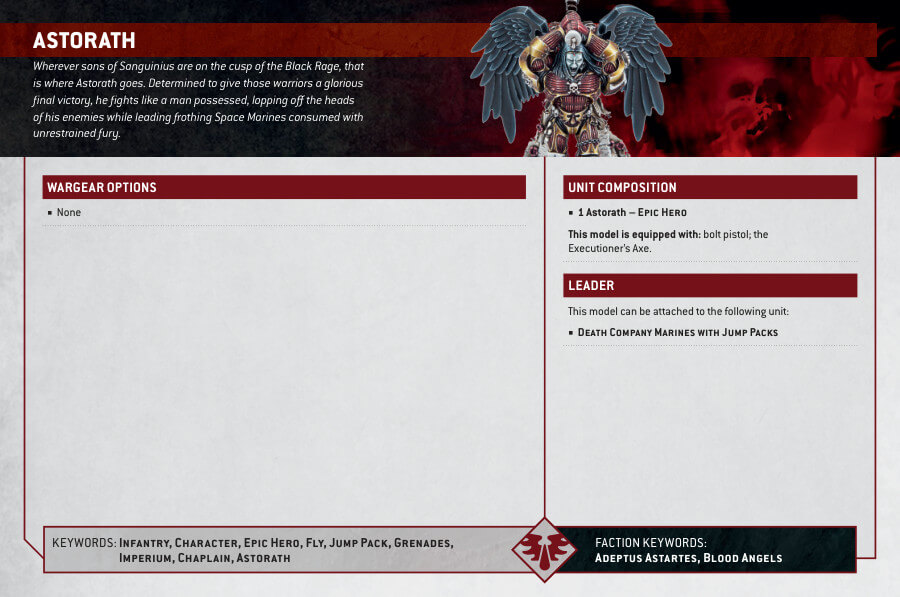 What's in the Astorath the Grim box
x5 Highly detailed resin components that make one Astorath the Grim miniature.
x1 Citadel 25mm round base for easy display.