Behold the Hive Tyrants, the massive commanders of the Tyranid swarm, enacting the will of the Hive Mind on the battlefield. Among them, the Winged Hive Tyrants are spawned to control airborne swarms and serve as mobile synaptic nexuses. With their nightmarish organic weapons and their monstrous forms resonating with the synaptic might of the Hive Mind, these dread swarmleaders instill terror and death wherever their shadowy wings cast.
This multipart plastic kit presents the awe-inspiring Winged Hive Tyrant, a dynamic leader-beast capable of fulfilling various roles on the battlefield. With its fibrous and ragged wings spread wide and serpent-like tail touching the ground, the Winged Hive Tyrant appears poised for flight or ready to pounce on its prey, making it a perfect centerpiece for any Tyranid army.
The kit provides a wealth of weapon options, including two scything talons, a heavy venom cannon, a stranglethorn cannon, a bonesword, and a lash whip. Additionally, it offers biomorphs such as adrenal glands and toxin sacs, along with other components for customizing your Winged Hive Tyrant to your preference.
Embrace the power and grandeur of the Winged Hive Tyrant, a relentless force on the battlefield, ready to lead your Tyranid swarm to victory and dominance!
Winged Hive Tyrant Datasheets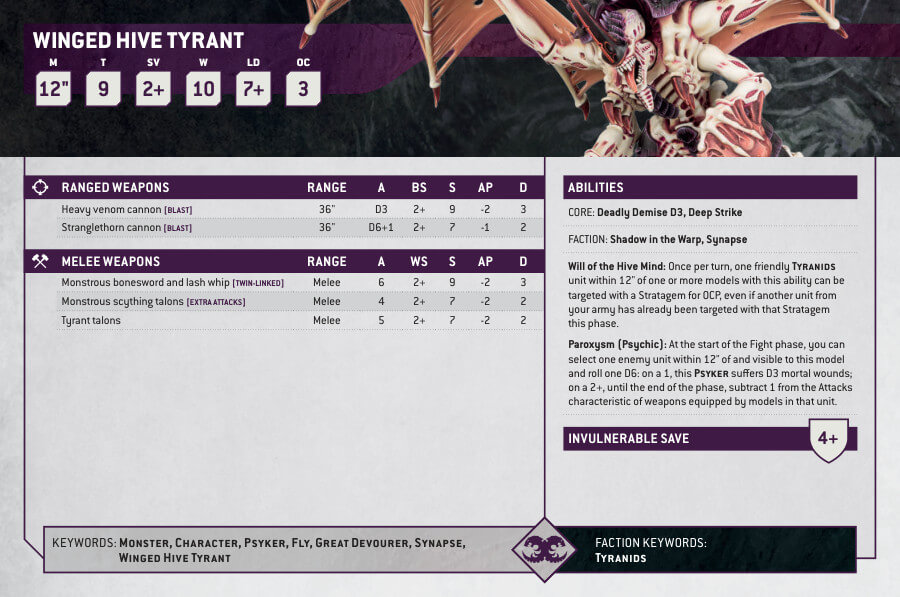 What's in the Winged Hive Tyrant box
x59 plastic components that make 1 Winged Hive Tyrant. Moreover, you have the choice to build this kit as a wingless Hive Tyrant or the insidious Swarmlord, further expanding the versatility of your Tyranid forces.
x1 Citadel 60mm Round Base.
How to paint the Winged Hive Tyrant set