This Captain, a renowned and steadfast warrior, is safeguarded by a revered suit of Tactical Dreadnought armor. As a sturdy leader, he specializes in guiding Terminator strike teams into the heart of enemy territory.
This new model is part of the new Leviathan Box and is most likely based on the current Deathwatch Terminator Captain although his stats and abilities will definitely be change for the new edition of the game.
Captain in Terminator Armour Datasheets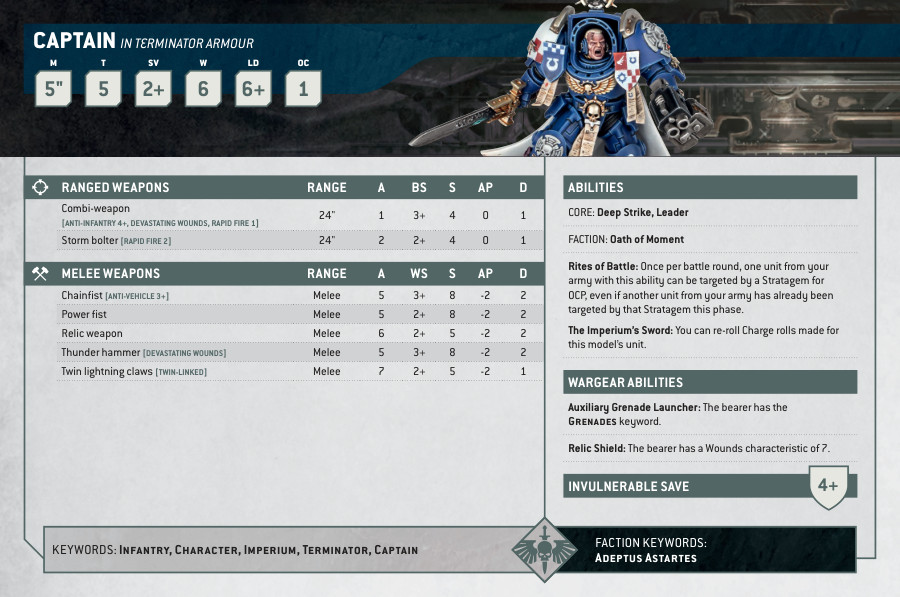 Captain in Terminator Armour in the Leviathan Box
The head of this Space Marine strike force in the Leviathan Box, the captain is bedecked in intricate Terminator armor, as depicted on the box by Severus Agemman.
His impressive display base showcases a partially buried head of a Screamer-Killer, indicating his ability to handle such a formidable Tyranid foe.
It's worth noting that the miniature itself is Chapter-agnostic, allowing you to use it to represent a captain from any Chapter of your choice.
This miniature is not yet available as a standalone set and the only place where you can get it is the Leviathan Box.