Driven by an unwavering devotion to eradicating Daemons, Torquemada Coteaz is a force to be reckoned with. His unyielding determination and strategic brilliance make him a formidable adversary on the battlefield. With an extensive network of spies and loyal acolytes, Coteaz stays one step ahead of his opponents, outsmarting and outmaneuvering them with ruthless precision. As a competent psyker, he possesses formidable psychic powers that further bolster his abilities in combat. Coteaz is unwavering in his pursuit of justice and purity, leaving no room for compromise or mercy when facing those who threaten the Imperium.
Inquisitor Coteaz Datasheets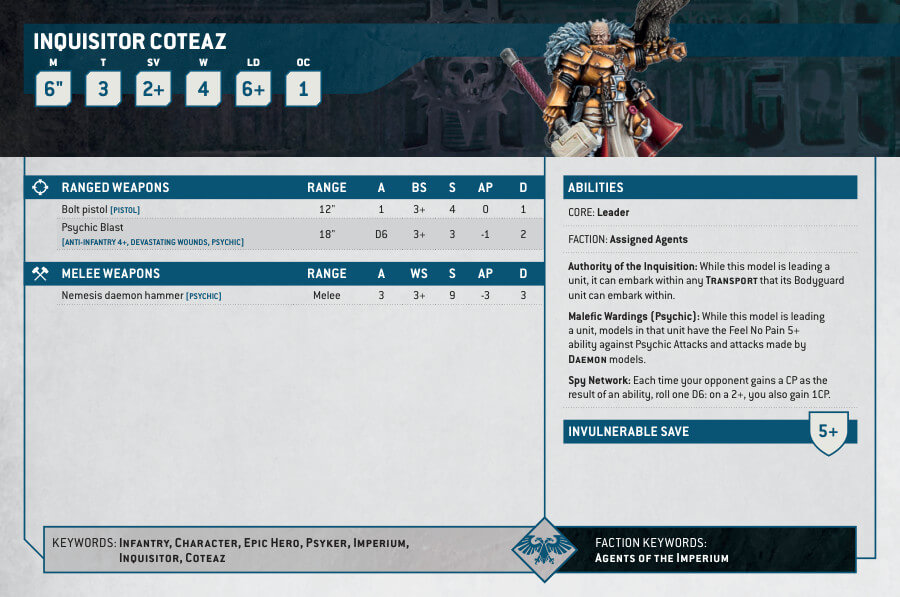 What's in the Inquisitor Coteaz box
x3 resin components that make Inquisitor Coteaz: The pack includes a highly detailed resin cast kit of Inquisitor Coteaz, capturing the intricate features and design of the character. It is a finely crafted model that showcases the attention to detail and quality of the sculpt.
x1 Citadel 25mm Round Base: Inquisitor Coteaz is supplied with a 25mm round base, providing a solid foundation for the miniature. The base is designed to complement the character's pose and add to the overall aesthetic appeal.
How to paint the Inquisitor Coteaz set