This year's festivities feature the endearingly mischievous Da Red Gobbo at a chimney, ready to drop a sizzling surprise down to the unsuspecting dwellers below. Anticipation mounts for the explosive revelry they're poised to experience!
A glance at the collection of gifts reveals that our little rogue ork has a selection of high-end presents to offer, including art supplies like a paintbrush and paints, and a generous dose of explosives for good measure. It seems the recipient of this crackling gift might just be on the 'naughty' list.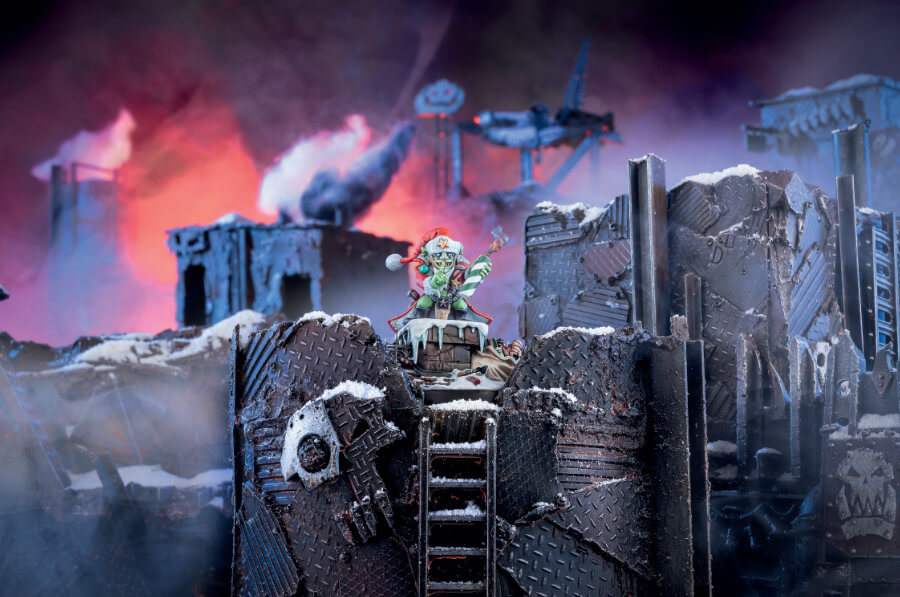 Originally a fiery revolutionary, this cunning giver has recently taken a fond liking to the Christmas spirit. Over the years, Da Red Gobbo has undergone various transformations, each bringing unique twists to the lore. It's rumored that the title of Red Gobbo is bestowed upon those gretchins who, driven by a sense of justice, dare to challenge the status quo, risking their own safety in the process.
The much-awaited narrative Da Gobbo Rides Again will soon be available for pre-order, inviting you to explore the profound questions it poses. Moreover, Da Red Gobbo's Surprise will soon be released as a collectible miniature. Keep an eye on the Warhammer Community for updates on its availability and join in the celebration of this iconic character's return.
Da Red Gobbo Datasheet