Step onto the battlefield and witness the awe-inspiring might of the elite Celestian Order, whose privileged few have the honor of commanding the mighty Paragon Warsuits. These colossal war engines are not to be taken lightly, as their capricious machine spirits demand unwavering faith and unparalleled skill from their pilots. But for those who rise to the challenge, the rewards are immense, for they become formidable adversaries capable of conquering even the Imperium's most colossal foes.
The Paragon Warsuits represent the epitome of the Adepta Sororitas heavy infantry, armed with an arsenal of devastating firepower and colossal close-combat weapons. With these formidable tools at their disposal, the pilots are poised to eradicate hordes of enemy infantry with ease. Moreover, they fearlessly engage in duels against the most formidable adversaries, confident in their ability to overcome any obstacle that stands in their way. Their unyielding trust in the thick armor plating of their warsuits shields them from harm, allowing them to emerge from battles unscathed and victorious.
Paragon Warsuits Datasheets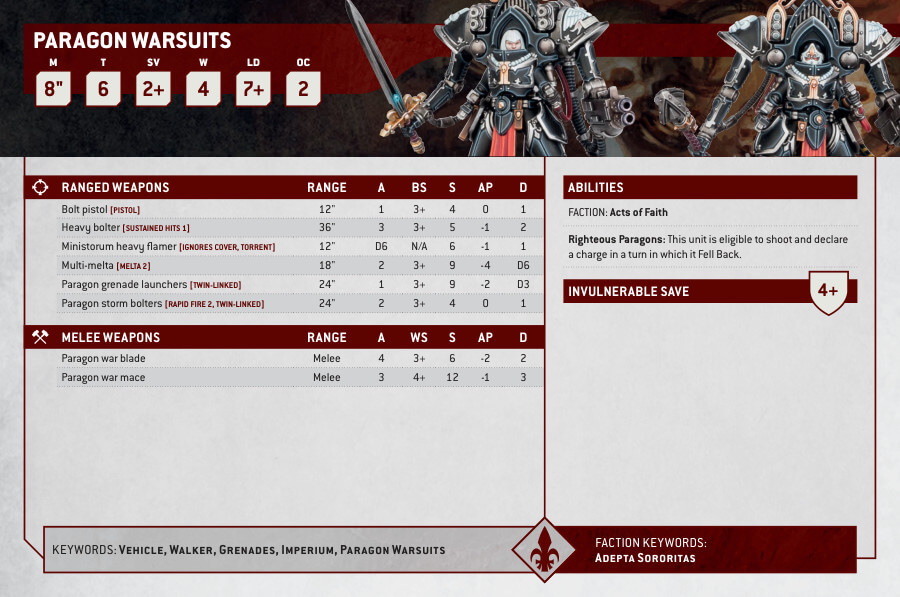 What's in the Paragon Warsuits box
x179 plastic components that make three Paragon Warsuits.
x3 Citadel 50mm Round Bases, providing stable and fitting bases for each Warsuit.
How to paint the Paragon Warsuits Set