The malevolent Oracle of Tzeentch, possesses the extraordinary ability to see both the past and the future. Utilizing his mastery of magic, he can manipulate destiny to his advantage, transforming enemies into twisted Chaos Spawn or reducing them to ashes with dazzling multicolored flames.
As the centrepiece of a Tzeentchian army, this towering figure, represented in the multi-part plastic kit, exudes an aura of power and customization. With two distinctive heads and adjustable wings, Kairos Fateweaver's Staff of Change, adorned with symbolic elements, adds an extra touch of Tzeentchian influence.
Notably, assembling the kit as Kairos Fateweaver allows for a unique right arm assembly featuring a hand bearing an all-seeing eye.
Kairos Fateweaver Datasheets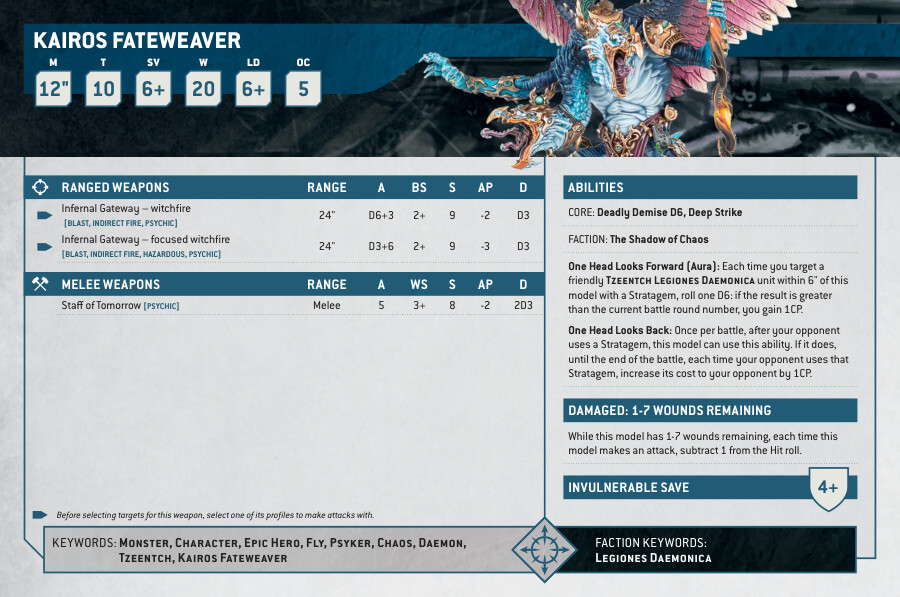 What's in the Kairos Fateweaver box
x72 plastic components you can use to build Kairos Fateweaver or a Lord of Change
x1 Citadel 100mm Round base