Element Games is a top-notch online store for all your gaming needs. From board games to video games and everything in between, this shop has got you covered. Their website is easy to navigate, with a wide range of products available at competitive prices.
Element Games has an impressive selection of products, including miniatures, paints, gaming accessories, and more.
They offer a variety of popular war gaming titles such as Warhammer, Dungeons & Dragons, and Magic: The Gathering. Customers can also find a vast array of hobby supplies and tools to enhance their gaming experience.
In addition to their comprehensive product range, Element Games offers excellent customer service. Their knowledgeable and friendly staff are always ready to assist customers with their queries and provide expert advice. The shop has a fast and efficient shipping service, delivering orders directly to customers' doors.
Element Games Reputation and Customer Reviews
They have an exceptional reputation among the Warhammer 40,000 community and are known for their vast selection of products, competitive pricing, and exceptional customer service.
They stock a wide range of Warhammer 40,000 miniatures, paints, and accessories, including the latest releases from Games Workshop.
Although their website is in a dire need of a redesign, it's still easy to navigate, and the checkout process is simple and hassle-free.
The store's high-quality customer service is also reflected on its Trustpilot page where the shop boasts a 4.8 score from over 13K reviews.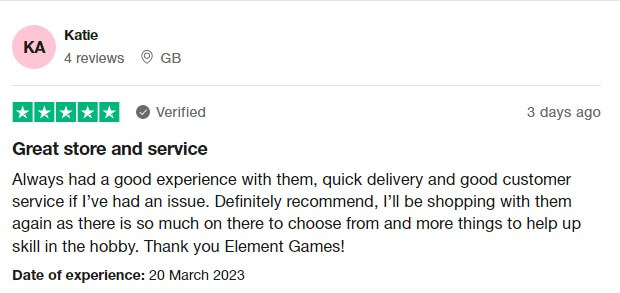 Element Games Online Shop – Warhammer 40,000 product selection
Element Games' Warhammer 40,000 product offering is impressive, with a broad range of miniatures, games, and accessories available. Whether you're a beginner or a seasoned player, there is something for everyone at this online store.
Miniatures and models available
When it comes to Warhammer 40,000 miniatures, Element Games offers a comprehensive range of options, including models for various factions such as Space Marines, Chaos Space Marines, Orks, and Necrons.
They also have a wide variety of unit types, from infantry to vehicles and monsters, allowing players to build and customize their armies to their liking.
At the time of review all the new Boarding Patrols box-sets announced during Adepticon 2023 were available to pre-order at a discounted price.


Paints and accessories selection
Element Games shop offers a wide variety of paints and painting accessories for miniature enthusiasts. Here are some of the items available:
Paints – The shop offers the entire selection of base, dry, metallic, or air paints for any miniature painting project from a multitude of brands. Citadel Colour, Pro Acryl, Darkstorm, Colour Forge are only a few of the brands found here.
Brushes – Element Games offers a wide range of brushes for all levels of hobbyists, from beginners to professionals. They have a variety of sizes and types, including dry brushes, detail brushes, and base coating brushes. You'll find here the latest models from Artis Opus, Army Painter and Element's Games own brush series.
Painting Sets – These sets contain all the necessary paints and brushes needed to complete a specific project, such as painting an army or creating a specific color scheme.
Painting Accessories – Element Games also offers a range of painting accessories, such as palettes, spray cans, and painting handles. These accessories can make the painting process more comfortable and efficient.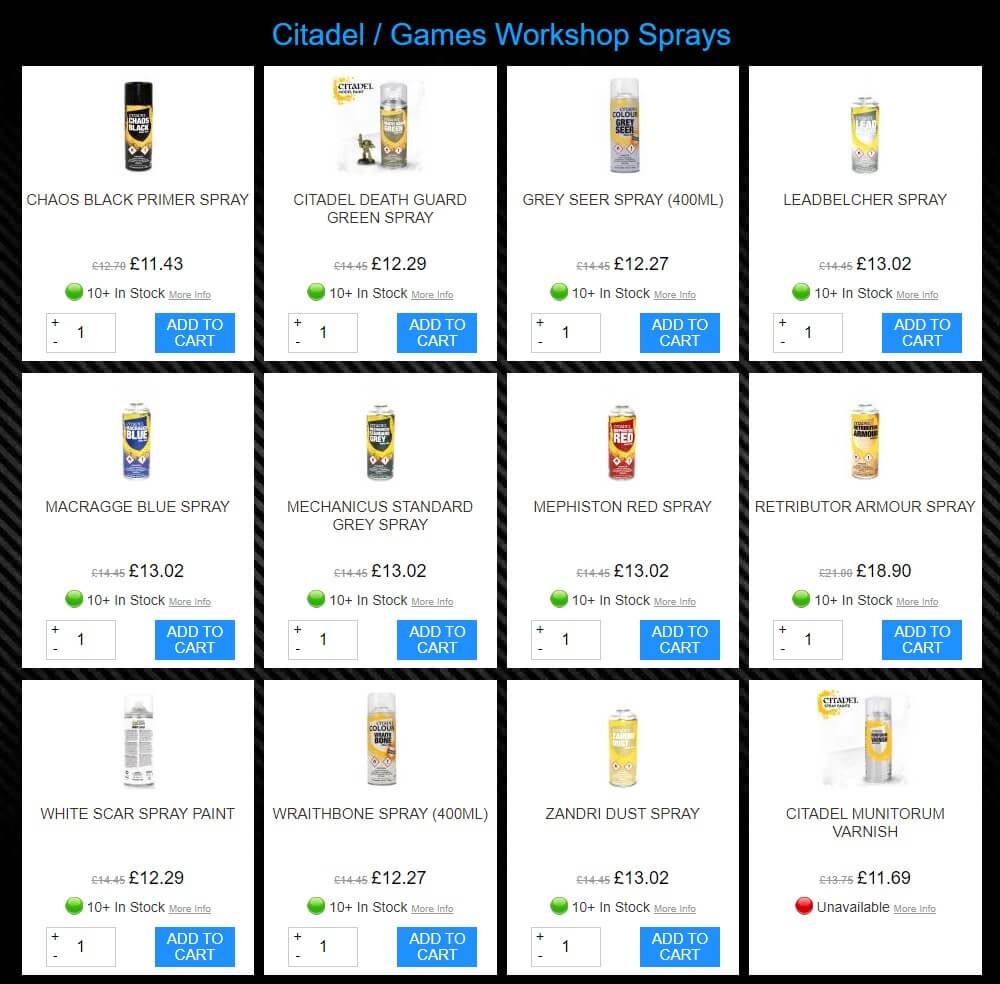 Element Games' war games and game boxes selection
At Element Games, Warhammer 40,000 players can find an assortment of game boxes that contain various miniatures, rules, and accessories to help them build and expand their armies and enjoy the game. Whether you're a beginner or an experienced player, there is a game box that will suit your needs.
Here are some of the available options:
Starter Sets: These sets are perfect for new players who want to start playing Warhammer 40,000. They usually contain a small selection of miniatures, a rulebook, and other components necessary to play the game. Starter sets are an excellent way to get familiar with the game mechanics and different factions available.
Army Boxes: These sets are a great option for players who want to expand their collection with numerous miniatures for a specific faction or army. Army boxes are often a good value and allow players to build larger armies quickly.
Battleforce Boxes: These sets include a mix of miniatures from different factions, and are ideal for players who want to build a balanced army. Battleforce boxes offer a good selection of miniatures at a reasonable price.
Expansion Boxes: These sets are perfect for players who want to expand upon their existing armies or add new factions to the game. Expansion boxes include additional miniatures, rules, and other components to help players customize their armies.
Specialist Games Boxes: These sets include miniatures, rules, and other components for the specialist games of the Warhammer 40,000 universe. Specialist games like Kill Team, Necromunda, and Adeptus Titanicus offer unique gameplay experiences that are different from traditional Warhammer 40,000 battles.
Promotions and Discounts at Element Games
The store regularly offers promotions and discounts on various products throughout the year, including seasonal sales, bundle deals, and discounts on pre-orders.
Customers can also earn reward points with each purchase, which can be redeemed for discounts on future orders.
With Element Games, customers can earn Element Crystals for every $10 spent on an order, with each crystal worth $0.10, and redeem them on future orders.
There's no limit to the number of crystals that can be spent on an order, and they never expire, making it a great way to save money on future purchases.
Additionally, the shop offers a permanent 15-25% off on selected Warhammer 40000 products and 10% off on Artis Opus Brushes!