Einhyr Champions are a force to be reckoned with, clad in specially modified exo-armour equipped with mass drivers. When combined with their close-quarters weaponry and robust RAM shields, they become living battering rams. Their accelerated charge hits with such ferocity that it can effortlessly breach even the most fortified gates.
This multi-part plastic kit allows you to craft an impressive Einhyr Champion for your Leagues of Votann army. Part of the exclusive Commemorative Series, this miniature offers unique details and features that set it apart, making it a must-have addition for collectors and a canvas for showcasing your painting skills. This heroic figure is not just a formidable addition to your army but also a display piece that will shine on your shelves. With three head options – one bare, one helmeted, and one with an open visor – you have the freedom to customize this champion to your liking. Prepare to unleash the might of the Einhyr Champion and conquer your battles in style.
The Ancestors' Wrath Datasheets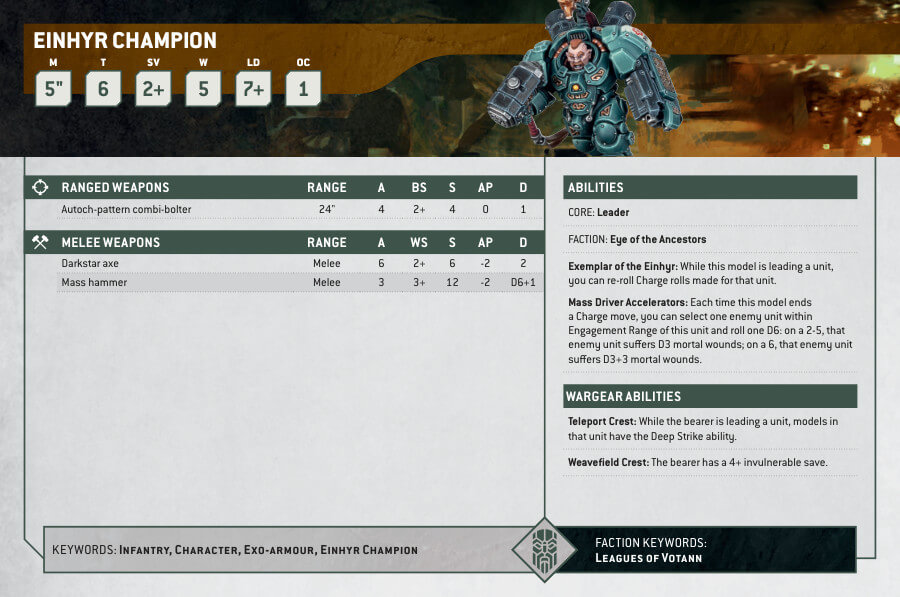 The Ancestors' Wrath – Warhammer 40th Anniversary Commemorative Miniature
Historic Lineage: Rooted deeply in the annals of Warhammer 40,000 history, this miniature traces back to the ancient Leagues of Votann.
Exquisite Details: Adorned with a striking stag crest on its armor, the symmetry of design extends to the motif on its shield.
Customizable Appearance: Catering to the tastes of every collector, choose from three different heads – the classic helmet, a lifted visor, or a bare-headed version.
Galactic Quest: Echoing the narrative of the Leagues of Votann's return, this piece encapsulates their quest to protect the Ancestor Cores, marking their stake in the galaxy's most precious materials.
Dive deep into Warhammer's rich legacy with this exclusive miniature. Whether you're a seasoned collector or new to the Warhammer universe, "The Ancestors' Wrath" is an unparalleled addition to any collection. Pre-orders launching soon; stay connected for updates!
What's in the The Ancestors' Wrath box
x26 plastic components that make one model.
x1 Citadel 40mm Round Base.