Lieutenants play a crucial role in the Adeptus Astartes, serving as the trusted right hands of their Captains. They bring tactical expertise and guidance to the battlefield, directing their fellow battle-brothers in the heat of combat. Their responsibilities often extend to commanding a demi-company or strike force, handling the intricate logistics of squad-level coordination, and setting the example as exceptional leaders. This invaluable support allows Captains to concentrate on the broader strategic aspects of the entire theater of war.
A Primaris Lieutenant represents a vital HQ choice for any Adeptus Astartes Faction, including renowned chapters like the Blood Angels, Dark Angels, and even the Space Wolves, where they assume the role of the Primaris Battle Leader. Armed with a potent combination of a power sword and a bolt pistol, these warriors are melee-focused and adept at close combat. Their formidable Mark X power armor is adorned with revered relics and laurel wreaths, symbolizing their dedication to the Chapter's legacy and honor.
Primaris Lieutenant with Power Sword Datasheets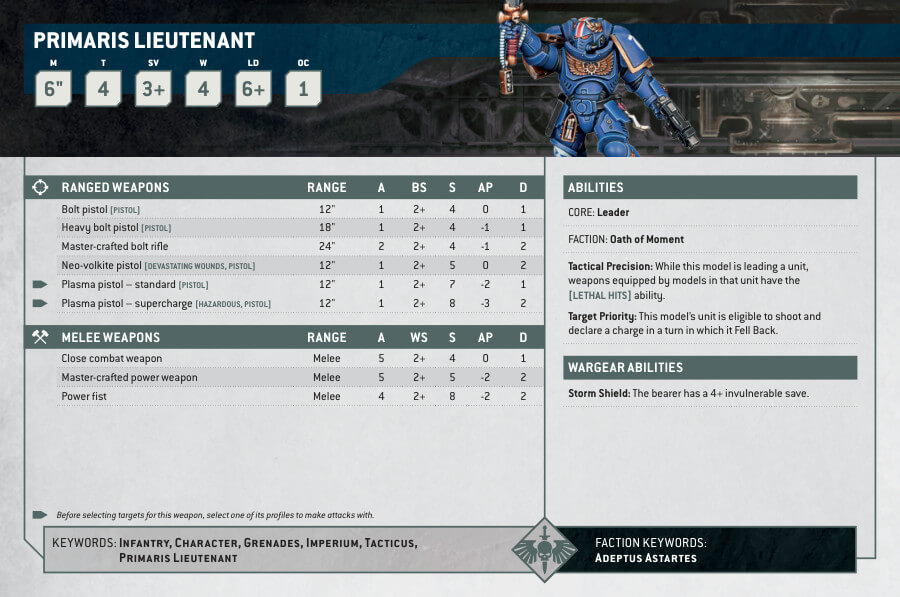 What's in the Primaris Lieutenant with Power Sword box
x9 plastic components that make one Primaris Lieutenant with Power Sword.
x1 Citadel 40mm Round Base.
How to paint the Primaris Lieutenant with Power Sword set