The Tanith First and Only, led by the dynamic Colonel-Commissar Ibram Gaunt, are an unparalleled reconnaissance regiment in the Astra Militarum, recognized for their remarkable stealth abilities and camouflage cloaks that allow them to operate undetected. This squad of six specialists is equivalent to any elite unit in the human forces, with each member contributing a unique skill set. The Ghosts' stealth capabilities are so impressive that their enemies struggle to detect them, even in the lightest terrain. The team includes Colonel-Commissar Ibram Gaunt, armed with a bolt pistol and chainsword, Hlaine Larkin with his long-las, 'Try Again' Bragg carrying an autocannon, and Corbec, Rawne, and Mkoll wielding lascarbines. Additionally, each model comes equipped with frag grenades and the signature straight silver knife and camo-cloak of the Tanith First and Only.
Gaunt's Ghosts Datasheets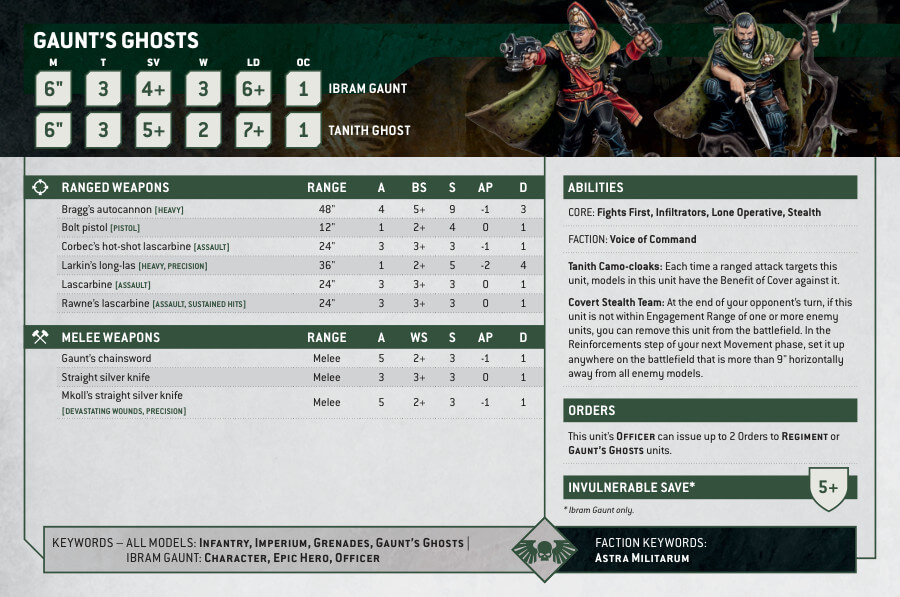 What's in the Gaunt's Ghosts box
x35 plastic components, with which you can assemble 6 miniatures: one Colonel-Commissar Ibram Gaunt, one Colonel Colm Corbec, one Major Elim Rawne, one Master Sniper Hlaine Larkin, one 'Try Again' Bragg, and one Sergeant Scout Oan Mkoll.
x6 Citadel 28.5mm Round Bases.
How to paint the Gaunt's Ghosts Set