The Mutalith Vortex Beast is an abomination that defies the laws of nature, a creature pulsating with the chaotic energy of Tzeentch. This multipart plastic kit allows you to assemble this horrifying monstrosity, featuring a swirling vortex of raw Chaos energy hovering above its back and nine menacing tentacles emerging from its mouth. Its nightmarish form, adorned with spikes, tendrils, and grotesque growths, is a sight to behold. The kit also offers alternative head options, including a horned face with multiple tongues and a grimacing mouth with intimidating growths.
This versatile kit can be used to field the Mutalith Vortex Beast in Slaves to Darkness armies for Warhammer Age of Sigmar and Thousand Sons armies in Warhammer 40,000. Alternatively, you have the option to build it as a Slaughterbrute, a ferocious creature bound by dark sorcery. Whether you unleash its devastating powers in the Mortal Realms or the grim darkness of the 41st millennium, the Mutalith Vortex Beast is sure to strike fear into the hearts of your opponents.
Mutalith Vortex Beast Datasheets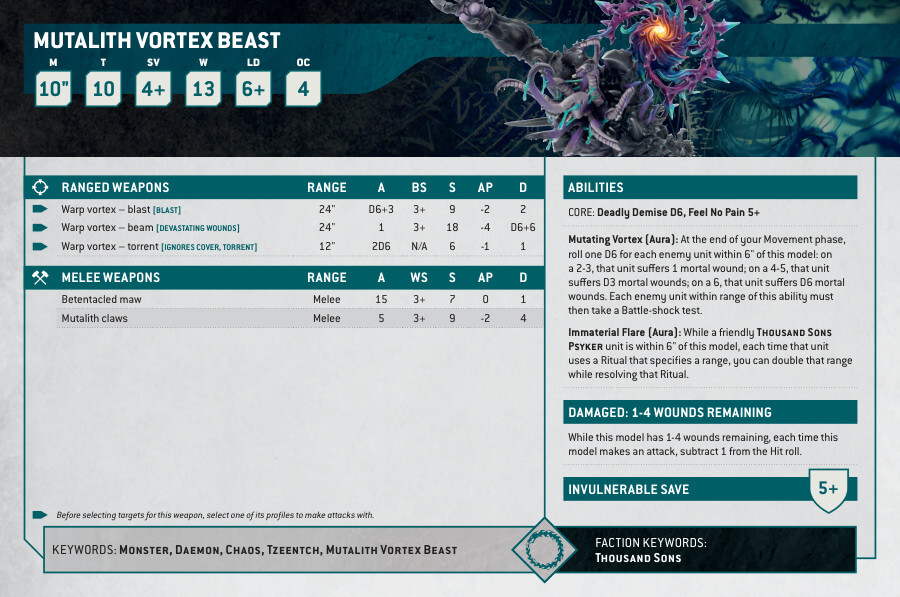 The Slaughterbrute does not have a datasheet available.
What's in the Mutalith Vortex Beast box
x78 plastic components you can use to build a Mutalith Vortex Beast or a Slaughterbrute.
x1 Citadel 120x92mm Oval Base