We've got all the insider information on the hottest deals, discounts, and freebies for Warhammer 40000, and we're always updating our page with the latest promotions. And if you're new to the game, we've got beginner-friendly resources to help you get started and build your army like a pro.
Current Offers, Deals, and Promotions – Updated April 2023
Looking to save some cash on your Warhammer 40,000 purchases? Check out these awesome promotions from Games Workshop and other retailers:
1. Up to 20% off on Warhammer 40K products at Wayland Games
For a limited time, Wayland Games is offering up 20% discount on multiple miniatures, boxes and games that you can use on your order. Stock up on new units, paints, and terrain, and save big on your next purchase.
Some discounted items are :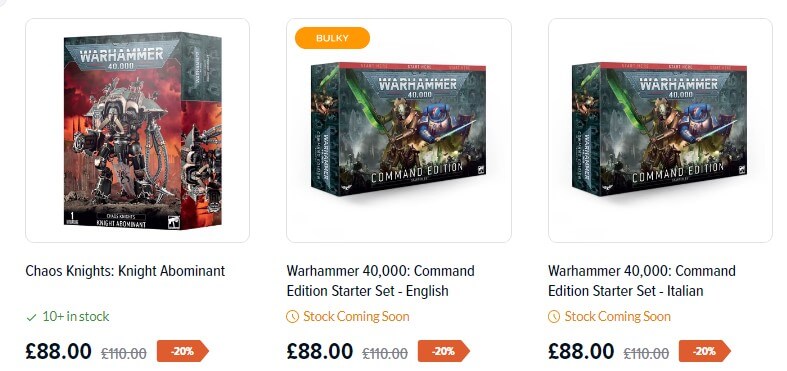 2. Discounts on Warhammer 40K Books and Anthologies at Firestorm Games
If you're looking to expand your knowledge of the Warhammer 40000 universe, Firestorm Games has you covered. They are currently offering a range of discounts on Warhammer 40000 books and anthologies.
Some discounted books are:
Grim Repast (Paperback) – $9.83 (from $11.17)
Warboss (Royal Hard Back) – $19.69 (from $22.37)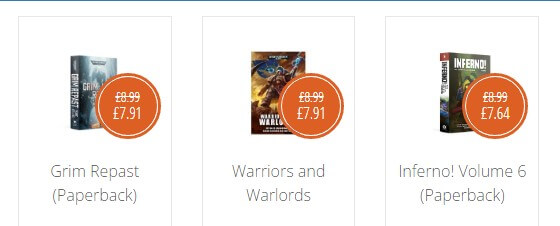 3. Up to 25% on Citadel Colour Paints and Accessories at Element Games
If you're in need of some new paints to bring your Warhammer 40000 army to life, Element Games has got you covered. They are currently offering discounts on a range of Citadel Colour Paints, including base, layer, and technical paints. Stock up on your favorite colors and take your painting to the next level!
Some available discounts:
Asurmen Blue (18ml) -15% Off
Citadel Painting Handle – 15% Off
Citadel Colour Spray Stick – 15% Off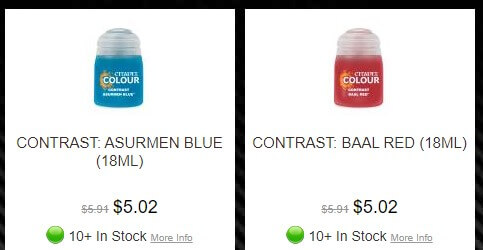 Types of Discounts you can access for Warhammer 40000
Whether you're a seasoned veteran or a newcomer to the game, you're sure to appreciate the variety of discounts and offers that are available for Warhammer 40000 products. Here are some of the most common types of discounts and offers that you can take advantage of:
Percentage Off
One of the most common types of discounts that you'll come across is a percentage off the regular price of a product. This is a great way to save money on items that you were already planning to purchase. For example, you might find an offer for 10% off a Warhammer 40000 starter set. This type of offer is particularly common during holiday shopping events, such as Black Friday and Cyber Monday.
Buy One, Get One Free (BOGO)
Another popular type of offer is the buy one, get one free (BOGO) deal. This offer gives you a free product when you purchase another product at full price. For example, you might find a BOGO offer for Warhammer 40000 paints, where you buy one color and get another color for free. This type of offer is great for expanding your collection of paints or trying out new colors.
Free Shipping
Shipping fees can add up quickly when you're ordering heavy or bulky items, so free shipping offers can be a great way to save money on your Warhammer 40000 purchases. Many retailers offer free shipping when you spend a certain amount of money, such as $50 or $100. Some retailers, such as Games Workshop, occasionally offer free shipping on all orders, regardless of the order total.
Bundle Deals
Bundle deals are a great way to get multiple Warhammer 40000 products at a discounted price. These deals often include a variety of items, such as rulebooks, units, and paints, all bundled together for a lower price than if you were to purchase each item separately. Bundle deals can be a great way to save money if you're looking to expand your collection quickly.
Limited-Time Offers
Many discounts and offers are only available for a limited time, so it's important to act quickly if you see a deal that you're interested in. These offers might be available for just a few days or weeks, so it's essential to check our page regularly for the latest promotions and deals. Some limited-time offers might also be available exclusively to subscribers of a particular retailer's newsletter, so it's a good idea to sign up for any newsletters that interest you.
Things to know before grabbing a Warhammer 40000 offer
When accessing or claiming a Warhammer 40000 discount or promotion, there are a few important things to keep in mind:
Keep an Eye on the Clock: Don't wait too long to claim a Warhammer 40000 discount or promotion, because it may expire before you get a chance to use it. Remember to check the expiration date!
Check the Fine Print: Always read the fine print before you claim a promotion. You don't want any surprises when you try to use it. Make sure you understand any restrictions or limitations.
Get to Know the Terms: Every promotion has its own terms and conditions. Be sure to read them carefully, so you know exactly what you need to do to claim the discount or offer.
Comparison Shop: Don't settle for the first promotion you see. Take some time to compare prices from different retailers. You might find a better deal somewhere else.
Look for Stackable Offers: Some promotions can be stacked with other discounts or offers. If you're lucky, you might be able to save even more money!
Warhammer 40000 is the world's most popular tabletop game with a huge selection of products, including books, miniatures, and paints. Some say it's also the most expensive. 🙂
There are many ways to save money on these products, such as by taking advantage of discounts, promotions, and special offers.
By keeping a few key things in mind, such as checking the expiration date and reading the fine print, you can ensure that you're getting the best possible deal. So don't be afraid to shop around, compare prices, and claim those discounts – your wallet (and your army) will thank you!