Firestorm Games is a fantastic shop for all your gaming needs. They offer a wide selection of board games, card games, and miniatures,
The online store is well-organized and easy to navigate, making it easy to find what you're looking for. Additionally, they regularly host events and tournaments for both casual and competitive players.
The store's staff is knowledgeable and friendly, and will answer quickly when needed.
Firestorm Games Reputation and Reviews
Firestorm Games has a great reputation for being an excellent online shop for table-top gaming needs.
According to Trustpilot, for instance, Firestorm Games has an excellent reputation with a 4.9 out of 5 stars rating and 99% of customers recommend the shop.
Customers have praised the shop for its wide selection of games and miniatures, knowledgeable staff, and fast delivery. Many customers have also mentioned that they appreciate the frequent sales and discounts.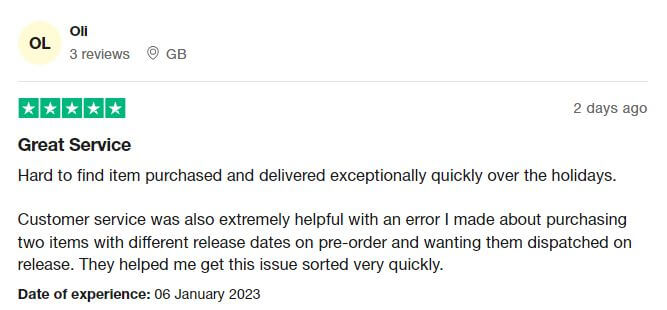 The Firestorm Games online shop. What can you buy?
Miniatures and models selection
Firestorm Games has a wide selection of Warhammer 40,000 figurines. They carry a variety of different factions and armies, including the Space Marines, Necrons, and Orks. They also carry a range of different units and models, from basic troops to special characters and vehicles.
Furthermore, they have a large selection of new and older models, so you can find something that suits your style and budget.
Additionally, they carry a range of paint, tools, and accessories to help you customize and personalize your figurines.
Paints and accessories
Firestorm Games has a wide range of Warhammer 40,000 paints and accessories. They have a vast range of hues and tones to choose from, including base colours, metallics, and washes.
They also sell brushes, airbrushes, and other painting supplies. They provide the most popular and in-demand hues and tones from the Warhammer 40k universe, as well as a variety of different brands of paints and accessories, so you can find the ideal paint for your army.
Wargames and game boxes
Firestorm Games is a great shop for buying Warhammer 40K wargames. They offer a wide variety of games and their corresponding accessories, including:
Warhammer 40,000: This is the flagship game of the Warhammer 40,000 universe. It features a wide variety of armies and factions, each with their own unique play style and tactics.
Kill Team: This is a fast-paced, skirmish-level game set in the Warhammer 40,000 universe. It allows players to take control of small teams of elite soldiers and engage in intense battles.
Adeptus Titanicus: This is a game that focuses on the epic battles between the towering Titans of the Imperium and the monstrous Titans of the Traitor Legions.
Space Marine Adventures: This is a game that allows players to take control of a squad of Space Marines and defend the Imperium from the forces of Chaos.
Necromunda: This is a game set in the gritty, industrial underhive of Necromunda, where rival gangs battle for control.
Firestorm Promotions and Discounts
Promotions and discounts are available in the Firestorm Games shop regularly. They are well-known for their regular product deals and discounts. Discounts on certain types of games and miniatures, package sales, and special promotions on new releases are examples of this.
They also have a loyalty program where consumers may collect points for each purchase and use them for discounts on future purchases.
Their most recent promotion offered discounts of up to 80% on selected Warhammer 40K products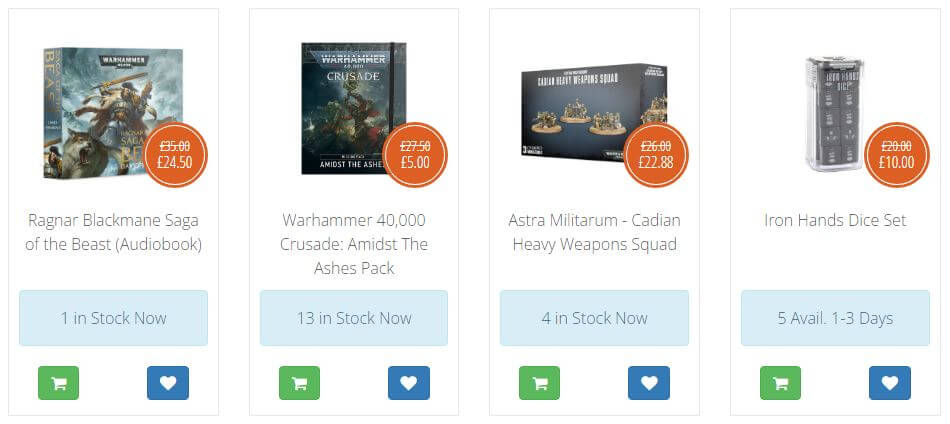 Firestorm Games Rewards and Loyalty Program
From every £1 you spend, you'll get one reward point that you can use for future purchases. Your reward points will be allocated after your order has been shipped or is ready to collect in-store, and you'll receive an email at that point stating the number of points you've earned.
You can view and redeem your points in your cart or through a link at checkout, but remember that you have to be logged in to see your reward points.
Each 100 reward points have a value of £1, but note that some products may be excluded from the scheme.
How do Firestorm Games prices compare with other shops?
It is difficult to say how Firestorm Games prices compare with other online shops without doing a specific price comparison, product by product. However, it is generally a good idea to check prices at multiple online shops before making a purchase, as prices can vary between retailers.
It's also worth noting that some shops may have sales or discounts that can affect the final price of the product, so it's always a good idea to check prices when you're actually ready to make a purchase.
Nevertheless, to test things out, we picked 3 popular Warhammer 40,000 products and compared their prices across some popular Warhammer 40,000 shops online. A note here, all products were discounted at the time of the review, so the prices below may vary when you're reading this.
| Product | Firestorm Games | Wayland Games | Element Games | Games Workshop |
| --- | --- | --- | --- | --- |
| Ork Warboss in Mega Armour | £21.12 | £19.08 | £20.39 | £24 |
| Imperial Fists – Bastion Strike Force | £123 | £103.38 | £110.50 | £130 |
| Codex: Space Marines | £28.60 | £27.47 | £27.63 | £32.50 |
Prices above we're representative of January 2023
As you can see, Firestorm Games prices tend to be slightly higher than those you can find on other shops, but below the official Games Workshop prices.
Firestorm Games Delivery & Returns
Firestorm Games serves mainly the UK market, but the shop does offer International delivery and tracking. Here's a quick overview of some of the most important Firestorm Games delivery policies:
All orders over £40 in the UK receive FREE shipping!
VAT removed on orders from outside UK, but shipping charges still apply based on weight/ country .
Same Day Dispatch if orders placed before 3PM Mon-Fri.
For Non-UK orders – receiver/customer will be contacted by Customs once their shipment has arrived in the country and will have to settle any charges in order for Customs to release the shipment and have it delivered.
UK Delivery info
| Delivery Type | Details | Delivery Time |
| --- | --- | --- |
| Standard Delivery | Royal Mail Service. All orders under £40 within the UK have a flat rate of £4.99 per order. | 1–3 days from dispatch |
| Recorded Delivery | Royal Mail Service. Price for these delivery options is dependent on the weight of the order. | 1–3 days from dispatch |
| Courier Delivery | DPD Local Service. Standard fee of £6.95 | 1 working day |
Non-UK Delivery info
| Delivery Type | Details | Delivery Time |
| --- | --- | --- |
| Standard Delivery | Royal Mail International Priority Service. Standard shipping rate for orders outside mainland UK depends upon region and weight. | Up to 5-7 working days |
| Recorded Delivery | Price dependent on the weight/size of your order | Up to 5-7 working days |
What happens if your order does not arrive?
Items delivered through Royal Mail can only be replaced after 14 working days have passed and unless there's proof of delivery.
For deliveries to Non-UK destinations, up to 25 working days must pass before Firestorm Games can officially class your item as lost.
What's the Return Policy at Firestorm Games?
It's also worth noting that due to the COVID-19 pandemics, some shops we review may have different return policy than what they used to have before. It's always a good idea to check the return policy before making a purchase and make sure you understand the conditions and process of the return.
With that in mind, here's what Firestorm Games says about returning items:
You can return any item within 30 days of receiving it, as long as it is unused, in its original condition, and in its original packaging. No need to give a reason for the return!
Products not returned in this condition will be refunded up to 50% of the sale value.
Firestorm Games will give you a refund for the item, minus the cost of shipping it to you.
If you would like to request a return, please email Firestorm Games at sales@firestormgames.co.uk
What payment methods does Firestorm Games accept?
Firestorm Games accepts all major credit cards, including Visa, Maestro, Mastercard, and JCB, making it easy to pay using your preferred method.
The shop is also adamant about their payment security. Any information you provide will be stored securely, and the shops reassures its customer that they never hold your payment details on their site, as all payments are processed through secure payment gateways provided by Barclaycard or PayPal.
Firestorm Games Customer Service
Customer service is important for an online shop because it helps to build trust and loyalty with customers. Good customer service can help to ensure that customers have a positive experience when shopping with an online store, and it can also help to resolve any issues that may arise during the shopping process.
When looking at Firestorm Games Customer Service reviews, several positive things stand out:
Customers have described the shops customer service as "extremely helpful" with "very good service and helpful staff".
The staff is characterized as "very efficient and helpful with questions."
We decided to put that to the test and can confirm that the response was always prompt and happy to help.
How to contact Firestorm Games support:
| Contact | Details |
| --- | --- |
| Phone | +44 02920227117 |
| Skype | Firestorm Games / live:sales_56330 |
| Email | sales@firestormgames.co.uk |
| Twitter | https://twitter.com/FireStorm_Games |
| Facebook | https://www.facebook.com/firestormgamesnewport/ |
Our take on Firestorm Games:
In conclusion, Firestorm Games is an excellent choice for Warhammer 40,000 paints and miniatures. They feature a large selection of games, paints, and accessories, as well as competent personnel, quick delivery, and cheap costs.
Even though their prices are not as competitive as other similar shops, the service makes up for it. The site UX/UI is a bit outdated, which can make the loading speed a bit slow on mobile devices. Overall, we definitely recommend Firestorm Games for your next Warhammer 40,000 purchase, particularly if you could take advantage of a discount!