The Aegis Defence Lines are versatile barricades that can be quickly built and deployed for creating defensive perimeters, making them an ideal choice for establishing temporary structures on the battlefield. This multipart plastic kit builds two Aegis Defence Lines, each comprising of six barricade sections, a firing platform, connecting pillars, and end sections that can be assembled and reconfigured according to your requirements. The kit's modular design allows you to rearrange each component, creating an unbroken wall to keep off foes of any size. The core platform can be built with a choice of two different barriers, including one with a distinct "broken" appearance, giving you the flexibility to customize your battlefield defences to suit your preferences. A nice fortification for your Astra Militarum army!
Aegis Defence Line Datasheets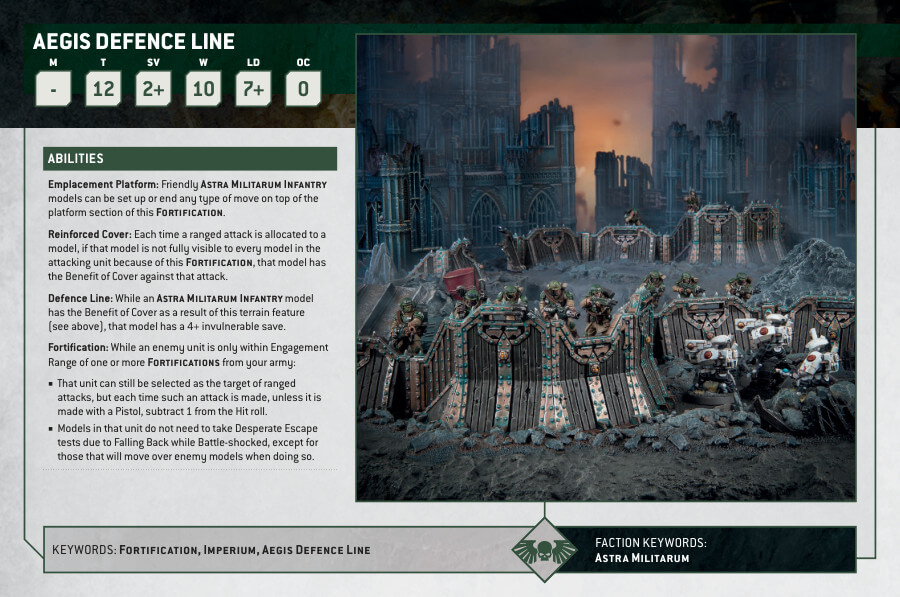 What's in the Aegis Defence Line box
x64 plastic components that make this kit. Each Aegis Defence Line is made up of six barricade sections
How to paint the Aegis Defence Line Set
Aegis Defence Line Dimensions
long wall length: 5.1″/130 mm.
short wall length: 2″/50 mm.
wall height: 1.6″/40 mm.
platform dimensions: 2″ high x 4.5″ mm diameter x 1.6″ mm wide.
The platform surface is 0.8″ above the ground.