Welcome to the dynamic world of Warhammer 40,000, a tabletop wargame that thrills with its fast-paced intensity and explosive battles. Are you ready to command the mighty Space Marines, unleash the insatiable Tyranids, or explore the myriad unique factions in this diverse universe?
Amidst the fiery chaos of a galaxy in perpetual conflict, embark on a journey of collecting, building, and painting your ever-expanding army, then engage in heart-pounding battles against fellow Warhammer 40,000 enthusiasts to claim victory on the tabletop! This magazine serves as your gateway to the vast and immersive Warhammer 40,000 universe, where your epic adventure begins.
Within these pages, you'll delve into the grim and war-torn backdrop that defines Warhammer 40,000 – a universe aptly known for its bleakness and darkness. Explore every facet of the Warhammer 40,000 hobby, from amassing armies of exquisite Citadel miniatures, meticulously painting them with your chosen colors, to leading them into epic battles in a captivating tabletop wargame. Whether you're a seasoned veteran or a newcomer, this magazine equips you with all the knowledge and insight you need to fully immerse yourself in the thrilling universe of Warhammer 40,000. Your journey into this extraordinary world starts right here!
Infernus Marine & Termagants Datasheets
You can't use these datasheets since you can't play Warhammer 40k games with only 2 miniatures. However, if you plan on buying more of these guys, you can. Links for the boxed sets that contain these 2 miniatures but in greater numbers listed below too. Don't start spending money yet though! Check our list of guides, regarding all factions to chose a fitting army for you and how to save money with this hobby. You can also pick a better value starter set from here (miniatures, paints, tools and more included).
Infernus Squad Datasheets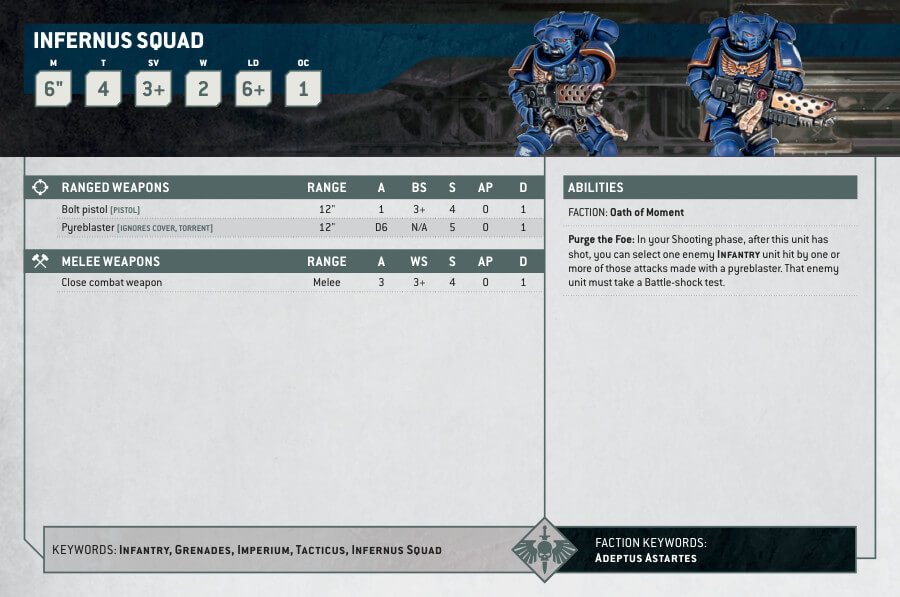 Termagants Datasheets
What's in the Getting Started with Warhammer 40,000 box
x1 Games Workshop Book that contains information about the hobby, collecting, and painting miniatures.
x1 Space Marines Infernus Marine (supplied with a 32mm round scenic base).
x1 Tyranids Termagant (supplied with a 28mm round scenic base).