The Deathwatch is an elite group of Space Marines organized into small, specialized companies chosen from various Chapters that offer their strength against the xenos. The members are chosen for their heroic abilities and expertise in their respective fields. Clad in black armour with their Chapter icon on their pauldron as a sign of respect, the Deathwatch and their Kill Team are called upon to face dire threats. The Deathwatch Veterans kit is a versatile and customizable set that allows for the creation of five unique characters, with 18 different Chapter shoulder pads to designate each Veteran's origin. The kit includes a wide array of weapon options and other accessories to make each unit unique.
Veterans Datasheets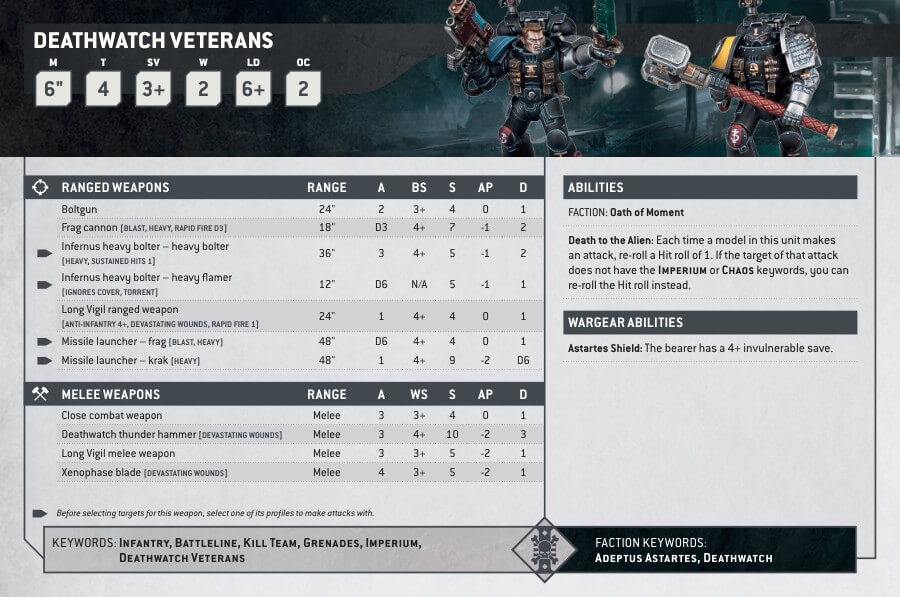 What's in the Veterans box
x112 plastic components that make 5 Deathwatch Veterans. The box also contains:

x7 Space Marine heads
x5 Deathwatch left shoulder pads
x18 Chapter specific right shoulder pads
x5 Deathwatch Boltguns (with shot selector)
x5 Deathwatch Power Swords
x2 Thunder Hammers
x1 Frag Cannon
x2 Storm Shields
x2 Shotguns
x1 Infernus Heavy Bolter
x1 Stalker-pattern Boltgun
x2 Power Maces
x1 Xenophase Blade

x5 Citadel 32mm Round Bases.
How to paint the Veterans Set