The Space Marines Infernus Squad is renowned for its expertise in pyrotechnic combat. Each warrior wields advanced incendiary weapons, capable of reducing foes to ashes. Their dynamic stances reflect a readiness to engage, emphasizing their aggressive and unyielding nature in battle.
This squad is adeptly equipped for anti-Tyranid operations, frequently portrayed as a pivotal force in repelling their swarms due to their specialized anti-horde weaponry. Their tactical effectiveness against such formidable adversaries underscores their crucial role in combat scenarios.
At the heart of the squad stands the imposing Infernus Sergeant. His presence is a beacon of dread on the battlefield. Adorned in intricately detailed armor and brandishing a signature flame weapon, he embodies the role of a fearsome leader and a purveyor of devastation.
Supporting him, the squad members are armed with a lethal combination of Pyreblasters and bolt pistols. These tools of war make them exceptionally effective in close-quarters and against heavily armored targets. Despite their big armor, these warriors retain agility, allowing for swift tactical maneuvers.
The Infernus Squad Warhammer 40k box set is a dream for hobbyists, offering extensive customization options. Each model in the kit comes with a variety of head and weapon choices, enabling personalization to suit individual preferences and strategies.
Uncover the rich history of the Space Marines and master their tactics in gameplay with this kit. Delve into the detailed guides provided to enhance your understanding and strategic use of these formidable warriors in your Warhammer 40,000 battles.
Also available in:
Infernus Squad Datasheets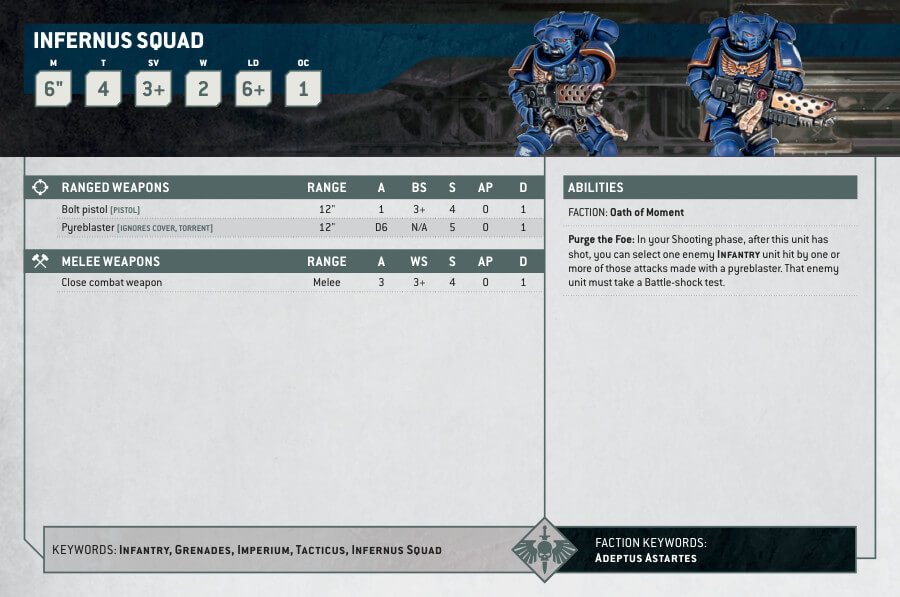 What's in the Infernus Squad box
This boxed set contains approximately x72 plastic components that make x10 Space Marine models, and also comes with x10 Citadel Round Bases.
x10 Infernus Marines Miniatures
x10 Citadel 32mm Round Bases