The Manticore, a fearsome long-range Astra Militarum artillery vehicle, rains destruction upon enemy formations with its devastating storm eagle rockets launched from incredible distances. Each rocket carries multiple warheads that ensure the doom of any fleeing adversaries.
This multipart plastic kit allows you to construct your own Manticore, equipped with four storm eagle rockets, which unleash furious salvos of firepower. The vehicle also features a hull-mounted heavy bolter or heavy flamer for additional offensive capabilities. With various options for the hatch, you can choose to build it closed, open with a raised blast shield, or fully open to reveal a crew member, who can be customized with different heads.
To enhance the Manticore's appearance, the kit includes accessories like a spotlight and radar dish, which complement its detailed treads and riveted armor panels. With its versatile design and powerful armament, the Manticore stands ready to decimate the enemy from afar.
Manticore Datasheets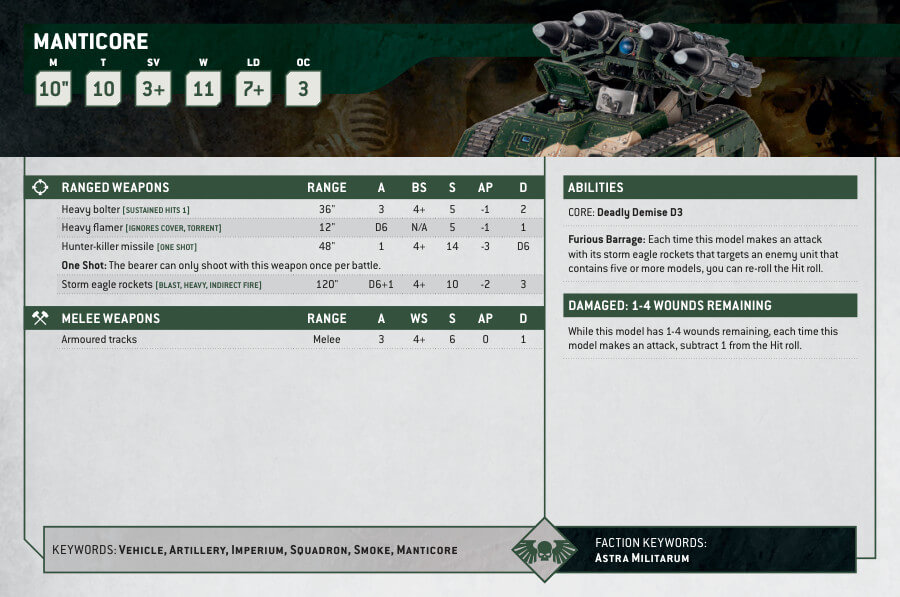 What's in the Manticore box
x85 plastic components kit: This kit can alternatively be used to build a Deathstrike – an Astra Militarum tank armed with a single massive missile.
x1 Astra Militarum Vehicle Transfer Sheet featuring tactical markings, numerals, and other regimental heraldry.
How to paint the Manticore Set