The Blood Angels have a fearsome weapon in their arsenal – the Dreadnought. It is an armored walker that houses the interred remains of a Blood Angels Librarian. Despite being too broken in body to fight on their own, the Librarian's powerful mind is still intact and can be a force to be reckoned with on the battlefield. The Dreadnought's unyielding adamantium frame not only protects the remains of the Librarian but also serves as a potent warrior in its own right. Facing this Dreadnought can be just as intimidating as facing the Librarian was in life.
Blood Angels Librarian Dreadnought Datasheets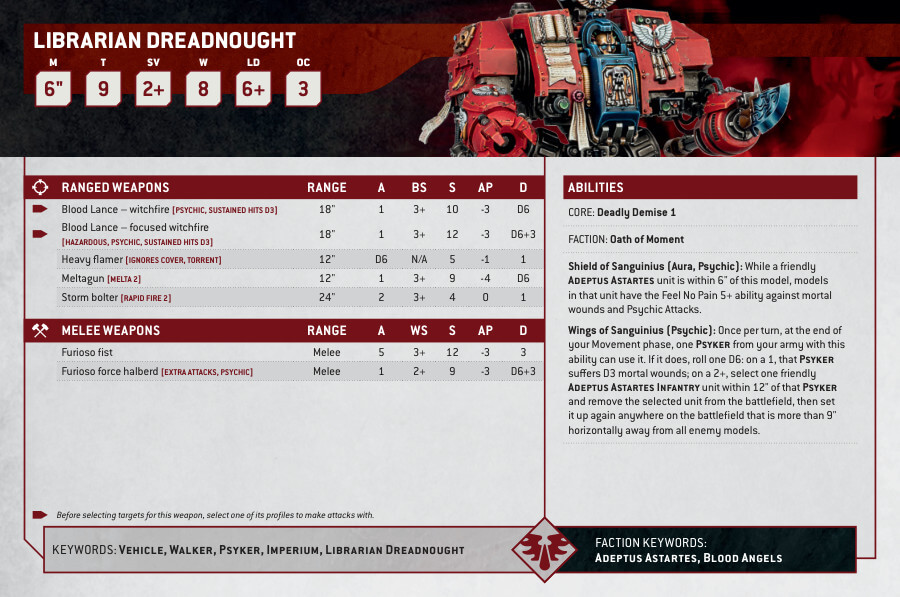 What's in the Blood Angels Librarian Dreadnought box
x68 components.These components can be used to create three different types of Dreadnoughts: Furioso Dreadnought, Librarian Dreadnought, or Death Company Dreadnought. The kit includes all of the available weapon options for these mighty war machines, such as power fists, blood talons, a frag cannon, magna-grapples, and a force weapon for the Librarian Dreadnought.
x3 sarcophagi
x1 Citadel 60mm Round Textured base is also included to display your completed miniature.
How to paint the Blood Angels Librarian Dreadnought