In the Imperial Guard, Ministorum Priests take up the mantle of the Missionaries. These battle-hardened men, who have fought alongside the common soldiers for years, dedicate their lives to ensuring the spiritual well-being of the army. Leading by example, they are willing to sacrifice themselves on blood-soaked battlefields, considering it the highest honor to fight alongside the Emperor's forces.
Inquisitors often enlist the aid of Preachers or Banishers, whose passionate sermons strike fear into the hearts of Chaos creatures. Their fervent Litanies of Purity act as a deadly weapon, inflicting wounds upon Daemons that would otherwise be ignored.
Ecclesiarchy Confessors, known for their righteous fury, have been known to lead the Orders Militant, the Adepta Sororitas, into battle. Their presence ignites a burning fervor in those around them, inspiring greater resilience and combat prowess in the name of the Emperor. Any foe underestimating the formidable Confessor and their loyal followers would do so at their own peril.
Missionary with Chainsword Datasheets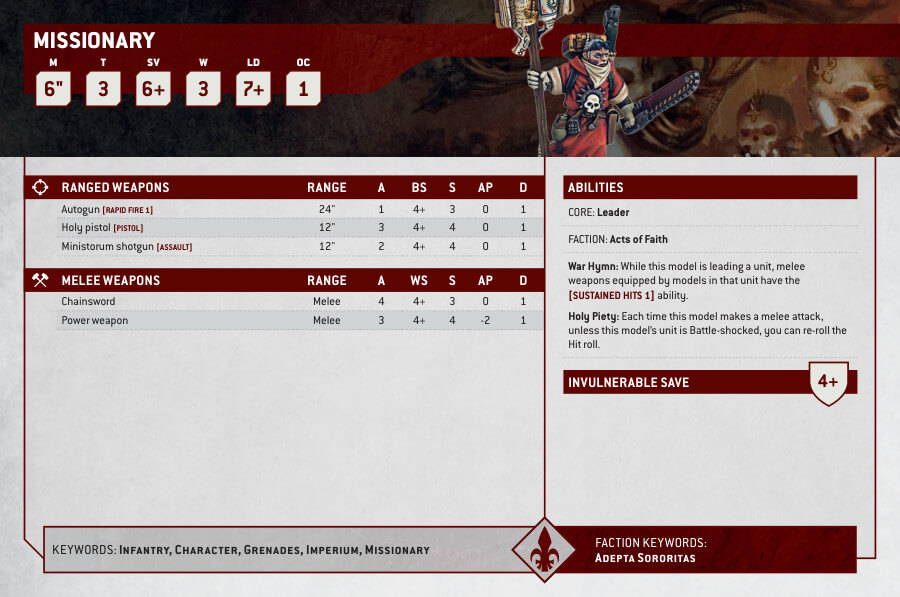 What's in the Missionary with Chainsword box
x3 metal components that make this miniature
x1 25mm round base
How to paint the Missionary with Chainsword set