The Adeptus Custodes, revered and revered throughout the Imperium, embody the pinnacle of martial prowess. From the earliest days of the Imperium, they stood alongside the Emperor himself, their presence evoking the grandeur and magnificence of humanity's master. Just as their weapons and armor reflect their martial glory, so too do the revered vexillas, proud standards carried to war by the most seasoned Custodians. These vexillas serve as a symbol of honor and leadership, rising high above shield companies as they march to battle.
This multipart plastic kit allows you to assemble a squad of 5 Adeptus Custodes Custodian Guard. You have the option to equip them with guardian spears, devastating weapons for engaging both infantry and armored foes, or sentinel blades and storm shields, providing a formidable defense against enemy attacks. Additionally, one model can be assembled as a Shield-Captain, distinguished by a cloak and a choice of 2 heads, while another can be built as a Vexilus Praetor, proudly carrying the revered Custodes Vexilla.
The kit offers great customization and versatility, allowing you to personalize your Custodian Guard and tailor them to your preferred playstyle. Whether you seek to create an elite vanguard force or a stalwart defensive line, the Adeptus Custodes Custodian Guard with their vexillas will inspire awe and instill fear in the hearts of your foes.
Vexilus Praetor Datasheets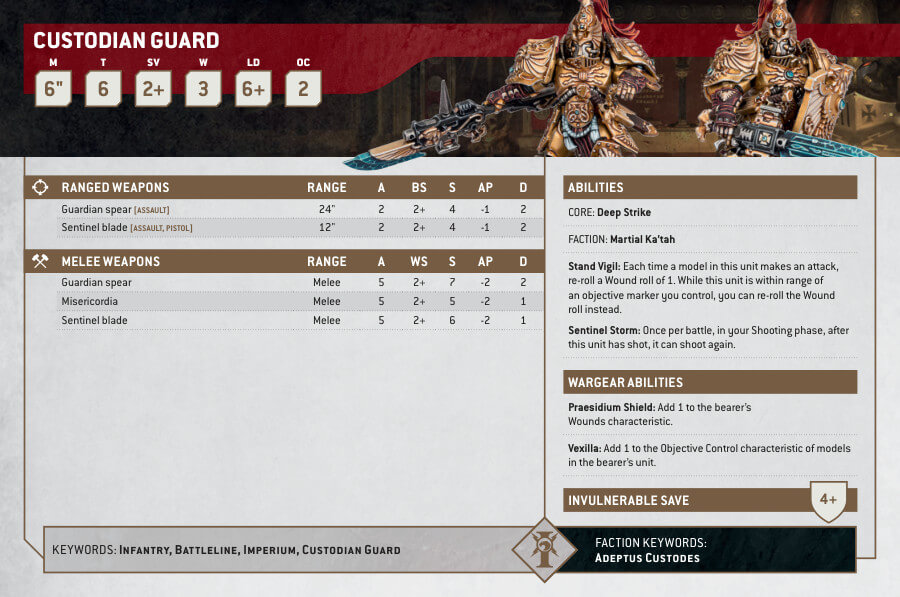 What's in the Vexilus Praetor box
x5 Adeptus Custodes Custodian Guards, armed with either guardian spears or sentinel blades and storm shields. 1 model can be assembled as a Shield-Captain, featuring a cloak and choice of 2 heads, and 1 can be assembled as a Vexilus Praetors, carrying Custodes Vexilla.
x5 Citadel 40mm Round bases
How to paint the Vexilus Praetor Set