The Chimera, a versatile and robust Astra Militarum fighting vehicle, serves as an essential troop carrier for safely transporting infantry into the most hostile war zones. While on board, the infantry can operate the Chimera's built-in lasgun arrays from the vehicle's armored confines. Upon disembarking, the skilled crew of the Chimera provide effective fire support utilizing its adaptable heavy weapons.
This multipart plastic kit allows you to construct one Chimera, a formidable transport vehicle capable of deploying troops and providing mobile firepower. The Chimera features a turret-mounted primary weapon, allowing you to choose between a multi-laser, heavy bolter, or heavy flamer. Additionally, it is equipped with a hull-mounted heavy bolter or heavy flamer. The vehicle is equipped with a lasgun array that can be operated by the embarked troops, featuring six integrated lasguns along its sides. The kit also provides options for enhancing the Chimera's capabilities, including a hunter-killer missile, dozer blade, and the choice of a pintle-mounted storm bolter or heavy stubber.
The Chimera offers flexibility in its assembly, allowing you to build it with either a closed or open hatch. In the latter configuration, you can choose from various head and arm options for the exposed crew member. The kit includes a range of additional accessories to customize your Chimera, such as a searchlight, comms system, towing hooks, and the iconic aquila sigil.
Chimera Datasheets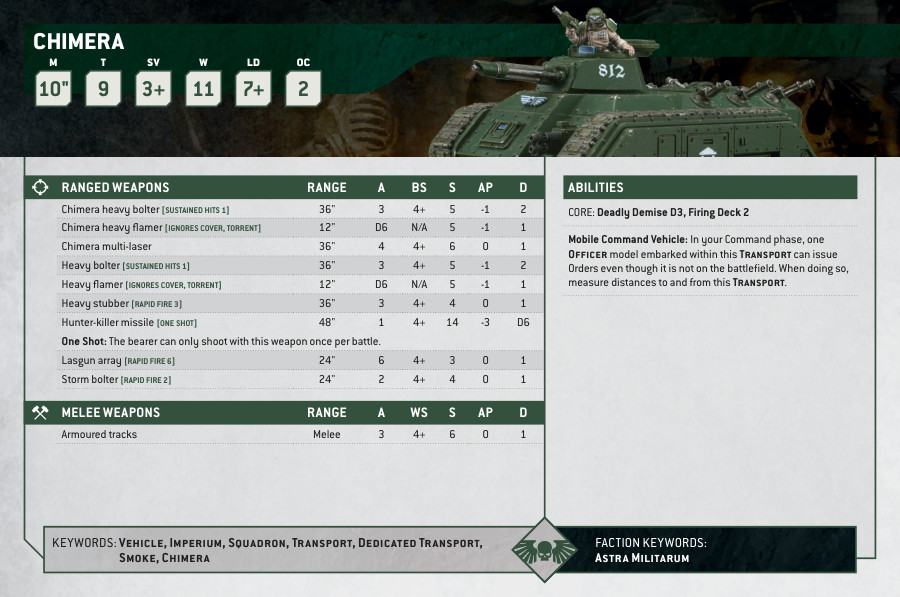 What's in the Chimera box
x95 Plastic Components: The Chimera kit consists of 95 plastic components, allowing you to build and customize your own Chimera model.
x1 Astra Militarum Vehicle Transfer Sheet: Included in the kit is an Astra Militarum Vehicle Transfer Sheet. This sheet features various tactical markings, numerals, and regimental heraldry, providing you with options to personalize your Chimera with the symbols and markings of your chosen regiment.
How to paint the Chimera set