Eliminators are a crucial part of any Space Marine force, known for their deadly precision and stealthy tactics on the battlefield. These skilled marksmen lurk in the shadows, waiting for the perfect moment to strike and take out their targets with well-placed shots.
The Eliminators squad comes equipped with a choice of either a las fusil, a high-powered weapon perfect for taking down heavily armored targets, or a bolt sniper rifle, which offers a selection of ammunition to suit any situation. The Sergeant also has the option to carry an instigator bolt carbine.
But that's not all – this versatile kit comes with a range of optional parts, allowing you to customize each model to your liking. Whether you prefer your Eliminators with or without helmets, you'll have the flexibility to make each model unique.
Whether you're a seasoned player or just starting out, the Eliminators squad is a must-have addition to any Space Marine collection. With their deadly accuracy and ability to strike from the shadows, they're sure to be a valuable asset on the battlefield.
Eliminators Datasheets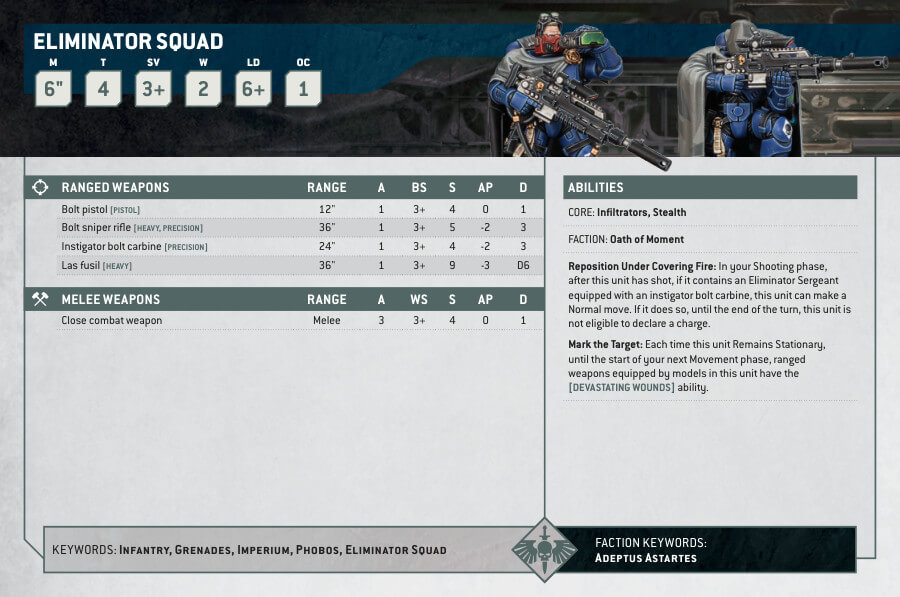 What's in the Eliminators box
x60 plastic components, providing everything needed to build 3 Eliminators.
x3 Citadel 40mm Round bases: Each model is supplied with a Citadel 40mm Round base, making them ready for use in Warhammer 40k games.
x1 transfer sheet for customizing the models with Primaris Space Marines Infantry designs.
How to paint the Eliminators set