Introducing the versatile Archaeopter – a fixed-wing aircraft that has been a cornerstone of the Tech-Priests expansion for millennia, not just on the toxic Martian skies but also on distant worlds. Piloted by a skilled Pteraxii caste member, who has a direct neural interface with the controls of the aircraft, the Archaeopter boasts agile manoeuvrability and the ability to morph its wings, just like the Pteraxii flight packs.
Equipped with nano-carbon fibre-weave wings, the Archaeopter can operate within changing pressures, allowing it to undertake explorator duties and deliver lethal operatives behind enemy lines or into the heart of battle. This aircraft is not only a fast and efficient mode of transport but also an excellent asset for tactical missions.
The Archaeopter Transvector, in particular, is capable of transporting up to 6 Secutarii, Electro-Priest, Tech-Priest or Skitarii models. It is also armed with two cognis heavy stubbers and a twin cognis heavy stubber, enabling it to lay down covering fire while delivering its payload. Additionally, chaff launchers can be added to protect the aircraft from incoming enemy fire.
An ideal choice for capturing distant objectives with its speed, transport capacity and freedom of the skies. Furthermore, this kit can be used to build an Archaeopter Fusilave or Archaeopter Stratoraptor, providing you with multiple options to customize your collection. Regardless of which unit you choose to assemble, you'll have spare components left over for further customization.
Archaeopter Transvector Datasheets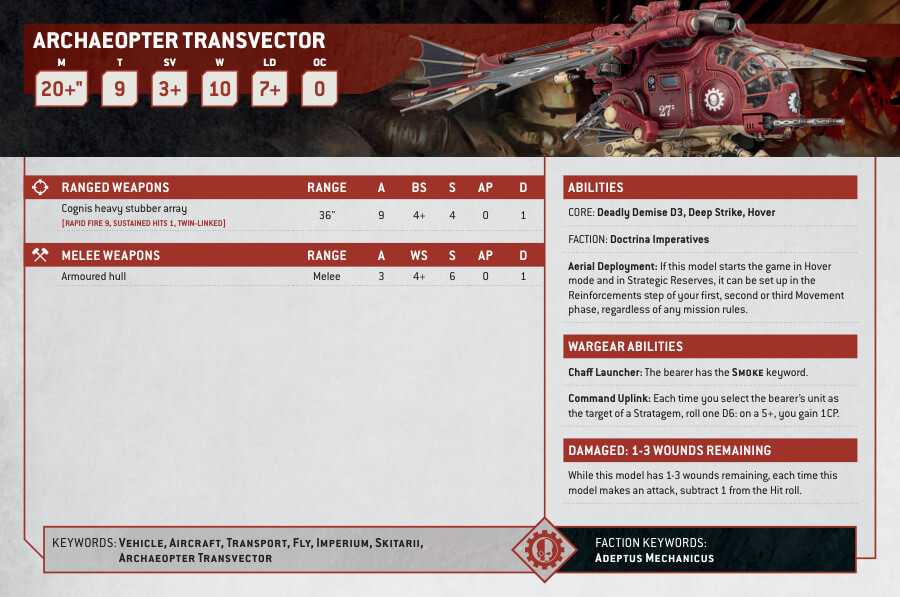 What's in the Archaeopter Transvector box
x94 plastic components that can be used to build the model.
x1 Citadel 170mm x 109mm Oval Base is included for the model to stand on
x1 Citadel 115mm Ball Stem with Tang Adapter.
How to paint the Archaeopter Transvector Set