A formidable and unique vehicle used by the Dark Angels in battle. Its appearance is unsettling to those who face it on the battlefield, with a caliginous pall that strikes fear in the hearts of even the bravest soldiers.
The design of the Darkshroud incorporates elements of religious imagery, with icons and structures taken from Caliban, the Dark Angels homeworld. Angel wings, shrouded statues, parchments, and stained glass with lead frames are all featured on the vehicle, evoking a sense of glorious reverence.
Equipped with a pulpit-like cupola, the Darkshroud has a Space Marine gunner who can operate either a heavy bolter or an assault cannon to devastating effect. The vehicle is covered in metal panels and rivets, giving it a tough and robust appearance that is characteristic of Space Marine design.
Inside the Darkshroud are three Space Marines, strategically positioned throughout the vehicle. These soldiers are adept at stealth and deception, making the Darkshroud a valuable asset in any Dark Angels army.
Ravenwing Darkshroud Datasheets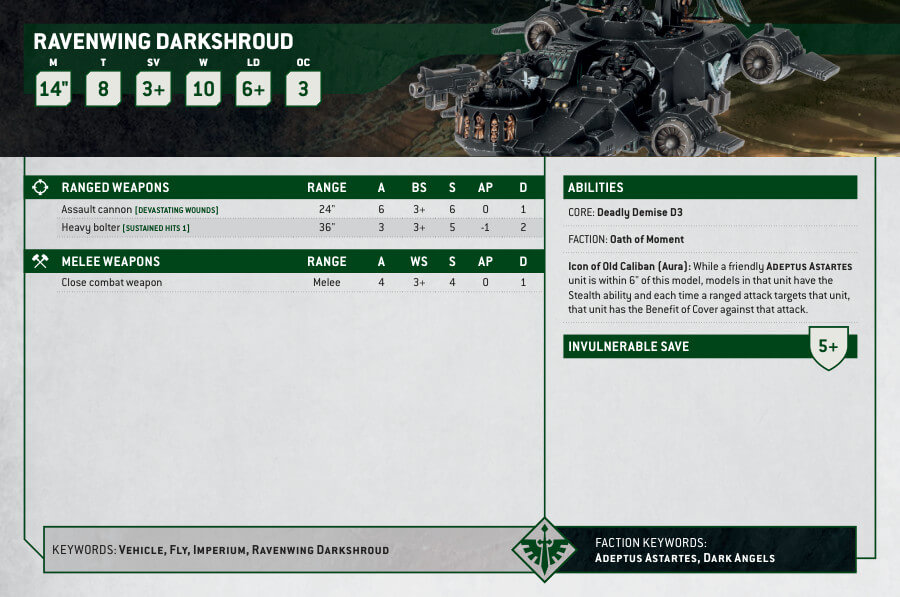 What's in the Ravenwing Darkshroud box
x88 components that can be used to construct either a Ravenwing Darkshroud or a Land Speeder Vengeance.
x1 flying base to support the construction of the chosen vehicle.
x2 flying stems are included to support the vehicle once it is constructed.
How to paint the Ravenwing Darkshroud