The Skorpius Dunerider is a reliable Adeptus Mechanicus transport vehicle designed for the Skitarii infantry, enabling them to engage their enemies with speed and efficiency. Equipped with twin cognis heavy stubbers, the Dunerider provides covering fire as the Skitarii disembark to unleash the Omnissiah's fury. The vehicle's cargo hold is open and houses gunners who operate its flanking pair of cognis heavy stubbers, while a turret-mounted pair of cognis heavy stubbers with a Servitor gunner is mounted on a rear cupola, protected by an armoured shield. Capable of carrying up to 10 Skitarii soldiers, the Skorpius Dunerider is a Dedicated Transport vehicle.
Skorpius Dunerider Datasheets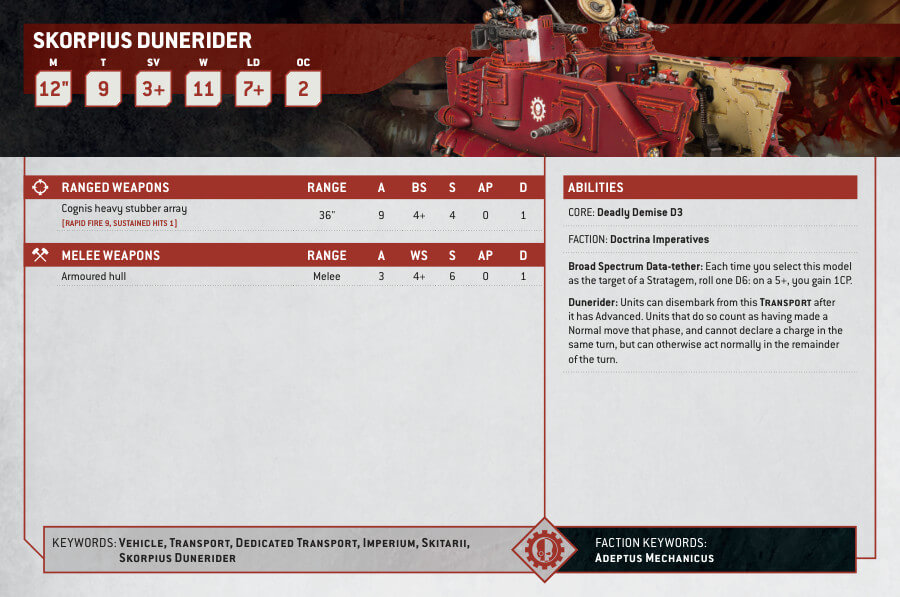 What's in the Skorpius Dunerider box
x104 plastic components that make the Skorpius Dunerider. It can be assembled with a crewman set in the second rear cupola, or with its hatch closed. The disembarkation ramp is designed to be moveable so it can be opened or closed during a game, though it can be glued in place if desired.
How to paint the Skorpius Dunerider Set