Within the vast Imperium, Inquisitors wield unparalleled authority, dispatching cells of sanctioned operatives across the galaxy to carry out their commands. Guided by trusted Interrogator apprentices, these covert teams are a diverse mix, featuring customized servitors, soldiers from various military branches, formidable psykers, skilled criminals whose abilities are deemed too valuable to squander, and unwavering zealots whose faith shields them from the horrors that would drive more rational minds to madness.
This versatile multipart plastic kit enables you to construct seven Inquisitorial Agents, dedicated acolytes serving under an Imperial Inquisitor. These miniatures can serve as Inquisitorial Agent operatives in thrilling games of Kill Team, or they can be deployed as Inquisitorial Henchmen alongside any Imperium army in the vast Warhammer 40,000 universe. Notably, most models in this exceptionally diverse kit can be assembled in two distinct roles – choose between an Interrogator or Enlightener, a Questkeeper or Pistolier, a Mystic or Hexorcist, and a Death World Veteran or Penal Legionnaire. Furthermore, you'll also discover an Autosavant, a Tome-skull, and a Gun Servitor, each offering multiple weapon options to suit your strategy.
Please note that to utilize these models in Kill Team games, you'll require additional support operatives, which can be sourced from either a second Inquisitorial Henchmen set or models from the Sisters of Silence, Tempestus Scions, Veteran Guardsmen, Imperial Navy Breachers, or Exaction Squad kits. Dive into the intrigue of the 41st millennium with these versatile and intriguing Inquisitorial Agents!
Kill Team: Inquisitorial Agents Datasheets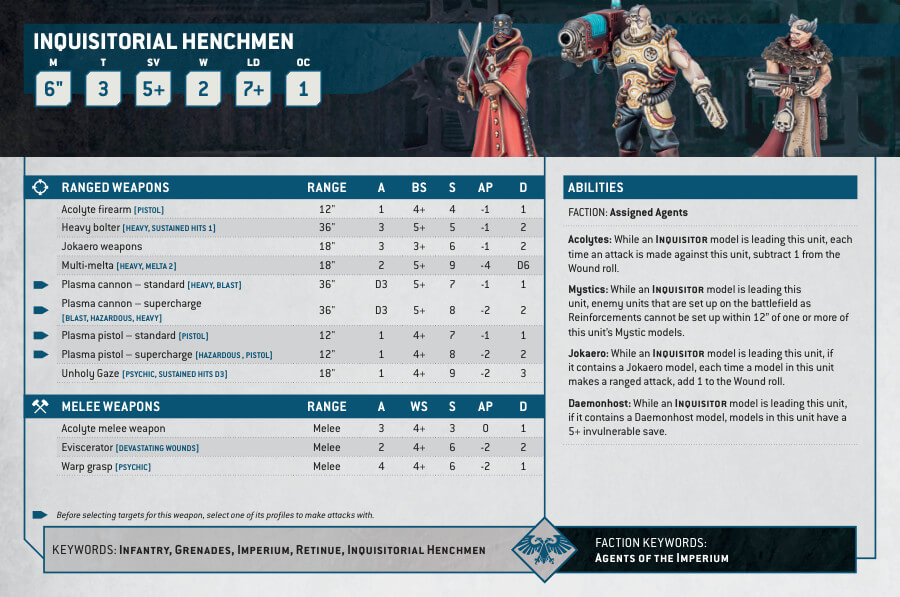 What's in the Kill Team: Inquisitorial Agents box
x73 plastic components that make 7 Inquisitorial Agents for games of Kill Team or Inquisitorial Henchmen for games of Warhammer 40k.
x1 Citadel 32mm Round Base.
x6 Citadel 25mm Round Bases.
How to paint the Kill Team: Inquisitorial Agents set