The Sword Brothers are a group of veteran Black Templar warriors who have earned their place among the Marshal's household through their unwavering faith and impressive combat skills. They are a force to be reckoned with on the battlefield, possessing a lethal combination of melee and ranged weapons that they use to devastating effect in the Emperor's name.
This elite unit is led by a Castellan who can be equipped with a master-crafted power sword or Astartes chainsword in their right hand, and a heavy bolt pistol, auto-plasma, or skull relic in their left. The remaining four Sword Brethren can be assembled with a variety of weapons, including heavy bolt pistols, pyre pistols, plasma pistols, Astartes chainswords, power swords, power mauls, power axes, paired lightning claws, or a thunder hammer. With such a range of options, players can customize their Sword Brothers to suit their preferred playstyle.
In addition to their weapons, the kit also comes with a range of unique heads, backpack finials, and tilting plates, allowing players to add a personal touch to their models. Whether you're a seasoned collector or just starting out, this kit offers plenty of options for creating a unique and impressive army.
With its engaging mix of melee and ranged weapons, and the ability to personalize the models with a range of unique accessories, the Sword Brothers kit is a must-have for any Black Templar enthusiast.
Black Templars Sword Brethren Datasheets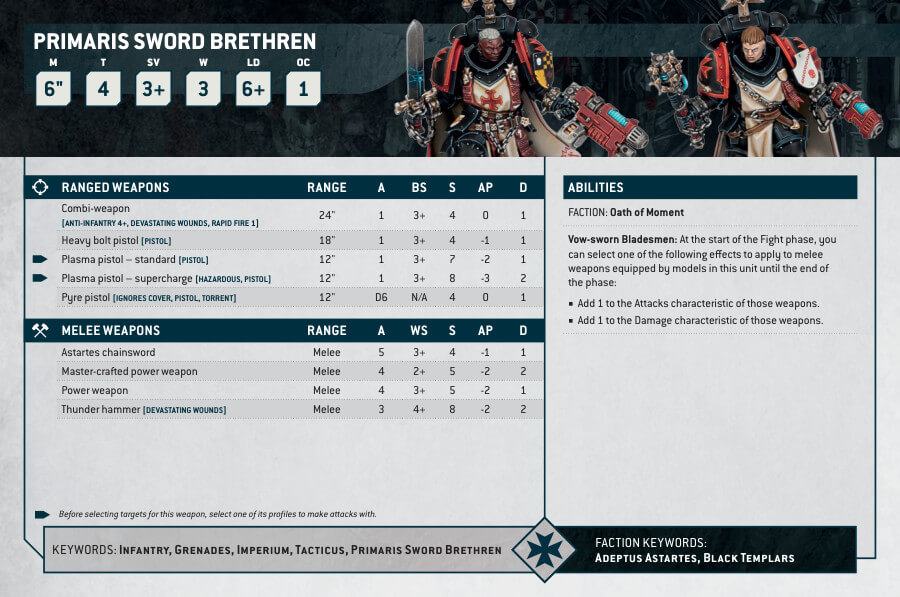 What's in the Black Templars Sword Brethren box
x149 plastic components that make 5 Sword Brethren, elite warriors of the Black Templars.
x5 Citadel 40mm round bases, which are included in the kit.
How to paint the Black Templars Sword Brethren