The Exalted of the Red Angel box showcases the unbridled fury of the World Eaters, one of the most feared factions in Warhammer 40,000. This box set offers a deep dive into the lore of these bloodthirsty warriors, followers of the Chaos God Khorne, led by the indomitable Daemon Primarch, Angron. Known for their brutal combat tactics, the World Eaters are further driven to savagery by the Butcher's Nails, sinister devices implanted in their brains that amplify their aggression.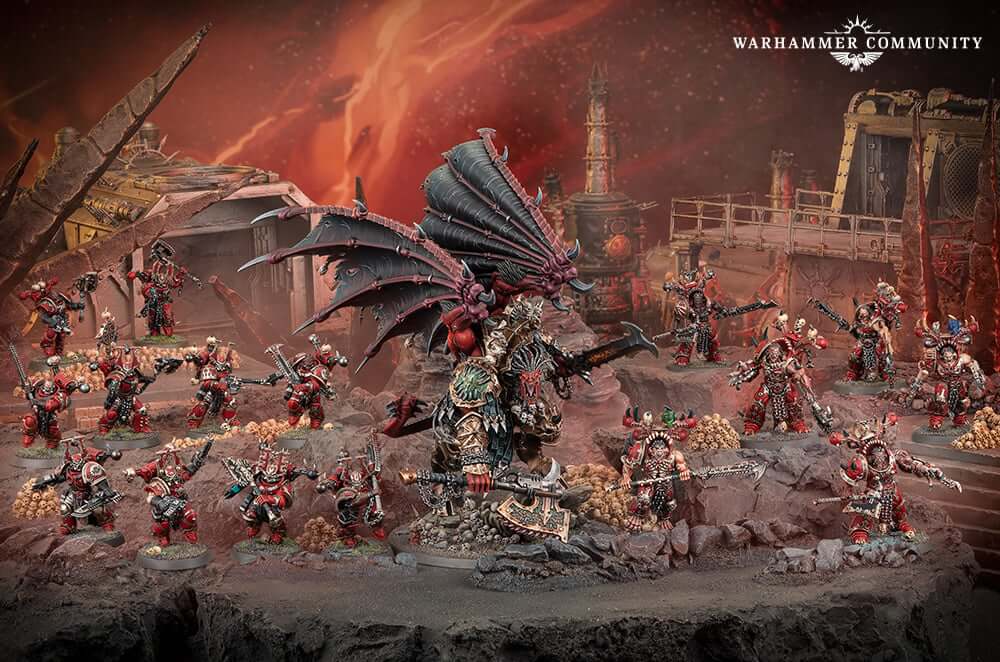 The centerpiece of the Exalted of the Red Angel is Angron himself, a towering figure of rage and power. He is flanked by the Eightbound and Berzerkers, units renowned for their relentless assaults and unyielding ferocity in battle. These miniatures are not just representations of characters; they embody the very essence of the World Eaters' thirst for war and conquest.
Each model in the Exalted of the Red Angel set is a detailed embodiment of the World Eaters' lore, offering both collectors and gamers a chance to explore the depths of Warhammer 40,000's rich narrative. The intricate designs of these World Eaters miniatures reflect their fearsome nature and the chaotic power they wield.
Explore more about the World Eaters and their place in the Warhammer 40,000 universe, and prepare to unleash their fury on the tabletop. The Exalted of the Red Angel is not just a box set; it's an invitation to join the ranks of one of the most iconic factions in the Warhammer 40K lore.
What's in the Exalted of the Red Angel box
This boxed set contains x394 plastic components that make x17 models and their bases:
x1 Citadel 100mm Round Base
x10 Citadel 32mm Round Bases
x6 Citadel 40mm Round Bases
How to paint the Exalted of the Red Angel set