Introducing the Space Marine Hunter, a formidable tank designed for air defense and ground-based combat. Equipped with the skyspear missile launcher, this tank is capable of taking down enemy bombers and fighter craft with ease.
Built on the reliable Rhino hull, the Hunter features reinforced armor on its sides and pneumatic pins along its base. The tank also comes with a back ramp that can be left unglued for easy access, a control panel with a spare boltgun, and two side hatches that can be glued open or closed.
For even more customization, the kit includes a sprue of vehicle upgrades that can be added to the model. You can choose between two top hatches, one of which can mount a storm bolter. Additionally, there are enough parts to create either a Space Marine gunner in a turret or an automated weapons system. Other upgrades include a hunter killer missile, a pintle-mounted storm bolter, a sensor array, a searchlight, two smoke launchers, two towing hooks, and a name plate for the tank.
One of the great advantages of the Space Marine range is that all the plastic parts can be interchanged between different kits. This means that the Space Marine Hunter can be combined with other Space Marine vehicles to create truly unique collections of miniatures.
Hunter Datasheets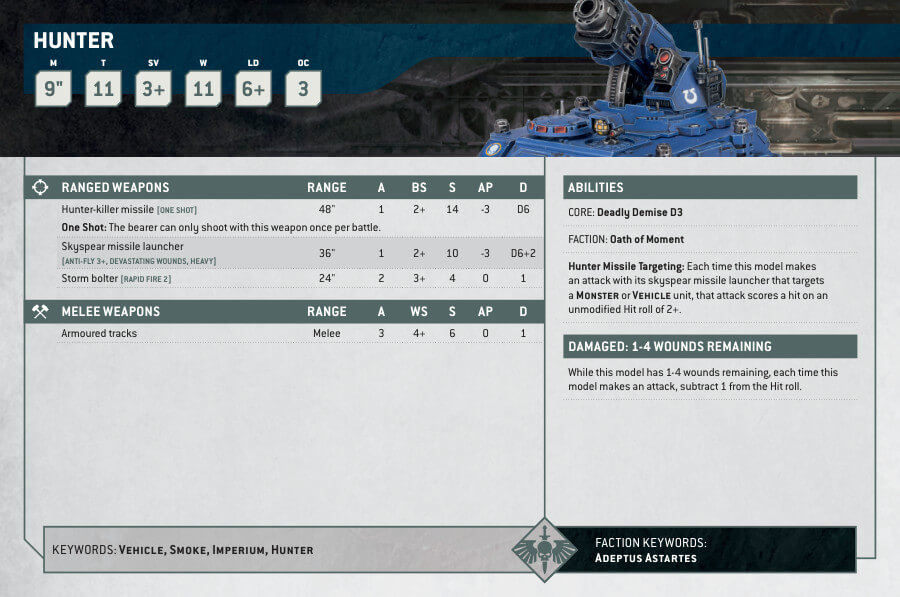 What's in the Hunter box
x125 plastic components that can be used to build either a Hunter or a Stalker. This versatile kit allows you to choose between two of the Space Marine's most deadly tanks.
x1 Space Marine vehicle transfer sheet that features a wide variety of Chapter iconography and vehicle markings. These transfers are easy to apply and add an extra level of customization to your finished model.
How to paint the Hunter