The Nephilim Jetfighter is a versatile aircraft designed for the Dark Angels to establish air superiority over the battlefield, allowing their troops to focus on ground targets. The kit includes 88 components with which you can assemble either a Ravenwing Dark Talon or a Nephilim Jetfighter. Both options are impressive-looking miniatures that would make a great addition to any Dark Angels collection. The design of the Nephilim Jetfighter closely resembles that of the Storm Talon, with Dark Angels iconography adorning its metal panels and rivets. The kit comes with a range of imposing weaponry, including a twin-linked heavy bolter, twin-linked lascannon, and Blacksword missiles, ensuring your Nephilim Jetfighter is well-equipped to take on any foe.
Nephilim Jetfighter Datasheets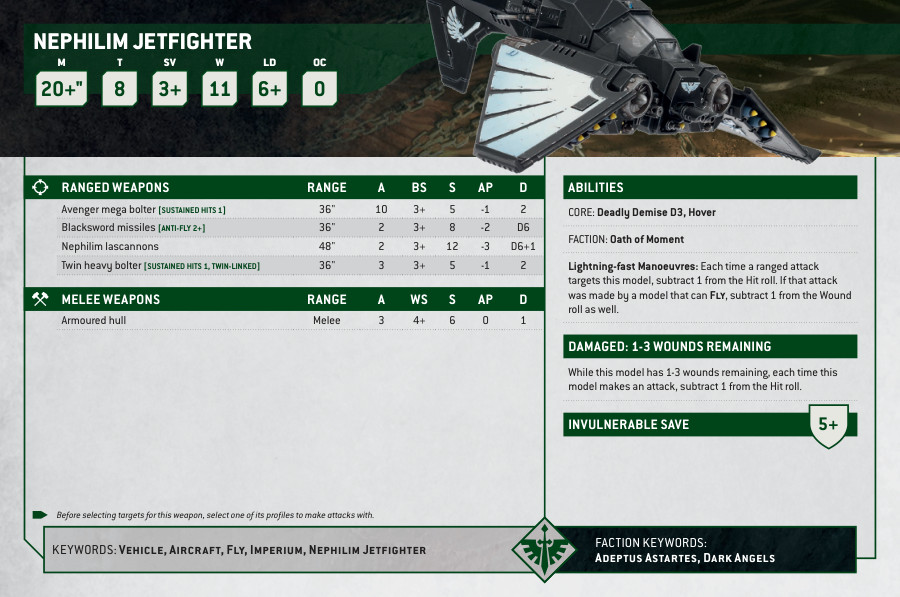 What's in the Nephilim Jetfighter box
x88 plastic components that make 1 Nephilim Jetfighter model.
x1 flying stem
x1 large oval base with which to make either a Nephilim Jetfighter or a Ravenwing Dark Talon.
How to paint the Nephilim Jetfighter