Step into battle with the Invictor Tactical Warsuit – a formidable combat walker piloted by a live Primaris Space Marine, capable of performing various tasks from armoured escort duties to close-range siege breaking and urban monster-hunts. One of its iconic roles is to provide armoured support for Vanguard Space Marines, with mid- to close-range firepower and exceptional armoured resilience. Deploy it in a concealed position outside your deployment zone, which is a unique advantage over other Dreadnought-class vehicles in the Space Marines armoury. Arm it with either a twin ironhail autocannon for ranged support or an incendium cannon for close combat. Not to mention, the Invictor Tactical Warsuit can fire its heavy bolter as a pistol at point-blank range in melee, making it an excellent addition to your army's close combat capabilities.
Also available in this box:
Primaris Invictor Tactical Warsuit Datasheets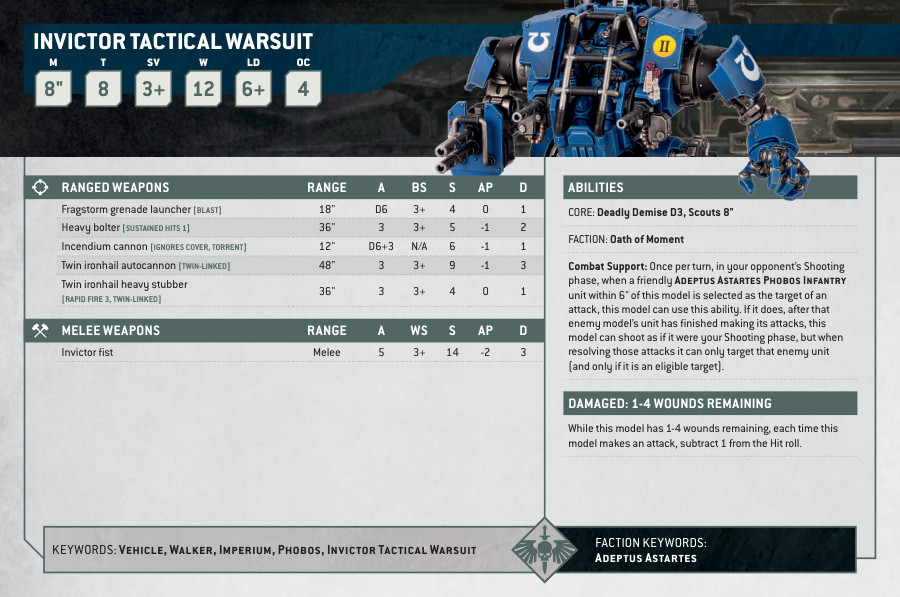 What's in the Primaris Invictor Tactical Warsuit box
x116 plastic components that make 1 Primaris Invictor Tactical Warsuit.
x1 Citadel 90mm Round Base.
x1 Ultramarines Vehicle Transfer Sheet.
How to paint the Primaris Invictor Tactical Warsuit
We are going to paint the model to fit in a Space Wolves army