The Venerable Dreadnought is a towering war machine that stands three times the height of a man and is equipped with powerful weapons. These deadly machines are as lethal at range as they are in close assault. Dreadnoughts are treasured relics of a chapter and are only awoken in times of great need. Each Dreadnought houses a mighty Space Marine hero who has sustained severe wounds in battle and has been saved only by internment within the machine. In times of peace, Venerable Dreadnoughts bring their wisdom to the Chapter, and on the battlefield, they provide their immense experience to secure victory.
This kit boasts a remarkable array of armaments and embellishments to enhance your Warhammer 40k experience. Within its contents, you'll discover formidable weapons such as the plasma cannon, assault cannon, lascannon, heavy flamer, storm bolter, and two distinct power fists—one of them intricately ornate. Additionally, a set of smoke launchers adds tactical versatility to your arsenal.
But that's not all; the kit doesn't stop at weaponry. It offers a diverse selection of ornate leg guards and three unique helmet variants to customize your miniature. Six meticulously crafted purity seals and two different pennants contribute to the character of your model.
Furthermore, this kit provides a rich assortment of sarcophagus armor plates with varying designs, allowing you to tailor your miniature's appearance to your liking. To complete the package, you'll find an array of Crux Terminatus and other Imperial icons, adding that essential touch of authenticity to your Warhammer 40k creation.
Venerable Dreadnought Datasheets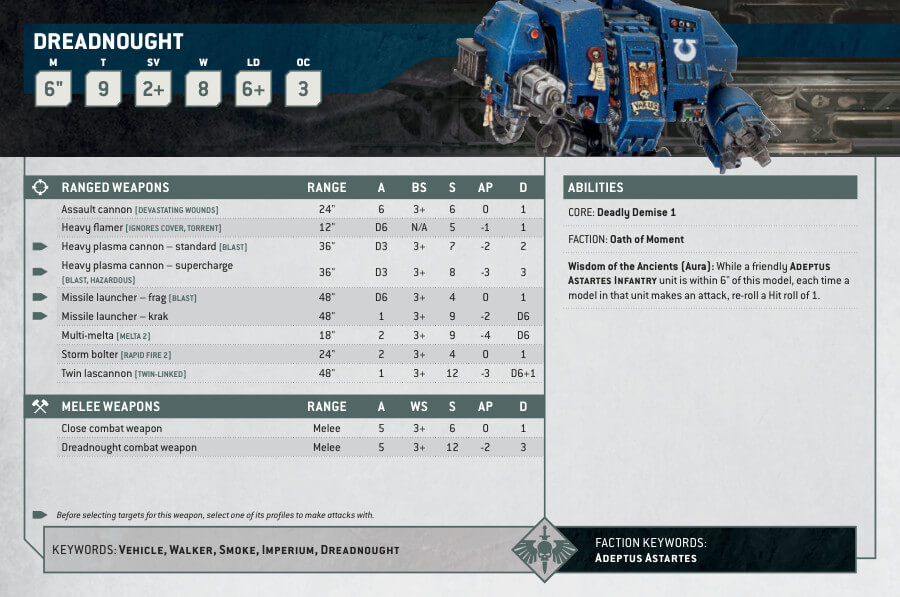 These are the datasheets for 10th edition for this unit. Yep, just a regular dreadnought.
What's in the Venerable Dreadnought box
x84 plastic components that create a single Venerable Dreadnought.
x1 Citadel 60mm Round Base.
How to paint the Venerable Dreadnought Set