The Repulsor Executioner is a heavily armed battle tank often used by Space Marine Chapters as transports for Hellblasters and other specialist Primaris squads. It is equipped with a primary turret-mounted weapon, a choice between a macro plasma incinerator or heavy laser destructor, supported by a coaxial heavy onslaught gatling cannon, as well as secondary weapons such as krakstorm grenade launchers, storm bolters, twin Icarus ironhail heavy stubber, and an ironhail heavy stubber. Defensive auto launchers and an Icarus rocket pod are also available to supplement the tank's offensive capability.
Primaris Repulsor Executioner Datasheets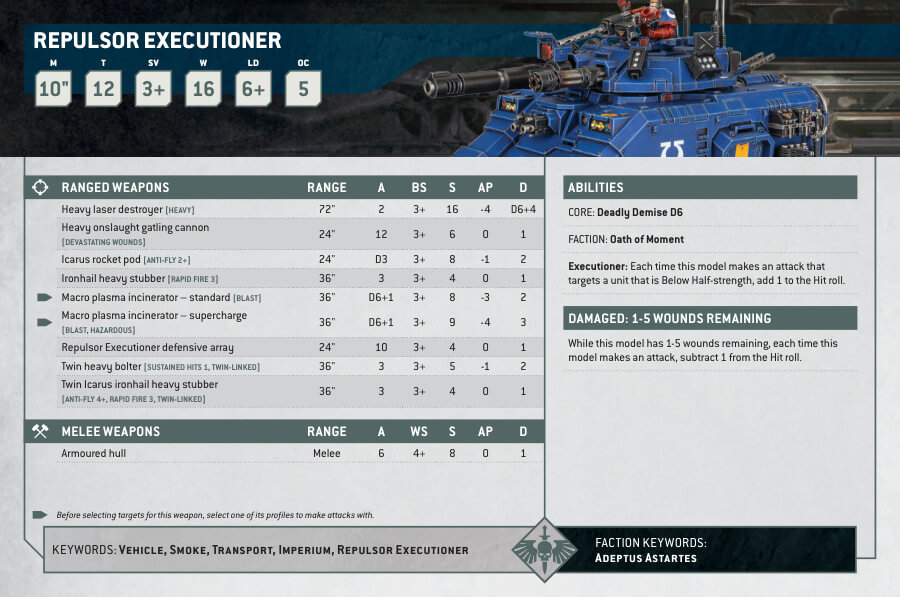 What's in the Primaris Repulsor Executioner box
x150 components that make the Primaris Repulsor tank. The kit can be assembled with or without a gunner, who can be built scanning with an auspex or with his hands on the trigger of the pintle-mounted ironhail heavy stubber.
x8 pieces of optional stowage and two antennae that can be used to decorate the vehicle as desired.
x1 Citadel 100mm Round Base
x1 clear hover stand, which can be set at an angle, adding a certain degree of camber to your model.
How to paint the Primaris Repulsor Executioner