The Silent Sisterhood's backbone lies in its formidable Prosecutors, who possess unrivaled prowess in both offense and defense. These exceptional warriors are not ordinary soldiers; they are invaluable assets, living weapons capable of disrupting the minds and souls of those tainted by Chaos. With their tightly coordinated movements, the Prosecutors advance as a cohesive unit, their Umbra-pattern bolters resounding with a thunderous roar that surpasses any mere verbal challenge.
This multipart plastic kit provides all the components needed to assemble a 5-model Prosecutor Squad, comprising the elite warriors of the Silent Sisterhood. Armed with potent Umbra-pattern bolters, these warriors excel in long-range combat, delivering precise and devastating firepower. Additionally, one model can be built as a Sister Superior, distinguished by her unique loincloth, shoulder pad, seal, and a choice of two heads, embodying leadership within the squad.
For added versatility, the kit can also be assembled as Vigilators, specialized in close-quarters combat, wielding lethal executioner greatswords, or as Witchseekers, equipped with flamers for devastating assaults against multiple targets. The kit includes six executioner greatswords, five Umbra-pattern boltguns, and five flamers, ensuring a variety of loadout options to suit different battlefield scenarios.
Prosecutor Squad Datasheets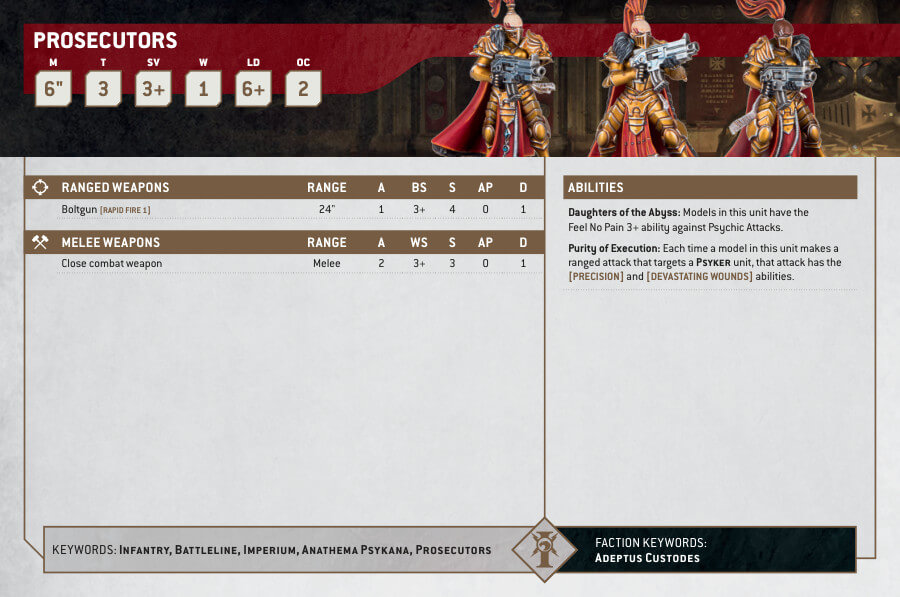 What's in the Prosecutor Squad box
x67 plastic components: all the necessary parts to assemble the Prosecutor Squad.
x5 Citadel 32mm Round bases: The kit comes with 5 round bases, specifically Citadel 32mm Round bases, which serve as the sturdy foundation for each model in the Prosecutor Squad.
x1 Burning of Prospero transfer sheet: Included in the kit is a transfer sheet featuring designs and symbols related to the Burning of Prospero, adding additional thematic options for customizing your Prosecutor Squad. These transfers can be applied to the models armor, shields, or other surfaces to enhance their visual appeal and tie them to the rich lore of the Warhammer 40,000 universe.
How to paint the Prosecutor Squad set