The Sicarian Ruststalkers, originally an elite assassination squad, have become front-line commandos renowned for their physics-manipulating abilities and devastating transonic weapons. This box contains 5 Sicarian Ruststalker models, each with a unique, cybernetically augmented gasmask-clad head that's equipped with sensors and data-gathering devices. These Ruststalkers are more machine than man, encased in pressurized armor. The kit also comes with a variety of armament options, including two transonic blades each or a loadout of chordclaw, transonic razor, and grenade pack, totaling to 25 included weapon parts. Additionally, the princeps model includes a prehensile dataspike. This multipart plastic kit provides endless opportunities for customization and building a unique squad of Sicarian Ruststalkers.
Sicarian Ruststalkers Datasheets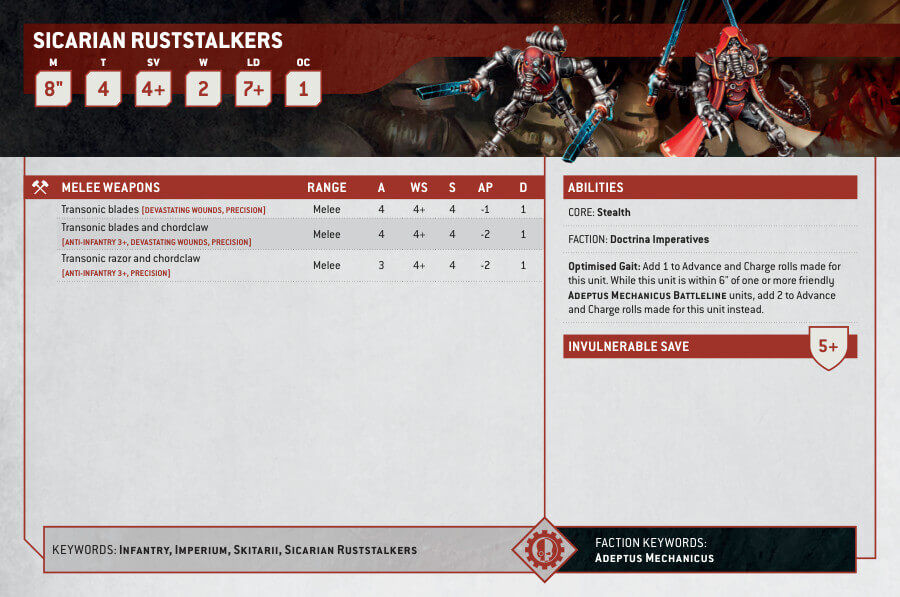 What's in the Sicarian Ruststalkers box
x117 plastic components to build five models of either Sicarian Ruststalkers (with one princeps) or Sicarian Infiltrators.
x5 Citadel 40mm bases.
How to paint the Sicarian Ruststalkers Set