The Onager Dunecrawler is a technological marvel, created through the rediscovered knowledge of the ages. It is based on the ancient Mars Universal Land Engine, which was inspired by the transport beasts that once roamed Holy Terra. Unlike its predecessors, the Onager Dunecrawler is a formidable walking tank with an abundance of advanced weaponry that can turn entire worlds into wastelands.
Featuring four crab-like legs, the Onager Dunecrawler is a versatile Adeptus Mechanicus model with optional armor plating. Its armored cabin and reactor are accompanied by a vast range of modeling options, including searchlights, smoke launchers, cognis manipulators, and mindscanner probes. Additionally, the cupola can be modeled closed or open, with the latter showcasing a Princeps wielding a heavy stubber. With a plethora of configurations and customization available, the Onager Dunecrawler offers endless possibilities for hobbyists to create unique models.
The kit comes with four different weapon options, each with their unique strengths and tactical uses. They are:
Eradication Beamer: A long-range weapon that emits a blast of deadly energy. It is effective against both infantry and vehicles, making it a versatile choice.
Twin Phosphor Blasters with Sensors: These rapid-firing weapons can quickly take down infantry units with their high-intensity blasts. The addition of sensors allows for better accuracy and targeting.
Neutron Laser with Coaxial Cognis Heavy Stubber: This heavy weapon can punch through even the toughest of armor with its focused beam. The cognis heavy stubber acts as a secondary weapon to deal with any nearby threats.
Icarus Array: Designed for anti-aircraft warfare, this weapon system includes twin autocannons, a gatling flak launcher, an armor-piercing missile launcher, and a radar dish. It is a versatile choice for dealing with a variety of airborne threats.
Adeptus Mechanicus Onager Dunecrawler Datasheets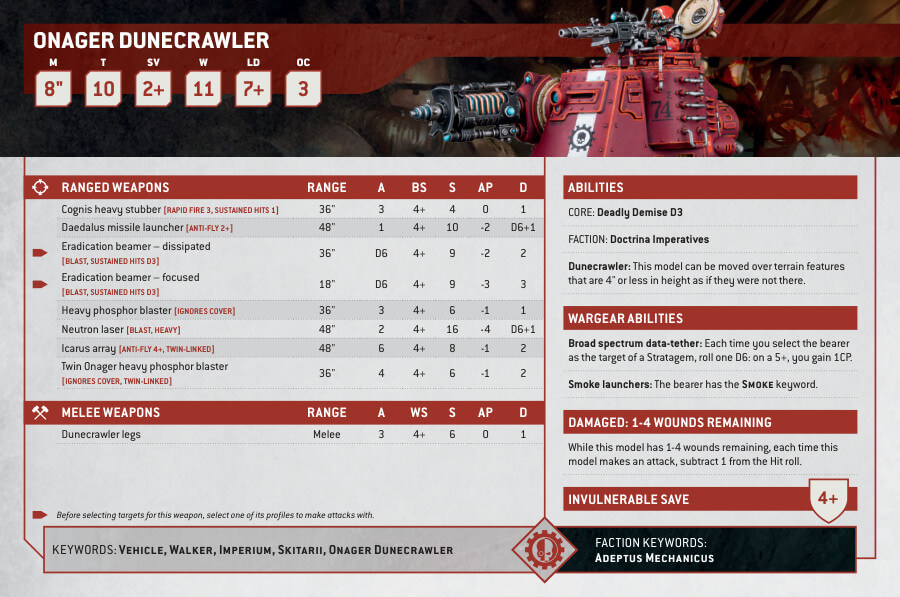 What's in the Adeptus Mechanicus Onager Dunecrawler box
x119 plastic components that create The Onager Dunecrawler.
x1 small transfer sheet featuring Adeptus Mechanicus symbols.
x1 130mm round base to mount the finished model.
How to paint the Adeptus Mechanicus Onager Dunecrawler Set