Within the ranks of the Adepta Sororitas, those who have failed to uphold the strict codes of service are deemed Repentia, their wargear taken and their ties severed from their former Orders. United with fellow fallen sisters, they form squads where they have a chance to absolve their transgressions through the spilling of the faithless blood. Through acts of exceptional bravery and merciless combat, a Repentia can emerge from the shadows of her past, as exemplified by Celestine, The Living Saint, who once walked the path of repentance.
Repentia Squad Datsheets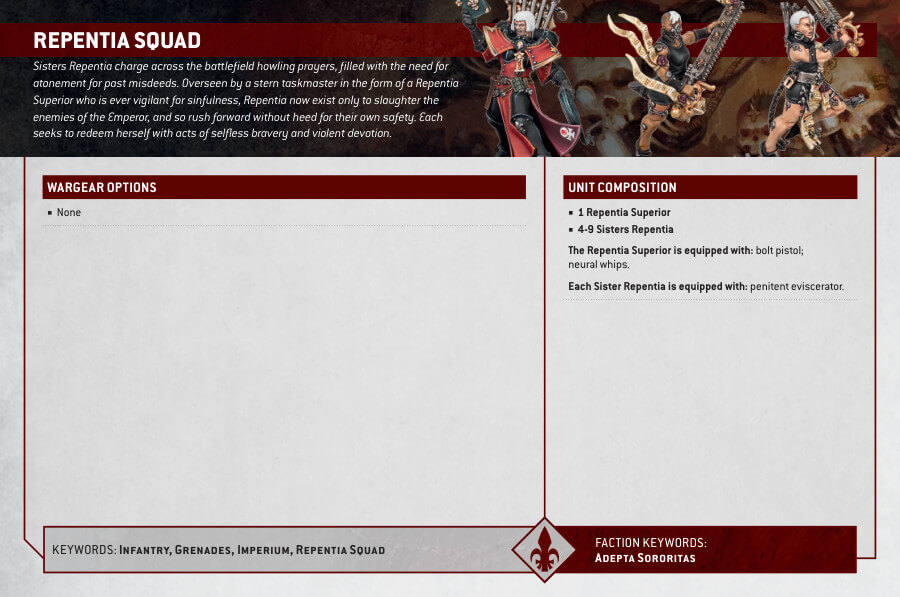 What's in the Repentia Squad box
x95 plastic components, providing everything you need to assemble the Repentia squad.The kit allows you to build nine Repentia warriors equipped with penitent eviscerators, offering a range of arm options for increased diversity in your squad.
The Repentia Superior carries dual neural whips, with one coiled and the other in mid-lash, but can also wield a holy tome as an alternative.Customize the Repentia Superior further by choosing between two different heads, with or without a helmet.
x1 Citadel 32mm Round Base for the Repentia Superior
x9 Citadel 28.5mm Round Bases for the Repentia warriors.
How to paint the Repentia Squad Set