Meet the legendary Commander Dante, an illustrious figure within the ranks of the Imperium's Space Marines. As a cherished scion of Sanguinius, he has steered the Blood Angels Chapter for over a millennium. Handpicked by Guilliman to serve as Lord Regent of the Imperium Nihilus, Dante soars above the battlefield in resplendent golden armor. His imposing presence freezes adversaries in their tracks with his death mask's unflinching gaze, all while delivering precise, devastating blows with the Axe Mortalis.
This multipart plastic kit masterfully constructs Commander Dante, the esteemed Chapter Master of the Blood Angels. An ancient hero who has embraced the Rubicon Primaris, he dons exquisitely crafted armor adorned with intricate musculature and angelic embellishments. His helmet bears the remarkable yet formidable Death Mask of Sanguinius, framed by his majestic iron halo. Descending from the heavens on his custom jump pack, Dante wields the Perdition Pistol – an archeotech melta weapon of astonishing might – while brandishing the lethal Axe Mortalis.
Commander Dante Datasheets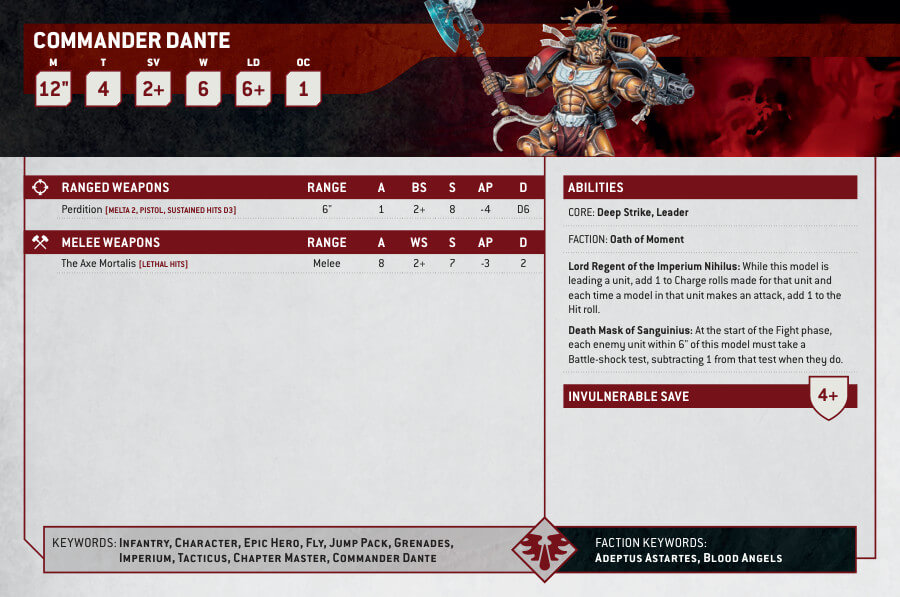 What's in the Commander Dante box
x26 plastic components that make one Commander Dante miniature.
x1 Citadel 50mm Round Base.
How to Paint Commander Dante