Genestealers, renowned for their predatory prowess, are swift and formidable creatures adorned with protective chitinous armor, boasting exceptional strength and agility. These advanced organisms operate as precursors, venturing far ahead of the Tyranid hive fleets to locate new feeding grounds and disseminate their genetic contagion among unsuspecting defenders. When the invasion finally descends, Genestealers emerge from concealment, commencing a brutal onslaught.
This multipart plastic kit offers the opportunity to assemble ten Genestealers, formidable melee combatants suitable for both Tyranids and Genestealer Cults forces. These fearsome beings possess clutching talons and lethal rending claws, each dynamically posed to convey a sense of stalking across the battlefield. The kit provides various cosmetic head options, enabling you to create a diverse brood with options for fanged maws and slavering tongues, or even the iconic Ymgarl appearance. Mix and match for evolutionary diversity, and discover four heads featuring protruding barbed ovipositors, ready to deliver the infamous Genestealer's Kiss.
Genestealers Datasheets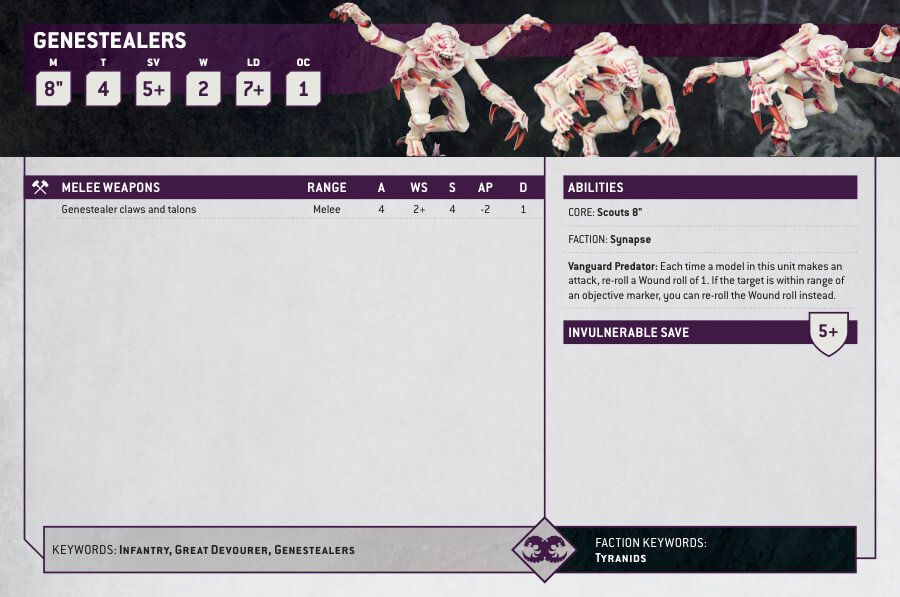 What's in the Genestealers box
x109 plastic components that make 10 Genestealers.
x10 Citadel 32mm Round Bases.
How to paint the Genestealers